Gender diverse bathrooms
There are gender diverse bathrooms located at all our campuses. See the full list of locations and find the one that's nearest to you.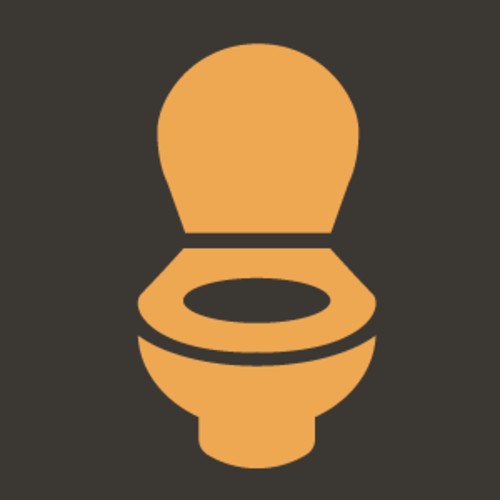 Gender diverse bathrooms are available to people of all sexualities, genders, and sex characteristics. All are lockable and have a toilet and hand basin at a minimum.They are separate from women's and men's bathrooms. Many gender diverse bathrooms are also accessible bathrooms.
We are currently rolling out signage so all gender diverse bathrooms on campus will have a yellow toilet icon on the door by the end of the year.
Kelburn campus
Adam Art Gallery
Room 251, Level 2—accessible
Room 252, Level 2—accessible
Alan MacDiarmid
Room 158, Level 1—accessible toilet, shower, and baby change facilities
Room 259, Level 2—accessible toilet and shower facilities
Boyd-Wilson Arena
Room A153, Level 1—accessible
Easterfield
Room 053A, Level 0—accessible
Room 158A, Level 1—accessible
Room 256, Level 2—accessible
77 Fairlie Terrace
Room 151, Level 1
Room 152, Level 1—accessible
Room 153, Level 1
Room 351, Level 3—accessible
Room 352, Level 3
81 Fairlie Terrace
Room 151, Level 1—accessible
Room 251, Level 2
83 Fairlie Terrace
Room 252, Level 2
Room 253, Level 2—accessible
Room 351, Level 3
85 Fairlie Terrace
Room 151, Level 1—accessible
86—90 Fairlie Terrace
Room 054, Level 0
Room 055, Level 0
Room 051A, Level 0
Room 152B, Level 1—accessible
92 Fairlie Terrace
The Hub
Room 154, Level 1
Room 154A, Level 1—accessible
Kirk building
Room 051, Level 0
Room 052, Level 0
Room 252A, Level 2—accessible
6 Kelburn Parade
Room 151, Level 1
Room 251, Level 2
10 Kelburn Parade
Room 151, Level 1—accessible
Room 251, Level 2
14 Kelburn Parade
Room 151, Level 1
Room 154, Level 1
Room 251, Level 2
Room 252, Level 2
22 Kelburn Parade
24 Kelburn Parade
Room 151, Level 1—accessible
42—44 Kelburn Parade
Room 152, Level 1—accessible
Room 158A, Level 1
Room 158B, Level 1
46 Kelburn Parade
Room 153, Level 1—accessible toilet and shower
Room 253, Level 2
Laby building
Room D155, Level 1—accessible
Room 256, Level 2
Maclaurin building
Room 158A, Level 1—accessible toilet and baby change facilities
Room 158B, Level 1—accessible
15 Mount Street
Room 153, Level 1—accessible
Room 154, Level 1
Room 155, Level 1
Te Herenga Waka Marae
Room 153, Level 1—accessible
Music School
Room 251, Level 2
Room 351, Level 3
Room 354, Level 3
Murphy building
Room 656, Level 6
Room 657, Level 6—accessible
Old Kirk building
Room 352, Level 3—accessible
Rankine Brown building—Library
Room 151, Level 1
Room 154C, Level 1—accessible
Room 251A, Level 1—accessible toilet and baby change facilities
Room 354, Level 3—accessible
Room 951, Level 9—accessible toilet and shower
Recreation Centre—Victoria Recreation
Room 456, Level 4—accessible toilet and shower facilities
Student Union building
Room 151, Mauri Ora, Level 1
Room 153A, Mauri Ora, Level 1
Room 153B, Mauri Ora, Level 1
Room 157A, Mauri Ora, Level 1
Room 157B, Mauri Ora, Level 1
Room 253C, Level 2—accessible
Room 351, Salient office, Level 3 (swipe card access required)
Te Toki a Rata
Room A054A, Level 0—accessible toilet and shower facilities
Room A054B, Level 0—accessible toilet and shower facilities
Room B059, Level 0—accessible
Room A152, Level 0—accessible
Room B155, Level 1—accessible
Room A252, Level 2—accessible
Room B255, Level 2—accessible
Room B355, Level 3—accessible
2 Waiteata Road
Room 251, Level 2—accessible
4 Waiteata Road
Room 151, Level 1
Room 152, Level 1
6 Waiteata Road
Room 151, Level 1
Room 152, Level 1
15 Waiteata Road
Room A152, Level 1—accessible toilet, shower, and baby change facilities
Pipitea campus
Rutherford House
Room G051, ground floor—accessible toilet and shower facilities
Room 151, Level 1
Room 152, PhD office, Level 1
Room MZ56, Mezzanine floor—accessible
Te Aro campus
139 Vivian Street
Room 153, Level 1
Room 154, Level 1
Room 155, Level 1—accessible
Room 158, Level 1—gender diverse shower facilities
Room 159, Level 1—accessible toilet and baby change
Room 365, Level 3—accessible toilet and shower facilities
Wigan building
Room 051, Level 0—accessible
Room 052, Level 0—accessible
Room 054, Level 0—accessible
Room 055, Level 0
Miramar Creative Centre
133 Park Road
Room 153, Level 1—accessible
Room 154, Level 1
Room 157, Level 1
Room 158, Level 1
Coastal Ecology Lab
396 The Esplanade
Room 055, Level 0—accessible toilet and shower facilities
Room 152, Level 1
Room 153, Level 1
Auckland premises
50 Kitchener Street
Room 456, Level 4—accessible