Patrick Kishino, BE
Alumnus Patrick Kishino reflects on memories from university, his career journey after graduating, and the highs and lows of living and working overseas.
Having grown up in Europe and now living in Japan, Patrick Kishino has lots of experience with new cultures and work environments, and facing the tough reality of living away from family. Working in software development for global organisations has provided Patrick exciting opportunities to travel, learn new skills, and really dive into the work he has a passion for.
Since having his own children, his attitude towards work has changed and he sees value in working less, and not getting caught up in the rat race. It allows for more time with his children and doing the things he loves—scuba diving being one of them!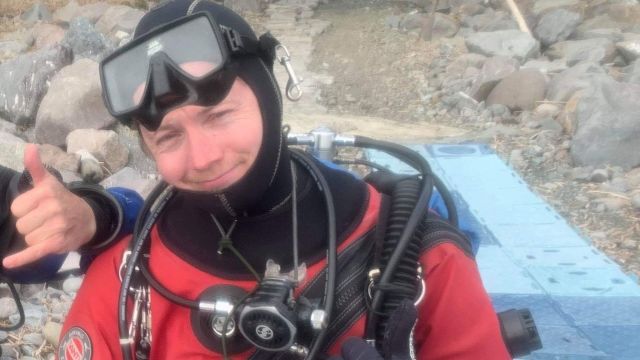 Tell us a bit about yourself…
My name is Patrick, surprisingly approaching 40, with two young kids that are the world to me, and living in Tokyo, Japan. Having moved around quite a bit in Europe when I was younger, I tend to not stay in one place too long. We will most likely move back to Europe at the end of this year in consideration of our kids' education, family wellbeing, and other personal reasons. I spend most of my time with my kids, enjoying camping, diving, biking, and cooking.
What did you study and why did you choose your degree?
Software Engineering. I was originally enrolled in the computer science program, but when I arrived, they were just starting the engineering program which sounded more fun, so I switched. I had a strong interest in developing software (SW).
What's your strongest memory of studying at Te Herenga Waka—Victoria University of Wellington?
The continuously engaging and fun lectures with Professor Peter 'Pondy' Andreae that led me to seek him as my thesis supervisor. We would have plenty of long and interesting conversations, most helpfully leading me to realise that an academic profession probably wasn't the most suitable prospect for me.
How has what you learnt at Victoria University of Wellington helped you in your career? Any standout advice?
I very much appreciated the international, culturally open environment at Vic and the networking opportunities available.
The School of Engineering and Computer Science has some world-class educators and tutors who can provide excellent advice and support for networking in the field of my study, which has been very useful for me and fellow students.
You have been part of the Alumni as Mentors programme, how was that experience and what would you say to alumni thinking of taking part?
It has been very fulfilling, challenging, and so much fun. This is my third year participating and I still get in touch with my first mentee now and then and very much enjoy hearing how well they are doing.
I can thoroughly recommend it for anyone who feels like they want to give back to the community, re-establish a connection to the university, and enjoys listening to a "kind-of" younger self, going through similar situations and mistakes.
What's your current role and what does it involve?
As a senior engineer at Mycronics, I am partly tasked with leading the SW team and I'm the main research and development (R&D) contact with our headquarters in Sweden. Our Tokyo operations are responsible for worldwide 2nd line support with our customers in the US, Korea, Taiwan, China, and Japan. My day-to-day involves checking the status of ongoing issues, informing R&D of change requests and critical issues, discussing time slots, and testing and verification with customers and first-line engineers. In addition to this I keep up to date with newly released features, improvements, and any new value add products that might benefit our customers.
What do you enjoy most about working in your profession?
It can vary from day to day, ranging from a slow pace which gives time for self-study, reading, and working out, to critical issue handling which requires plenty of head scratching, global meetings at odd times, and emergency travel. As things continuously evolve there are countless opportunities to learn something new and exciting.
What have been your career highlights?
Looking back these are times I feel the most proud of and accomplished:
Preparing a massive display and demo for Mobile World Congress 2018 in Barcelona when I was still a solution architect at Ericsson. After an intense three-month period, we showcased the demo successfully to a large crowd of customers, including high-ranking government officials and CEOs and CTOs from large global IT companies.
As a fresh-faced solution architect at Ericsson, I travelled to Taipei to support sales in closing a vital customer deal and give training to the local technical staff. After a long trip there and some sleepless nights spent preparing, everything went off without a hitch—no connections issues or other bugs showed up and everyone was very pleased.
Turning a two-week employee training session into a six-month intensive integration effort. I was asked to travel to Toronto and help some new development teams use and integrate Ericsson test tools into their software pipeline. What should have been a simple two-week effort, to assist them getting to know the tools and create their own test-cases, turned into a week-long software pipeline workshop. I had to set up the pipeline mostly by myself during the second week. I mentored two engineers for the following six months to get the system up to speed and the local engineers to change their way of working.
What have been the challenges?
When it comes to challenges, there have been a few:
Number one being office and customer politics faced in Ericsson in Japan. While I expect there to be similar levels of this everywhere, especially in a multi-national corporation, the differences between the Japan office and the headquarters in Sweden were quite stark. Once I returned after six months of parental leave, I realised I had to move on.
After having our first baby, I came to realise how little work actually mattered compared to raising our daughter. The constant evolving and push to be better for the company had become overrated and meaningless. I have reached a point where my remuneration is more than sufficient for us and instead of looking at jobs with a higher salary, I value more time off, better health and family benefits, and working less.
You've spent quite a bit of time living and working overseas, how has that experience been?
Interesting to put it mildly. It has more and more emphasised the old Swedish saying, "away is good, but home is best." With an emphasis on home being where you were raised, for me that's Europe.
Working in different countries really has shown the stark differences in work mindset, labour law, and more. While Japan on paper has some quite strong labour protections and benefits (such as parental leave), it also has a very unhealthy mindset towards work-life balance, mistreating employees, and corporate punishment which is very detrimental to your mental and physical wellbeing, and sadly I've seen this in many friends and colleagues.
When it comes to living apart from family, this has been especially hard with COVID-19. Here in Japan, it was especially difficult, my father couldn't meet his granddaughter until she was two years old, and I missed out on the funerals of two people among my family due to restrictions. While it is easy these days to think that anywhere in the world is just a plane-hop away, unexpected hinderances like these can really throw wrenches in your life. Having kids has also made me reach out and try to be closer with my family.
What advice would you give students today?
On the one hand, I would strongly suggest focusing studies on economics, artificial intelligence, and cybersecurity, but realising that most of the learning and useful skills will come through participating in open-source projects or hands on projects that can later be used in a portfolio.
I also strongly recommend establishing a network of people you get along with in and outside your field of study, to practice networking, open speaking, and approaching more experienced people to try and establish a mentor relationship early.
Lastly, enjoy the lovely city of Wellington and cherish what you have there, I know I miss it a lot.
What are your interests and passions outside of work?
My kids, who have become much more of an enjoyment and 'time-stealer' than I thought they would! I do very much enjoy scuba diving, especially more technical diving, which has taken me and my wife all over the world.
I have also recently (possibly in a typical mid-life crisis mode) purchased a road bike and started to get deep into training and riding, both for fun but also for commuting with the kids in their bike trailer.
I also actively participate in a number of open-source GitHub projects.
Lastly, we as a family enjoy hiking, camping, outdoor life in all seasons.