Te Pūoho Katene BSc, BA
Te Pūoho Katene (Ngāti Toa Rangātira, Ngāti Whātua, Ngāti Tama) graduated in 2007 with a double degree in Marine Biology, Ecology and Biodiversity.
Te Pūoho explains how his winding career path—which included a Fulbright Scholarship and getting career advice from Barack Obama—has led him home to serve his people.
What was your time like at university?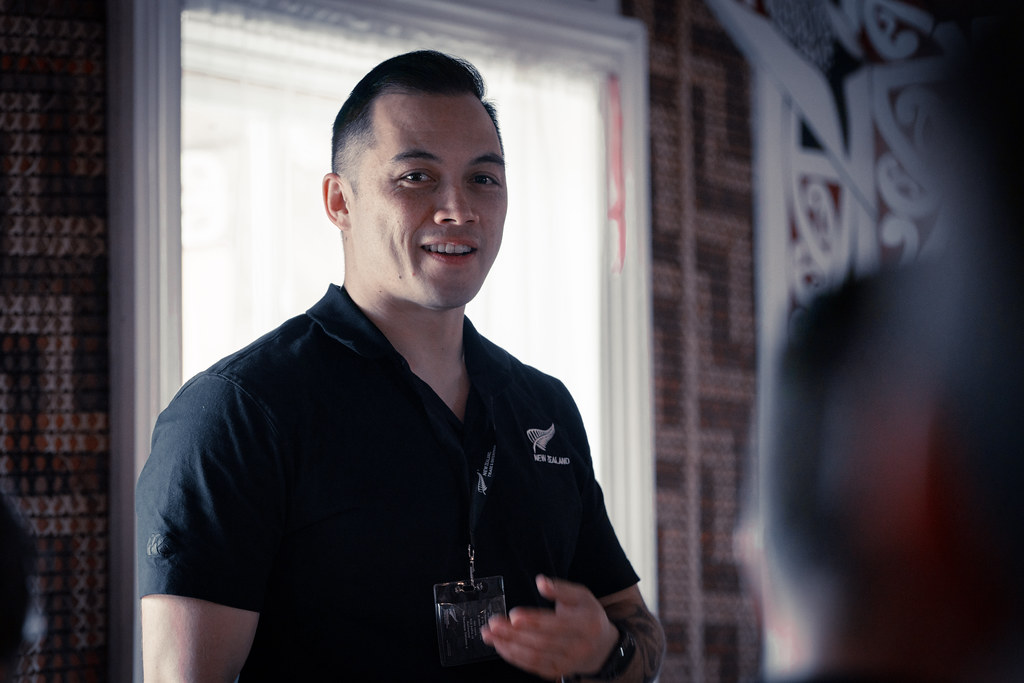 It was challenging, but lot of fun. I spent a lot of time at the wharenui, Te Tumu Herenga Waka, which was my place of comfort. Being from Ngāti Toa, I always slept under the carving of our ancestor Te Rauparaha. That whare recharged the wairua and I could feel that connection to home. Even though I wasn't physically far away from home, it can feel worlds apart.
What did you do after you graduated?
I worked in Fisheries Science for about four years before receiving a Global Fisheries Scholarship, offered conjointly between Sealord and multinational seafood company NISSUI. In February 2011 my family and I moved to Tokyo to train with NISSUI for the year. Shortly after arriving we had the 9.1 magnitude Tohoku earthquake—which was a frightening but character-building moment.
What are some other career highlights?
My career was always guided by purpose: to drive the holistic prosperity of Māori. I saw working in government as a way to influence the most change, and worked for two years as a private secretary to [then Primary Industries Minister] Nathan Guy. It was a rewarding experience, but I realised that real, sustainable change needs to be organic too, and driven by Māori. The groups I admired in this regard were ones determining their own fates, autonomously from Government. So I changed course.
I won a Fulbright Scholarship to do my Masters at Stanford Graduate School of Business where I was introduced to the concept of impact investing. I saw a way to put our resources to work creating the world we envisage for our descendants. I believe Māori have been impact investors for millennia—now we're seeing the business world formalise that people-centric approach. When I returned to Aotearoa in 2018 I took up governance roles with impact at their heart—including Ākina Foundation, and Manaaki, part of Wakatū Incorporation. I also worked as a Māori investment Manager at New Zealand Trade and Enterprise, then late last year I took up the role of Executive Director of Te Pūtea Whakatupu Trust.
The Trust provides strategic leadership in education, training, and leadership development for Māori, and manages a fund for this purpose. Some of our mahi includes literacy programmes for tamariki, a national science challenge for kura kaupapa Māori, and developing the future faces of Māori governance. An important part of our focus is making sure the benefits of what we do is felt across Aotearoa by whānau, hapū, iwi, and Māori living in urban areas.
What is the Obama Foundation Leader programme?
It's a year-long leadership development programme that brought together over 200 young leaders from around Asia Pacific, who all have impact at the heart of what they do. We met in Kuala Lumpur in 2019 and heard from some amazing speakers, including President and Mrs Obama. I got to meet the President—that was mind-blowing. He gave me a hug!
What's your advice for new graduates who want to follow a similar career path?
Many Māori students are driven to try and change the world for Māori. And that is powerful. There's always an eagerness to get back and work for your people—I feel that pull too—but the advice I was given was before returning to your iwi, first become what your iwi need for the future. That can be a long road, and you never know where that path is going to take you, but don't be impatient rushing back to your people—first become what they need.