Erin Judge
Erin Judge (Ngāti Tūwharetoa) has combined a strong sense of social justice with a law degree to make a real difference in giving a voice to those without one.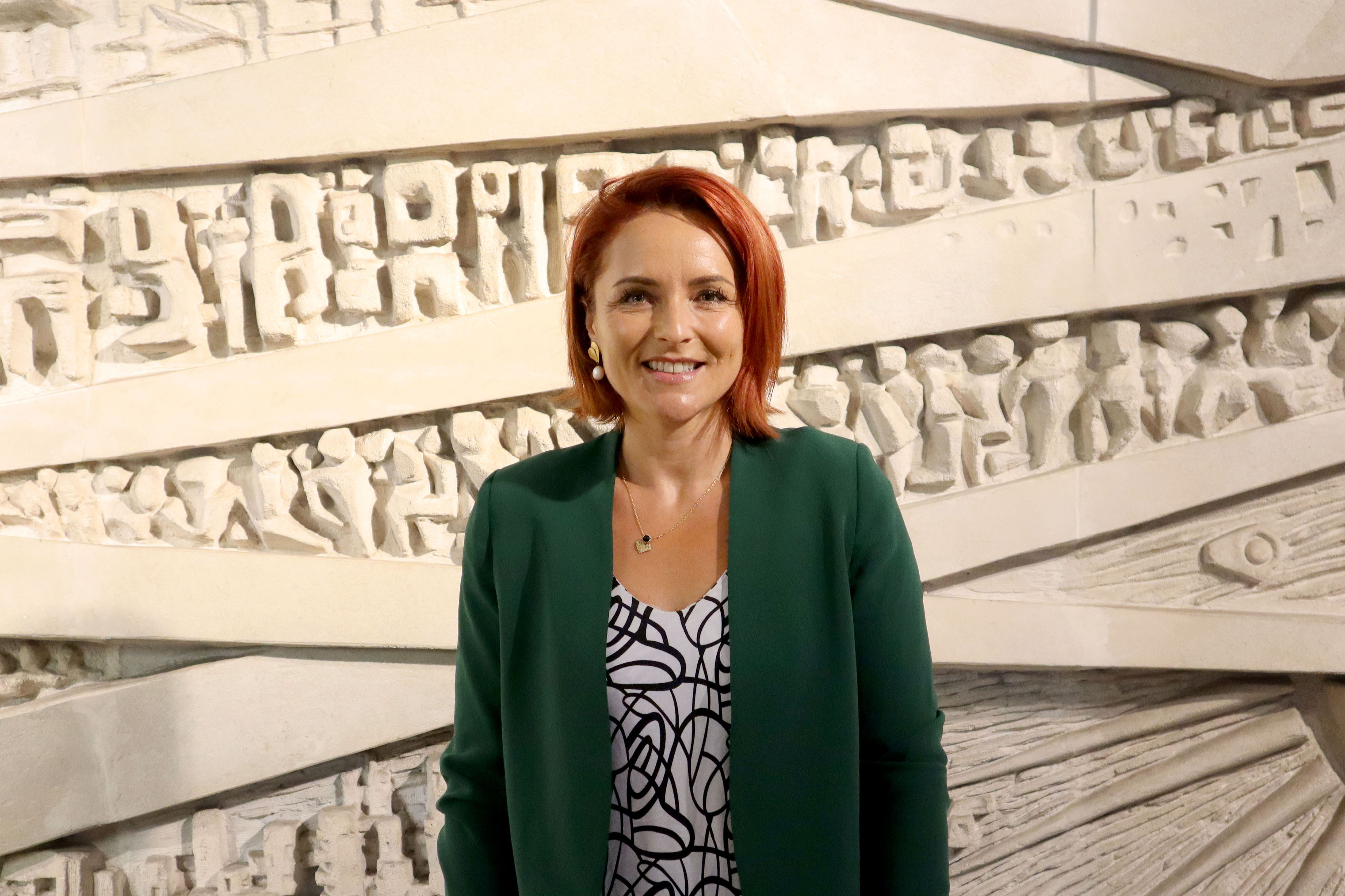 Tell us a little about yourself.
I am the eldest of six and we grew up in Hawke's Bay. Ko Ngāti Tūwharetoa te iwi. I moved to Wellington to study law at Victoria University of Wellington and apart from some overseas stints, it has been home ever since. I live with my husband, our 10-year-old daughter, 8-year-old twin sons and my youngest sister. My sister plays for the Wellington Blaze and my cricket-mad sons love nothing more than going to the Basin Reserve to watch her in action. My own happy place is being active outside with my whānau. In the past 18 months we have walked the Tongariro Crossing, biked the Otago Rail Trail and walked the ātaahua Queen Charlotte track.
I work as the Chief Legal Officer for Oranga Tamariki, a position I have held since 2017. In that role I manage a team of 120, act as the Principal Legal Advisor to the Chief Executive and lead key relationships. It is an extremely challenging role but also incredibly rewarding. I work with some inspiring people, many of whom I am fortunate enough to have supporting me in my team.
Previously I have worked at Crown Law, NZ Police, and the Victorian Government Solicitors' Office.
Why did you choose your degree?
When I was 9, my best friend Eva and I decided we would become lawyers. Our grand plan was to set up a law firm called E & E & co. Neither of us knew any lawyers and we have no idea what the genesis of this idea was. Even at a young age we were passionate about social justice, however we would have probably described that as being fair, caring about other people, and doing the right thing.
Eva also went on to study law and we remain close friends—we are both still driven by equity and justice. Our last conversation was about gender inequality and the role of the public, private, and NGO sectors in realising that. We were almost late for work as we had a lot to say!
Working on behalf of those whose voice is not heard has always been my motivation. I do not recall a time when that fire wasn't burning in my belly and the flames only grow as I get older.
What were your plans on leaving the University?
I had no plans and I was nervous about that. Coming from a low socio-economic background and as the first person in my family to attend university, I had no idea how to get a job. A friend's father worked in policy in the public sector and he talked to me about his mahi and what lawyers he worked with did. Government sounded like a place where I could make a real difference, so I focused my search on the public service—I've been there ever since.
Seven years ago, I helped Philip Griffiths set up the Government Legal Network to enhance and promote the role of the government lawyer and to build systems that strengthen the ability of lawyers to support good decision-making. There is a much greater awareness of this work now and our current Solicitor-General—the formidable Una Jagose QC has served her entire career in the public service.
What advice would you give someone planning to enter your profession?
Being a lawyer is a privilege and there is a huge amount of responsibility that comes with that. Lawyers are trusted to certify documents, to access people's most sensitive information and are relied upon to solve problems with life-changing consequences. People should not enter the profession unless they are committed to conducting themselves with high integrity and ethics in their professional and personal lives.
There are many types of lawyers and it is not one-size-fits-all. Across the sectors there are an incredible variety of roles where people can find a pursuit that they care about and a work environment that suits their personality.
What advice would you give graduates wanting to pursue a similar profession?
When I talk to students or graduates, I tell them that being a good person is the most important 'qualification' they can have. A degree is valuable—through it you learn a new way of thinking and alternative ways of analysing information. It can enable you to grow your independence and confidence and introduce you to some wonderful people. University education opens doors that would otherwise remain closed. However, what enables success on the other side of those doors is personal attributes and work ethic.
There are a number of skills or traits I developed as a result of challenges in my formative years. These include resilience, empathy, resourcefulness, and a high 'EQ'. It is these characteristics that have set me apart and enabled me to achieve in the roles I have held. I highly recommend the book Supernormal: Childhood Adversity and the Untold Story of Resilience by clinical psychologist Meg Jay. I have bought this book for many people who have had challenging beginnings and it is incredibly empowering.
Have you always wanted to pursue the kind of career you have embarked on? If so, when and how did you realise?
When I hear people speak about their careers and the path they have taken, they often express that there was no plan or blueprint they were following and it is only when they look back that they can see the connections between the jobs they have held.
The same is true for me. I have always followed my instincts and taken opportunities that align to my values, and if I can see how I could achieve good in the role. Looking back, I can see there was some method to the madness. Over the years I have moved from working on micro problems (like the troubles of an individual) to macro solutions (like the systems that lead the individual to have those troubles). Each job I have held has given me new skills that have enabled me greater opportunities for my next role. The people I have met and the connections I have made have been key to my success.
Have you faced any challenges along the way?
Many! Crippling self-doubt has been a regular visitor throughout my career. I look back at certain events (such as speaking at conferences or job interviews) and cringe recalling how excruciating they were.
One thing I have found challenging at all stages of my career is hierarchy and the power imbalance it can create. There is a commonly held belief that someone's age, experience, or job title determines how valuable their ideas are. I have often found myself as the only woman, the only lawyer, or the youngest in a room and have had to work hard to prove my worth. I have been fortunate that I have been able to do that quickly and then move on to the task at hand.
My own view is that with the same heart and mind, 20-year-old Erin and 30-year-old Erin held as much value as (approaching) 40-year-old Erin. Of course, experience is important as it provides lessons that we can learn from. However, there is magic that people new to their role or profession bring—they can see things that those of us who have been around for a while can no longer see. Younger generations also have new skills such as those that come from being a digital native.
I am very conscious of that, and in the teams I lead I try hard to ensure all voices are heard and titles are not associated with competence or value. It still upsets me when I email someone on behalf of a member of our team who has been ignored, and I receive an instant response because of my senior job title.
Have there been any particular moments throughout your journey that are most memorable to you?
Although there are some really exciting 'wins' I've had influencing or changing systems, for me it is the tangible impacts on real people that I think about the most.
The domestic violence victim I helped relocate to escape an abusive partner, the child I helped reconnect with their family, the law student I helped get back into study after a setback—those are the things that matter to me. As I have become more senior, those results have become less tangible. A big legislative, policy, or strategic change may have a widespread impact on people, but those results are only seen as a number in statistics, not a face I can see.
What do you want to do next with your career?
In taking on my current role, I knew it would be my last 'legal' role. I have loved being a lawyer, but it is a shell that no longer fits. Naturally over time, I have moved from looking at problems through a legal lens, to looking at them through a wide range of lenses including strategic, political, and economic. I have been fortunate in my past few roles that I have been given wide opportunities to tackle problems from multiple angles and have not been boxed in.
I have no grand plan for my next role, but it will need to be a challenging one that allows me to use the skills I have developed so far and acquire some new ones. It goes without saying that the purpose will need to be to make New Zealand a better place—particularly for the most vulnerable members of society.
E toa ai a Whiro, me noho puku noa a Kou tāngata—all that evil needs to triumph is for good people to do nothing.