James Faiumu, BCOM
A young leader, the eldest of seven, and active in his community, Apia-based James Faiumu is making a significant difference to communities throughout Samoa.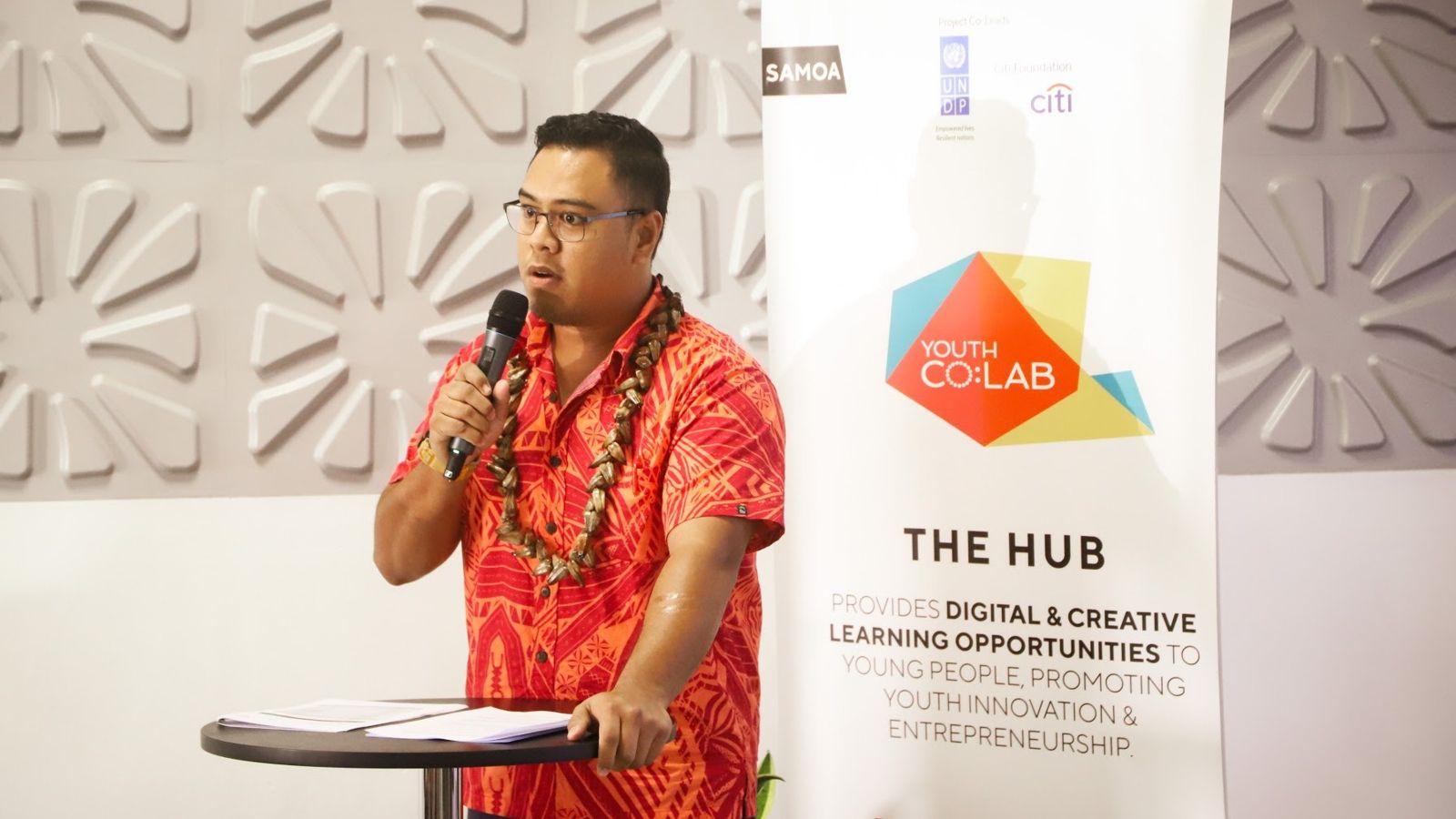 James Faiumu speaking at Youth Co:Lab summit. Photo: Daniel Ngg Cho
Born and raised in Samoa, James qualified for a tertiary scholarship to New Zealand at the completion of his Foundation studies at the National University of Samoa and chose Te Herenga Waka—Victoria University of Wellington to purse a Bachelor of Commerce degree.
"I got a lot of feedback from former scholarship recipients, recommending Victoria for commerce students", he says. "Plus a lot of my friends were also going, so it felt like a win-win."
Despite a few initial culture shocks–namely the weather, the food, and the New Zealand accent–James settled quickly into life and study at the University, helped largely by the support of fellow scholarship students and the strong Pasifika team at Te Herenga Waka.
"We had a lot of people helping us, and the scholarship provided everything. Looking back now it was such a privilege."
Graduating in 2015 with a degree in accounting and commercial law, James returned to Apia and secured a job as an auditor in the Office of the Auditor-General, before undertaking a two-year church mission in Fiji. On his returned he re-joined the Audit Office before taking a role with the Secretariat of the Pacific Regional Environmental Programme (SPREP).
"It is wonderful to be working with an organisation that ensures the protection and development of the region's natural resources, and gives Pacific Islanders more knowledge about their natural environment."
But it is his volunteeer interests which really demonstrate James' community leadership.
In 2019, he attended the UN's Youth Co:Lab summit, where he and his peers were asked to pitch a business idea to address the Sustainable Development Goals. James' idea was for a physical space with reliable technology and internet service to serve students in rural areas. While James seeks funding to progress his idea further, he's helping some of the village students with their studies, as well as mentoring them.
"Growing up in a small village community, you are not really introduced to a lot of opportunities or resources to succeed. So being one of the few who made it out [of their village], and I wanted to do something for others," says James.
It's no surprise with this community-mindedness and passion for education and youth empowerment, that when he applied to join international youth network Global Shapers, he was successful, becoming part of the Global Shapers Apia Hub, a group of young Samoans who are focused on serving their community through social impact projects.
"Global Shapers Apia started in 2019, we have 20 members, all young professionals from different backgrounds and industries. We are the first hub in the Pacific, and we plan to grow our presence across the region."
James and his members have designed and delivered several key projects in the community, but the project which James is really focused on his education project Atamai.
"One of the things that several of the hub members have in common is that we have returned to Samoa after pursuing tertiary education overseas. Many young Samoans lack knowledge and information and exposure to non-traditional and alternative career pathways. There is a lack of tailor-made career planning resources and limited understanding on the existing resources."
To solve this lack, the group cam up with Atamai, which saw them partner with the University of Queensland's Faculty of Creative Industries to develop an online platform which offers young students free and accessible career planning and mentoring, academic support and resources, industry advice and expertise.
The goal of Atamai is to inspire young people to pursue careers that fill them with joy and purpose, as well as provide small island communities with more economic opportunities and growth.
in addition to his full-time job, Global Shapers and community commitments, James also helps run the family business. "I'm really into farming! I'm reviving a lot of things my Dad and family did and hope to expand it further."
James knows what he has learned at Te Herenga Waka has helped him enormously. While technical skills like accounting help with his day-to-day role taking care of the finance-related aspects as SPREP, it's the other core skills that James says really has benefitted him.
"It wasn't just the academic side that helped, but a lot of the skills around building self-confidence, being a team player, developing leadership and communication skills, public speaking and more. There were a lot of presentations in those tax papers!"
"The University really set me up to where I am today."