Daniel Pengelly
Artistic Director and alumnus Daniel Pengelly shares memories of his move from performer to director, and of study in Wellington.
Tell us a little about your current role.
I am the new Artistic Director at The Court Theatre in Christchurch. I oversee all of the artistic projects and content that we create as a production house. From reading plays, to casting actors, to picking what time of year and what time of day we do our projects, it all comes across my desk.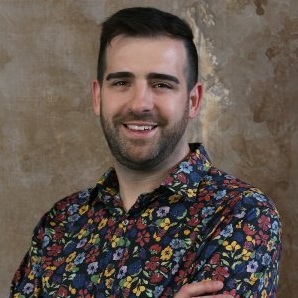 You graduated with a Master of Theatre Arts (Directing). Why did you choose this degree?
I had been a performer for years and was working as an event manager. I wanted to be in the arts full time but wasn't sure if my performance skills were up to it. I had always enjoyed leading and managing so I felt directing was the amalgam of performing and leading. I loved the joining of Victoria's academia with Toi Whakaari's hands on craft skills.
What appealed to you about the University?
The theoretical knowledge and being able to gain a Master's degree. I also loved the idea of living in Wellington for a few years.
What's your strongest memory of studying?
Workshopping my first Wellington Improv show in Studio 77 with a group of Vic and Toi student actors and creating beautiful, funny, strong improv.
What was Wellington like when you were studying?
Such good nightlife. I loved how central it all was and I could walk everywhere. Downstage was still open so it boggled my mind that there were three theatre companies in one city. Amazing.
Any memorable lecturers?
Dr Lori Leigh was amazing and is now a good friend. James McKinnon was a master of teaching theory and empowering students. David O'Donnell took us for a day. From 10 am–4 pm he taught us about the history of New Zealand theatre…without notes. He just sat there and talked us through it. Like he had lived it. And sent us the notes that night…with all the references. It was so incredible.
What have been your career highlights to date?
Being a Court Jester and creating shows of hilarity to packed houses with artists I trust and am inspired by. Getting this job as AD of The Court. Helping turn around Centrepoint Theatre [in Palmerston North] and give it life again.
What advice would you give someone planning to enter your profession?
Figure out what you are best at and get better at it. Be kind and polite—a bad reputation will road block you as sure as doing a bad job.