Jono Srikanthan, BSc
Jump into a start-up, says Sydney-based alumnus Jono Srikanthan, for a career-enriching fast growth trajectory.
Where are you living and what are you doing?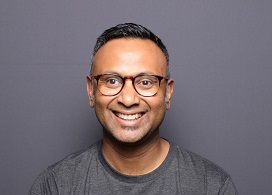 I'm currently living in Sydney. I moved over here about 13 years ago, so it's pretty much home now—although we're waiting for the New Zealand border to open again so we can visit.
I work for Atlassian, the largest software company in Australia. I work in their Foundation, which is their charitable/CSR arm, and drive all their global employee engagement programmes. I have a small team dotted around the world, and we run a bunch of programmes around community grants, skilled volunteering, giving back, and general charitable awareness-raising. It's all about creating the greatest community impact through our most valuable asset—our people.
What did you study?
I went straight into university after high school. I was trying to fulfil my parents' ambition of a career in medicine, law, or engineering (the holy grail of sub-continent migrant parents), so I came in trying to do that and I hated it—every single bit of it! I did some of those subjects and failed almost all of them, neither did I enjoy any of them.
But it was the IT lecturer Peter "Pondy" Andreae, who noticed me jumping around subjects, and he said he'd let me into his course on the proviso that I would pick a subject I had really enjoyed in high school and do that concurrently. For me, that was geography. So, I picked it up and started having a blast—both academically and socially. Eventually all those other things, like my parents' expectations, just didn't seem to matter as much.
I ended up with a science degree in geography from Victoria University of Wellington. The thing with the geography course is that it teaches you so many things other than geography. You learn a lot of skills around analytics, how to think, how to interact with people…that sort of thing. It also helped me find my groove academically, and I finished my studies with a Master's in Management a few years down the road.
What's your strongest memory of studying at Victoria University of Wellington?
Two places hold strong memories for me. Level 7 of Rankin Brown building. That was our hangout—our haunt. We didn't do much work there but that was where we all hung out. The second was the Catholic Chaplaincy building, which is where I met my wife for the first time.
Growing as a person was the single biggest takeaway from Victoria for me. I really came out of my shell, interacting with such a diverse group of people. It made me a more confident individual. Which is the biggest thing I've taken into my career—having a high degree of confidence, ability to interact with and get the best out of people, and the ability to network and make connections—pretty much 100% of my job at the moment.
What do you wish you had known before applying for your first job?
It's your first job, so don't let it define your career path—full stop.
It doesn't matter if you stuff up. It doesn't matter if it's a job at a fast-food place, or the Big 4. It doesn't matter. It's still your first job and it's not going to make a difference. My life's success isn't going to be defined by that first job. However, I didn't see it that way. I always viewed that first job as the most crucial thing in my life and I wish I knew that it wasn't beforehand!
What took you to Australia and what has kept you there?
Careers in corporate philanthropy and CSR just didn't exist in New Zealand at that time. Even now, it is still in its infancy. It's a bit bigger in Australia but compared to the US and Europe it's still emerging. But it's an exciting time for the field in Australia (and hopefully NZ) as we are really getting the opportunity to define the practice.
What advice would you give people wanting to pursue a similar profession?
The role I do, and what I love about it, is that it really suits someone who is happy in and thrives in chaos! You can't really study for this. You need to be a top notch generalist in almost all disciplines. One day I'll be dealing with an HR issue, the next I'll be doing a marketing plan, the next preparing a strategy to invest millions of dollars, and then the next I'll be working on a big campaign to engage 10,000+ employees to donate to a humanitarian crisis. So, these types of roles really need someone who is comfortable wearing a number of hats and juggling different priorities—almost daily.
So how do you get this into a role like this? My advice, honestly, is to go and work in a start-up environment. Where, because of limited resources, you'll be forced to wear multiple hats. You experience such a fast growth trajectory in a short time that you won't get in a more structured, traditional corporate environment.
You are the co-founder of Young Change Agents, can you share a little more about what that is?
Young Change Agents came about because I think our education system is seriously flawed and we're not doing enough to prepare young people for jobs of the future. Unfortunately, we are still churning out school leavers and graduates to work like it was the industrial era! There is such big disruption happening at the moment in the world of work, and we are seeing it in Australia, but we are still so far behind the 8-ball in comparison to what's happening in Europe and America.
So what we do is equip young people with the skills they need to thrive in a 21st century work environment, and through the field of social entrepreneurship, we are teaching them valuable skills they will need to compete in the 21st century—skills like creativity, critical thinking, design, problem solving, etc. This is where you solve big world problems, but you bring an entrepreneurial lens to solve that problem. So Young Change Agents is a social enterprise that does this inside a school environment. We work with teachers and educators, and run workshops to teach that skill set. My formal involvement in the start-up ended a number of years ago, but the organisation is achieving amazing things in Australia. I would love to see it in NZ.
What has been the biggest influence on your career?
My parents, who are absolute role models in terms of sacrificing their life for us, leaving Sri Lanka during the civil war and coming to New Zealand just so their kids could get educated.
I also have to call out managers I've had—both the good and utterly crap ones. They have helped me understand more about the type of people leader I want to be (or not want to be). The best ones have been absolute role models through how they serve, develop and lead their people.
Do you miss anything about Wellington?
Apart from seeing NZ family, I really miss my close friendships with those from my time at Victoria. I haven't seen many of them in over three years. We are all very close. Many still in Wellington, and I can't wait to see them when the border reopens.
In addition to your work, you're a mentor in the Alumni as Mentors programme. Why did you decide to join the programme?
I never had anyone walk with me, especially in those early days of my study where I was quite confused and trying to find my own identity. And similar, I struggled when uni life was coming to an end and needed support to make that successful transition out of uni and into real world life. So I wanted to be that somebody to walk beside and help. I feel I've been able to help the two mentees I've mentored in the programme through that, and it's been an amazing journey, absolutely rewarding.
Would you consider mentoring a final-year student in 2022? Find out more about our Alumni as Mentors programme and register your interest in mentoring now.