Davinnia Tan, LLB, BA, LLM
Davinnia Tan is forging a successful law career through telling it how it is and keeping people at the heart of everything she does.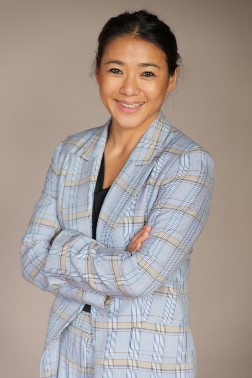 Davinnia reflects on her journey to get there―the friendships and collaborations, lessons learned, and her love for both the law profession and fitness and wellbeing.
Alumna Davinnia Tan grew up in Singapore, moving to New Zealand when she was 14 years old. Following her Masters in 2006, she has grown a career spanning the public and private sectors, from large corporations such as Shell to organisations that are deeply connected to Aotearoa's history, like the Royal Commission of Inquiry. Now moving into her third leadership role, she's keen to share her knowledge and expertise with others who are growing in the industry.

Davinnia also has a family connections with Te Herenga Waka―her father David Tan is a long-time supporter of the University, and is the alumni regional ambassador in Singapore. Other family members, including Davinnia's sister, have also studied at Te Herenga Waka.
Tell us a bit about yourself…
I hopped on a plane to Nelson on my 14th birthday, went to boarding school, and have called New Zealand home ever since. This experience taught me what real friendship felt like and how to adapt and be independent.

Professionally, I've been in the legal field for 15 years and I'm currently on a people leadership journey, which I love. My former team calls me fierce and empathetic (probably not at the same time!). I am a straight shooter when I need to be and I'll never say something I don't mean. Being real is important to me and I sniff out fakes pretty quick.
What did you study and why did you choose your degree?
I studied Law (LLB) and a Bachelor of Arts in Media Studies, and returned to do my Master of Laws (LLM).
What's your strongest memory of studying at Te Herenga Waka—Victoria University of Wellington?
Making lifelong friendships with the German and French cohorts during our Master's year together. We pretty much spent every day together, whether it was at the law library cursing at the printer, having beers at what used to be the Occidental or at someone's flat party. We worked hard and played hard. After handing in our final LLM paper, a group of us also went backpacking up North, beach-hopping. Since then (2006) we've caught up at least five times in different parts of the world and stay in touch regularly. They even attended my wedding virtually at 3 am their time!
What's your current role and what does it involve?
I am a Manager at Toitū Te Whenua (Land Information New Zealand) specialising in Overseas Investment regulatory work. It involves leading a team of ten talented individuals who assess the merits of overseas investment applications and provide expert advice on that basis. I also have statutory decision-making responsibilities under the applicable Overseas Investment legislative framework, and I work synergistically with other regulatory functions at Toitū Te Whenua.
What do you enjoy most about working in your profession?
Finding creative solutions to complex issues and seeing a plan come to fruition. And more recently, learning who people are on the inside and understanding what their aspirations are and what drives them. I most enjoy seeing people grow and succeed. People are our taonga and we should treat them as such.
You've had quite a varied career so far, what have been your career highlights, and what have been the challenges?
My most recent highlight has definitely been when I was seconded to lead a team of young lawyers at the Royal Commission of Inquiry where we investigated abuse in foster care from 1950 to the present day. It was a proud moment to see them (most of whom were new to the Commission) grow in confidence, own their mahi and demonstrate values of aroha and whanaungatanga, while getting the job really well done within the short timeframes that we had to work with. They were not just insanely intelligent but also compassionate and fun to be around. We developed a strong bond as a team, especially during our week-long survivor hearing where the public learned about the hard truths from our survivors, and our panel of experts (including survivors) discussed how we, as a country, could work towards transformative change so abuse like this never happens again. This work was both a highlight and a challenge, but when you are surrounded by people with the right values, the tough times are worth it.
What are your plans for the future? What do you want to do next?
No immediate plans except to do my job as best as I can, add genuine value to the people I support and enjoy it. What do I want to do next? Well, how long is a piece of string? I love learning new things and it's one of my strengths, so provided I am doing something which for me is purposeful, where I'm adding genuine value, have autonomy and am well supported, I'd be happy anywhere. It doesn't have to be complicated.
How has what you learnt at Te Herenga Waka—Victoria University of Wellington helped you in your career? Any standout advice?
I gained some early valuable skills through my LLM―it taught me the importance of credible evidence-backed reasoning which comes in handy in any job. It also cemented my love for the law and that it is a discipline where you can also get creative! My advice is don't worry too much about the extra year or two at uni; you gain different skills in a postgraduate degree that an undergraduate degree may not provide.
You were part of the Alumni as Mentors programme, how was that experience and what would you say to alumni thinking of taking part?
If you're even marginally considering taking part, do it. It is not easy to find mentors who will give you free time without a vested interest in their own career. Doing it through the Alumni Mentors programme removes that risk of someone having their own agenda. The people who volunteer as mentors genuinely care about helping others. I wished this was around back when I was a student/fresh grad. My experience mentoring a grad was extremely positive and she got the role we'd prepared her for!
What advice would you give VUW students today?
Don't let the fear of what people may think stop you from asking questions you don't know the answer to.
Enjoy the process of learning and don't focus too much on what job your degree will lead to or you might miss something on the periphery.
Don't be hung up on "the dream job", but there is such thing as a dream team!
Mistakes are ok, lack of accountability isn't.
Fifth and finally, don't let work get in the way of things you love, such as catching up with friends, family, or yourself. You can't fill from an empty cup!
What are your interests and passions outside of work?
Exploring gems around our stunning country, being as active as much as possible, reading wellness and style magazines, and spending quality time with my husband & whānau. I used to be a group fitness instructor and taught seven classes a week while working full time, but I much prefer being on the other side of a studio now where I get to curse and sweat at the same time. I love going off the grid but equally love all things style & fashion.
What would someone be surprised to know about you?
Probably that I'm nearly 40 but have a back of a 60 year old, and also had major bone surgery three years ago to address my genetic right hip dysplasia. You may still catch me rollerblading though and I wouldn't care if anyone judged!