Twelve young women on the path to great futures
Twelve young women have been awarded the new Ngā Hoe a Kupe Pathfinder Scholarships for study beginning in 2021.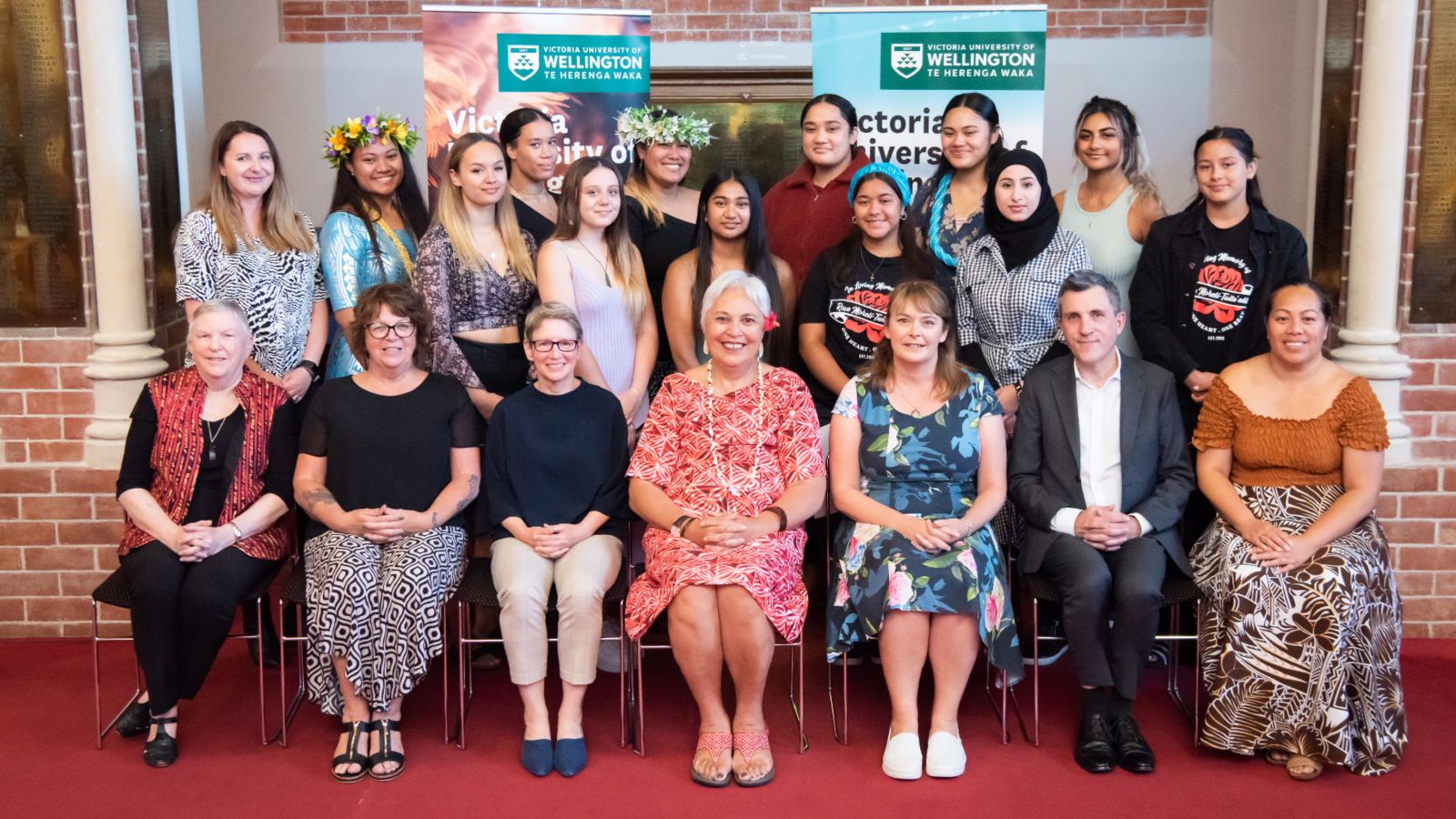 The 12 recipients of the first Ngā Hoe a Kupe Pathfinder Scholarships along with associated university staff.
Twelve incredible young women from the Wellington region are pursuing great futures, each having been awarded one of the University's new Ngā Hoe a Kupe Pathfinder Scholarships for study beginning in 2021. An award ceremony celebrating the recipients was held in the University's Council Chamber on Friday 12 February, bringing together their whānau, school community and staff of Te Herenga Waka-Victoria University of Wellington.
It was an emotion-filled occasion with stories of courage, determination, and resilience, often in the face of adversity, both inspiring and tear-jerking. The respective principals and representatives from the seven eligible colleges had the opportunity to recite journeys of hard work and commitment demonstrated by these deserving awardees during their secondary education, many of whom will be the first in their family to ever attend university, and in some cases, the first to complete high school.
With career aspirations from law to teaching, these women are exemplars of how our young people can achieve anything if they are encouraged and nourished. It was clear they each held a special place in the hearts of their high school communities and there seems little doubt that they will go on to achieve exactly what they set out to.
The ceremony was the culmination of a four-day preparatory programme for this special cohort, coordinated by the Equity Scholarships Programme Manager, Gail Ah-Hi, alongside several key student services at the University.
Gail said, "It is an honour to serve these amazing and ambitious young women and to guide them holistically through their university journey. They've formed an awesome bond already and are all very excited to be starting on this pathway together."
The Ngā Hoe a Kupe Pathfinder Scholarships are an exciting new initiative aimed at improving university access, participation, and success for students from under-represented groups within the Wellington region. These scholarships cover accommodation in a university catered hall for the first year of study, course fees for the entirety of the students' undergraduate study, and some course-related and living costs.
The scholarship programme will provide a holistic wrap-around support package that includes essential financial and academic advice, mentoring, and opportunities for personal, professional, and leadership growth. This will help develop them as student role models who will inspire as mentors to future awardees.
"Our aim is that with your help, we will be able to offer ten of these scholarships each year and have significant impact on some of the most deserving students in the Wellington region. By giving generously to this programme, you contribute to realising the full potential of students from our local communities," said Gail.
Victoria University of Wellington Foundation is backing this programme by providing seed funding. With the help of generous philanthropic donors, we hope to fund up to ten scholarships per year for ten years from February 2021.
The recipients of the 2021 scholarships are: Asma Alboghobeish and Miracle Suailua, Porirua College; Aleena Heitia and Shaniyah Munroe, Mana College; Maria'e Ulutui, Bishop Viard College; Ivy Beck and Nicole Odeyemi, Wainuiomata High School; Shekyna Lolouta and Maepa Saolotoga, Naenae College; Daniella Gibson, Aotea College; Kayla Hilder-Faitele, Taita Collge; and Dianna Revell, also from Taita College who received the James McIntosh Scholarship courtesy of the Perpetual Guardian Foundation.
Find out more about how you can support Ngā Hoe a Kupe Pathfinder Scholarships and make a donation today.