Iho and distinctiveness
Te Herenga Waka—Victoria University of Wellington is a global–civic university with our marae at our heart.
This iho draws off our heritage and is further defined by our tūrangawaewae—in particular Wellington, Aotearoa, and the Asia–Pacific—all of which are expressed in our position as Aotearoa New Zealand's globally ranked capital city university.
We are further differentiated by aspects of the way we work, including our commitment to being a values-based, research-intensive university that works in partnership with its students. We are an engaged institution aspiring to learn, adapt, and develop with agility, using processes that empower our people.
And finally, our distinctiveness is defined by a number of attributes that matter to our staff, students, and communities. These attributes include governing for the future, living and making the Wellington vibe, being Asia–Pacific globally minded, thriving through creativity, honouring Te Tiriti o Waitangi, and committing to sustainability and wellbeing.
Our distinctive qualities are summarised in Figure 1 and the associated key. These points of difference are leveraged by the strategies outlined in the Strategic Plan.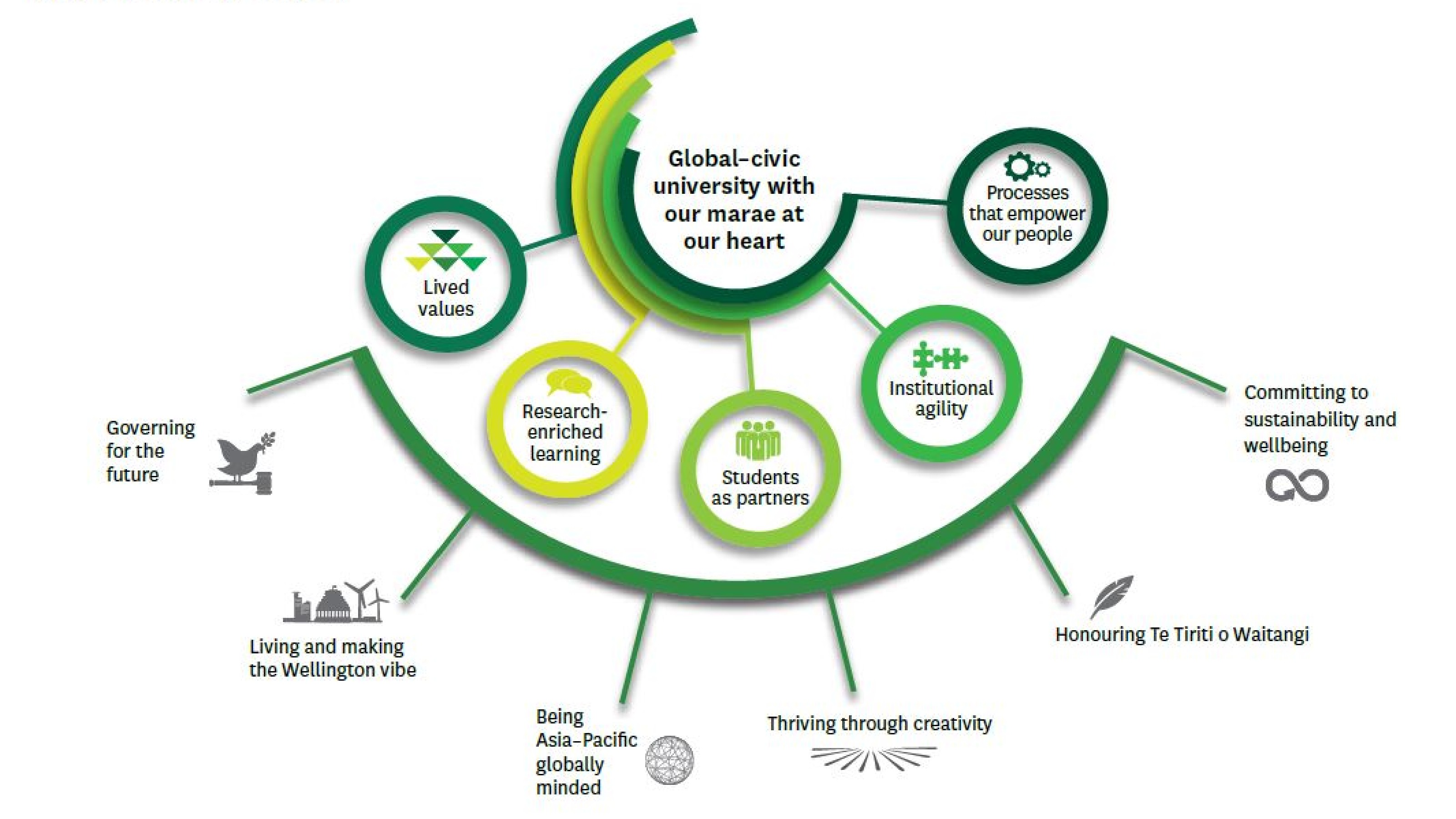 Key to Figure 1
Our iho
Our essence is as a global–civic university with our marae at our heart (see inner core of the figure). This iho is further defined by our heritage and by our tūrangawaewae. At our university, the traditions of British 'red-brick' civic universities mingle with mātauranga Māori and tikanga Māori. The centrality of our marae links us to the ancestors of our land and ties us all to the iwi of Aotearoa and to the wider Pacific. The name of our marae—Te Herenga Waka—is also now the Māori name of the University. It means the mooring place of canoes. Symbolically, the marae and wider university are spaces where everyone, no matter where they are from, can 'hitch their canoe' and belong.
Distinctiveness in the way we work
Part of the University's distinctiveness derives from the way we work (see middle layer of the figure). As a values-based university, institutional decisions and workplace behaviours are guided by the University's values. Three distinctive examples of this values-based approach are our commitment to sustainability, being a restorative university, and a health-promoting university.
Research-led teaching is the defining feature of all universities, and we are New Zealand's most research-intensive university. Our students are more likely than in any other university in the country to be taught by a leading research-active academic. Research enriches our teaching with cutting-edge knowledge and methods. Research-led teaching injects the pursuit of knowledge with the enthusiasm of our society's modern-day explorers.
Our students are partners in their learning. They are closely involved in leadership at all levels of the institution—from decisions by the University Council affecting the entire institution to decisions by programmes affecting individual academic courses. Students and staff also partner to achieve societal change. This is a particular feature of student life in the capital city—the ability to make a difference through activism.
We are an engaged institution aspiring to learn, adapt, and develop with more agility. We recognise that the ability to sense, seize, and transform our futures requires empowering processes and systems that are efficient and effective. The wellbeing of our staff and students is paramount.
Distinctive attributes
The University's distinctiveness is further defined by a number of particular attributes that matter to our staff, students, and communities (see outer ring of the figure).
Governing for the future
We operate in the dynamic interface of crown, town, and gown; a place where hīkoi end, law and public policy are made, and activism flourishes. Locally, nationally, and internationally, we work to develop the policies and processes we need for future wellbeing. We have strong relationships with governments, business, iwi, and communities, while also valuing our role as 'critic and conscience' of society.
Living and making the Wellington vibe
Wellington city is our campus. Wellington is a vibrant, edgy, culturally diverse, and highly connected city packed with leaders, achievers, entrepreneurs, creators, thinkers, dreamers, doers, and lovers of life. It is often wild, sometimes calm, but always alive with an energy and enthusiasm that makes this city the place of the possible.
Being Asia–Pacific globally minded
We are strategically positioned in the dynamic Asia–Pacific region. This region sustains the University and it increasingly defines our future. As befits a capital in this region, an Asia–Pacific perspective frames the global mindedness of our city and university. We undertake research relevant to the region and educate civic-minded, globally confident graduates who will contribute to the Asia–Pacific region and beyond.
Thriving through creativity
Creativity defines our city and our university. We foster the capacity of individuals and communities to imagine and to express new possibilities through creative activity. This is the genius behind great art, great music, and great writing. It is the curiosity and insight behind major discoveries, transformative inventions, and new solutions to complex problems. It is the entrepreneurship that establishes new businesses. It is inspiration, it is innovation, and it is leadership. That is what this and other great universities do.
Honouring Te Tiriti o Waitangi
Our respect for Te Tiriti o Waitangi and mātauranga Māori motivates us to influence and inform societal change for the betterment of Aotearoa New Zealand. We embed te reo, tikanga and Māori knowledge in our university's activities, including research, learning, and teaching. Our taihonoa partnerships with iwi and other Māori organisations allow us to learn together. We have the experience and confidence to lead on matters of importance to indigenous populations worldwide.
Commitment to sustainability and wellbeing
We live around a beautiful harbour, in the world's most liveable and environmentally pure major city. We treasure the unique natural heritage in which we are immersed. We are committed to the Sustainable Development Goals, to leading sustainability initiatives for local communities, and to improved planetary stewardship in order to secure the wellbeing of future generations.