Media Coverage
Can you teach an old parrot new tricks?
Age may be just a number but according to research on kākā by Victoria University of Wellington, older doesn't necessarily mean wiser.
1 June 2016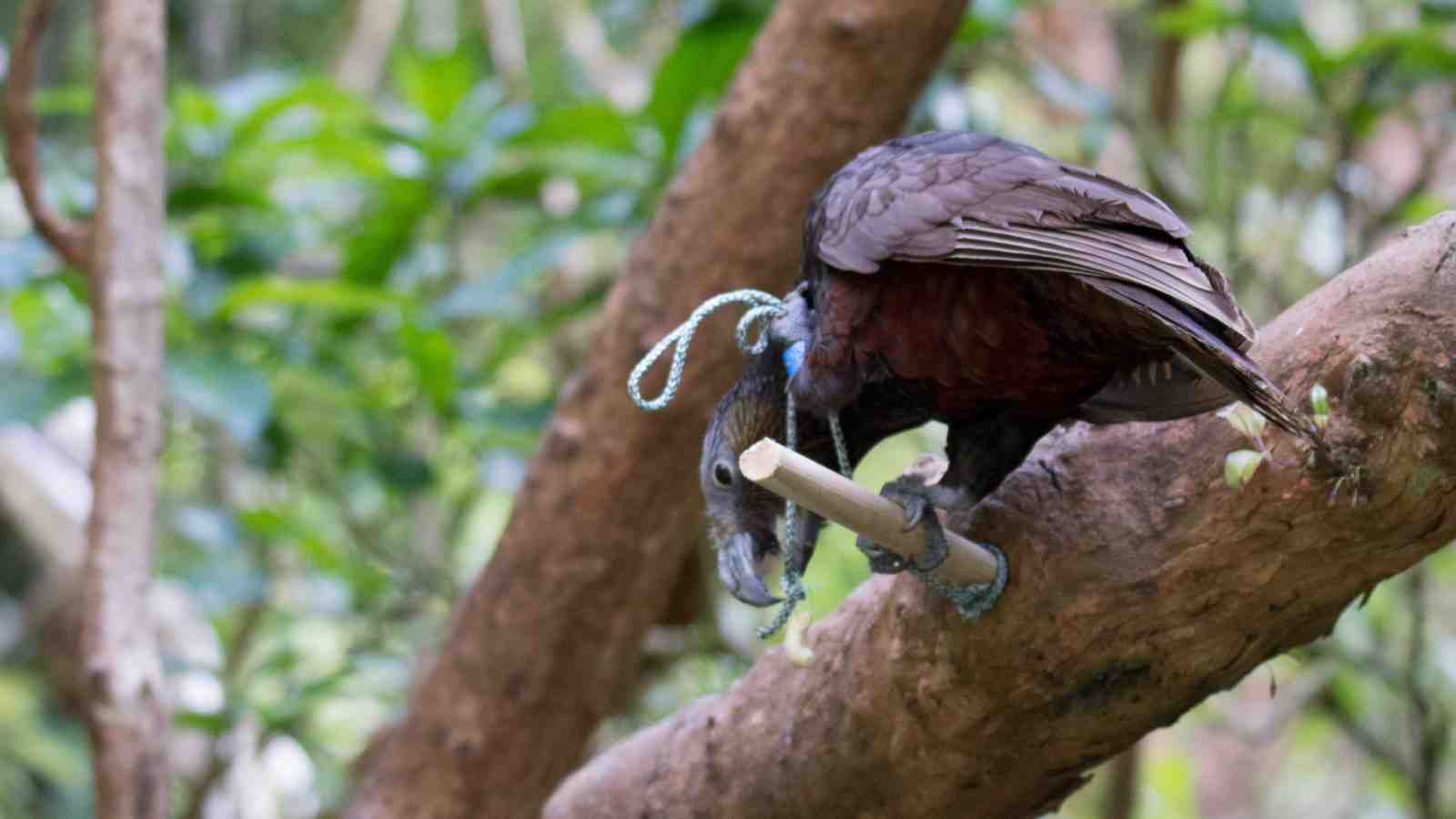 A study by Julia Loepelt, Dr Rachael Shaw and Associate Professor Kevin Burns from Victoria's School of Biological Sciences shows younger kākā are better at problem-solving than their older counterparts.
"Our study shows that the juvenile younger kākā, outperform adult kākā across a variety of tasks and contexts," says Ms Loepelt, a PhD student.
"We tested the cognitive skills of over one hundred wild kākā ranging in age from four months to thirteen years. Of the twenty-four birds that participated in all three of our problem-solving tasks, juveniles were the most efficient problem-solvers in all three tasks."
The three tasks, carried out at Zealandia, involved pulling out a wooden block, flipping a lid and pulling a string to access food.
"Juvenile kākā less than ten months old were the most efficient problem-solvers and success rate decreased with age," says Ms Loepelt.
"With the first experiment, the juvenile kākā pulled the block out in their first to fourth trial, whereas it took the older kākā up to eleven attempts. No kākā over the age of three was able to solve this problem."
Ms Loepelt says studying problem-solving abilities in the wild is vital to help us understand how animals deal with changing environments.
The study, which will be published later today in Proceedings of the Royal Society B: Biological Sciences, shows younger kākā are more explorative and persistent than adults.
"Young kākā tried to solve the problems using more creative methods and they also tried for longer," says Ms Loepelt. "These traits may be particularly beneficial to young kākā, helping them to learn about their environment and discover new strategies to find food."
-
2015 | "Exotic invaders dominating native species" Victoria University, September
2015 | "Why our native plants not so special after all" Victoria University, September
2015 | "An IQ test for animals?" Science/AAASNews, September
2015 | "How to give a robin an IQ test" Smithsonian News, September
2011 | "Why size matters in the plant world too" New Scientist, October Issue
2010 | "The ghost of herbivory past" Australasian Science, March Issue
2009 | "New Zealand tree stuck in a time warp" Science 325: 524. * This story was subsequently covered in Science Magazine's Top 10 podcasts of 2009.
2009 | "Who, Moa?" Natural History, October Issue
2009 | "More animals seem to have some ability to count" Scientific American, September Issue
Related links