2014
Asthma vaccine discovery
7 October 2014
With asthma now affecting up to one in four New Zealand children, the researchers say this is a promising step in the challenge to understand and control asthma.
The experimental approach is one of the newest frontiers in the rapidly advancing field of immunotherapy, which harnesses the body's own ability to fight diseases.
The research is an extension of work at the Malaghan Institute of Medical Research developing vaccines for cancer by Associate Professor Ian Hermans, in collaboration with synthetic chemist Dr Gavin Painter from the Ferrier Research Institute at Victoria University of Wellington where the vaccines are designed and synthesized.
"Cancer and asthma both involve the immune system, but in cancer we are trying to get the body to take notice of tumour proteins, while in asthma, we want to stop it over-reacting to an allergen," says Dr Hermans.
"Allergy is the wrong sort of immune response. Using the vaccine, we have initiated a more appropriate immune response and prevented the allergy from taking hold.
"Vaccines work by presenting the body with an antigen, which provokes an immune response. This involves activating T cells, produced by the body's immune system, which are then ready to protect from the disease in the future.
To strengthen the immune response, a chemical called an adjuvant is administered along with the antigen, to make the vaccine more effective.
In the asthma vaccine, the antigen and the adjuvant are chemically linked, rather than simply co-delivered. This novel approach ensures the essential components reached the target cells together and created the most powerful but highly specific immune response that targets the disease.
Dr Herman's says preparing the linked vaccine required some "pretty clever chemistry".
"By linking them, we make sure they are both delivered to the right place in the body. Once there, they are split and presented to the immune system to initiate a response," he says.
The idea of using a vaccine to prevent asthma was the brainchild of Malaghan Institute Professor Franca Ronchese who explains how the vaccine works.
"In asthma, allergens such as those produced by house dust mites are inhaled and taken up by dendritic cells in airways, causing inflammation and many of the symptoms of asthmatic disease. With the vaccine, we think we can direct other immune cells, the killer T-cells, to go and block the dendritic cells, so they stop sending out the wrong messages. It's like taking out the generals of the enemy's army in order to overpower it," she says.
The linked vaccine technology could in principle be applied to other allergic diseases. Patent protection has been obtained and opportunities to commercialise the technology are currently being pursued.
The work was jointly funded the Health Research Council of New Zealand and the Ministry of Business, Innovation and Employment of New Zealand.
The paper can be viewed online here
Quality of undergraduate research recognised
29 September 2014
Research by three Victoria University of Wellington undergraduate students has been published in Biotechnology Letters, a highly ranked international peer-reviewed journal.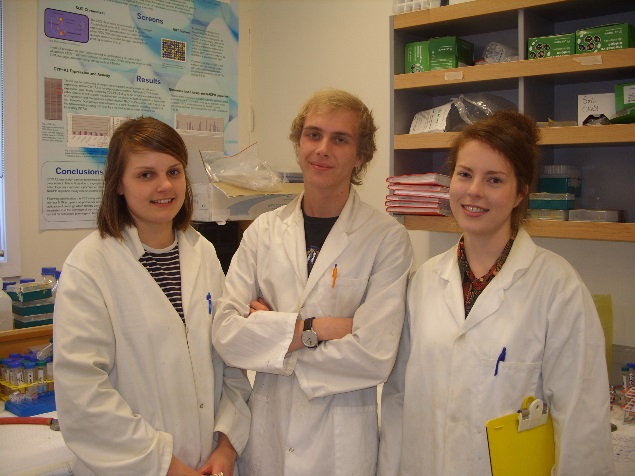 As part of a supervised programme of study, Madeleine Parker, Kate Walmsley and Jack Sissons, each in the final year of a Bachelor of Science majoring in biotechnology, worked to develop an efficient system to help scientists artificially evolve enzymes in the lab.
"Directed evolution is a method of enzyme improvement in which a gene is randomly mutated and a large number of gene variants are produced," says Madeleine. "Testing the slightly different enzymes encoded by these variants requires cloning them into bacterial cells and screening for the desired activity.
"Kate adds that many directed evolution studies expend unnecessary effort testing cells that have not received a gene variant at all. "Our system allows us to produce bacteria where 100 percent of cells contain the gene of interest," she says.
Jack explains that this allows the team to test the activity of each slightly different enzyme in the most efficient manner possible. "Achieving this is of great value because we don't want to waste time and resources screening bacteria that aren't doing what we want them to.
"The original idea for this work was developed by Victoria PhD graduate Dr Gareth Prosser. Jack, Madeleine and Kate performed the key proof-of-concept experiments to validate Dr Prosser's idea under the supervision of Dr David Ackerley, Biotechnology Programme Director, and Dr Elsie Williams, a postdoctoral fellow in the School of Biological Sciences.
"It is rare for undergraduate research to be published at all, let alone in a well-regarded journal like Biotechnology Letters," says Dr Ackerley. "Kate, Jack and Madeleine worked hard and intelligently on this project, and really deserve their success."
The paper can be viewed online here.
Connecting Curiosity - Tales of Science Serendipity - TEDxWellington
Centre for Biodiscovery member Dr Laura Green recently presented at the TEDx conference held in Wellington at the end of August. Her talk centred around how scientists need to be challenged to tell better stories - whilst sharing how potentially the research Laura has been involved with might have found drugs to treat MS.

Recently awarded the 13th Zonta Science Award, Laura has been recognised as an up-and-coming female scientist to watch. She is passionate about making everyday science accessible to everyday people and is currently collaborating with local entrepreneurs to develop entertaining and engaging science media through effective storytelling, humour, and of course, cartoons.
Check out her talk below:
Promising new treatments for multiple sclerosis
15 August 2014
New treatments for multiple sclerosis (MS) using common anti-psychotic agents have been discovered by Victoria University of Wellington researchers.
The study led by Dr Anne La Flamme, an associate professor in the School of Biological Sciences and head of the MS research programme at the Malaghan Institute of Medical Research, based at Victoria, shows the potential of clozapine and risperidone to effectively treat MS.
MS, a neurological disease which affects one in every 1,400 New Zealanders, is caused by immune cells invading the brain and causing inflammation. It leads to impaired vision and coordination and, eventually, paralysis, explains Dr La Flamme.
"While disease-modifying drugs are currently available, they are often effective in only a subpopulation of MS patients and all of these treatments target the disease through traditional immune pathways," she says.
"What makes our findings so important is that clozapine and risperidone target a very different set of pathways from all other MS drugs, and thus have the potential to treat those MS populations for which no effective therapies currently exist."
Published this week by international scientific journal PLOS ONE, the study demonstrates that risperidone and clozapine can reduce MS significantly by reducing the inflammation in the brain that causes this disease.
Additionally, this research indicates that the way clozapine and risperidone improve disease outcomes in MS is different from how these agents work to treat mental health disorders.
"By utilising existing therapies, this work may more quickly support improved outcomes for people with MS," says Dr La Flamme.
This study, funded by the Neurological Foundation of New Zealand, was undertaken in collaboration with Dr Bronwen Connor, an associate professor at the University of Auckland.
The PLOS ONE article can be viewed online here.
For more information contact Dr Anne La Flamme on 04-463 6093, 021 555 413 or email anne.laflamme@vuw.ac.nz.
Using synthetic biology to make new antibiotics
22 July 2014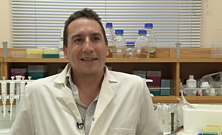 Research at Victoria University of Wellington could lead to a new generation of antibiotics, helping tackle the global issue of 'superbugs' that are resistant to modern medicine.Led by Mark Calcott, who has just completed his PhD study, under the supervision of Dr David Ackerley, an associate professor in the School of Biological Science, the research is delivering new knowledge about how synthetic biology might be used to counter bacteria that have become resistant to existing antibiotics.
The recently published study defines new ways that microbes, which are used to make some commonly used types of antibiotics, can be reengineered to produce modified forms of the original molecules.
"Part of the problem is that people have historically been careless when using antibiotics, which has, one-by-one, allowed bacteria to build resistance, thrive and multiply. We're smarter now, but at a time when we're running out of options," says Dr Ackerley."There is a serious and immediate need for new antibiotics—either we have to develop the next generation or find clever and affordable ways of modifying the ones we currently have," he says."The basis of our research is the idea that the microbial machinery (enzymes) that makes a particular antibiotic can be rearranged, to make a different antibiotic that resistant bacteria won't recognise. The new antibiotics will still fight infection, and if we can use them in a more targeted way, bacteria won't become resistant so easily."
He says the ultimate goal of the study is to be able to produce high yields of new and affordable antibiotics that 'superbugs' don't recognise and are not resistant to.
Results have been published by the American Society for Microbiology journal Applied and Environmental Microbiology, viewable online here.
The research is a core output of a grant Dr Ackerley has received from the Marsden Fund for a project called Cracking the non-ribosomal code. Dr Ackerley is collaborating with Professor Iain Lamont from the Department of Biochemistry at Otago University.
For more information contact Dr David Ackerley on 04-463 5576 or email david.ackerley@vuw.ac.nz.
Fighting paediatric disease through research
4 July 2014
A Victoria University of Wellington researcher is one step closer to identifying candidate treatments to delay the onset and progression of a fatal paediatric disease for which no effective therapy currently exists.
Work by Dr Andrew Munkacsi from Victoria's School of Biological Sciences and Centre for Biodiscovery, in collaboration with Professor Mengjie Zhang from the School of Engineering and Computer Science, and Dr Stephen Sturley from Columbia University, is delivering new knowledge about the rare neurodegenerative disease, Niemann-Pick type C (NPC).
NPC is a monogenic disease caused by a defect in one of two different genes that affects approximately one in 150,000 children worldwide. Those affected are typically born without symptoms, but within a few years exhibit dementia similar to Alzheimer's disease and usually die before reaching adolescence.
Using exome sequencing, a strategy that selectively investigates important sequences of genetic material in all 23,000 human genes, Dr Munkacsi is analysing DNA samples from siblings in Australia, the United Kingdom and United States who have NPC disease to identify underlying disease gene mutation.
"Affected siblings, by inheritance, have the same mutation in the disease gene, but the onset and progression in the cohort we are studying is different. What we hope to do is identify genes associated with disease severity," says Dr Munkacsi. Dr Munkacsi has been researching NPC for the past nine years.
Through his investigations with Dr Sturley, using a yeast model of NPC disease, they have demonstrated that there are genes other than the disease-causing genes that modify disease severity.
This strategy has been successful, and has identified a drug that will be further tested in a human clinical trial in the United States. They are now going to the next level and conducting the first genome-wide analysis of sibling pairs affected with NPC disease.
"Once we identify which genes regulate the onset and progression of NPC disease, we can work towards targeting those genes with drugs. Our goal is to identify drugs already on the market as the children do not have the time to wait for new drugs to be developed and approved.
"As terrible as Alzheimer's disease is, at least persons affected live a healthy life for 60 to 80 years. Children affected with NPC disease deserve a chance to live a healthy life," says Dr Munkacsi.
For more information, please contact Dr Andrew Munkacsi on Andrew.Munkacsi@vuw.ac.nz
Researcher to give lectures in United Kingdom
26 May 2014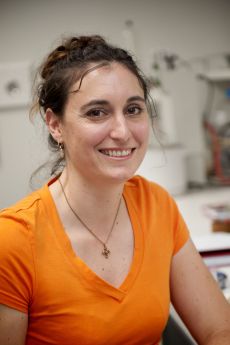 Dr Bridget Stocker, a senior lecturer in the School of Chemical and Physical Sciences, will present a two-week sponsored lecture tour in the United Kingdom next month.
Dr Stocker received the 2011 Easterfield Medal, given in honour of the late Sir Thomas Hill Easterfield, in recognition of significant research by an emerging chemist. As part of the award, Dr Stocker is being sponsored to visit Oxford, York, Edinburgh, St Andrews and Cambridge Universities to talk about how glycolipids can help in understanding and treating disease.
"This is a tremendous opportunity to not only visit such prestigious universities in the United Kingdom, but also to showcase what we do here in Wellington," says Dr Stocker.
"It's important to get your name out there and to meet like-minded people in your field. The advantage of a trip like this, over say a conference, is that you really get to have more one-on-one time with very intelligent and inspiring people. Enthusiasm is infectious and lends itself to the generation of a lot of new ideas."
Dr Stocker was the top graduating Victoria University Bachelor of Science (Hons) student in 2000. She went on to complete a PhD that focussed on the total synthesis of several anticancer agents. Following a brief period as a lecturer, Dr Stocker was awarded a fellowship to spend two years at the prestigious Swiss Federal Institute of Technology, Zurich.
In 2006, Dr Stocker returned to New Zealand and established an immunoglycomics research programme at the Malaghan Institute in collaboration with partner Dr Mattie Timmer, a senior lecturer in the School of Chemical and Physical Sciences. She is currently a Health Research Council Sir Charles Hercus Research Fellow.
The focus of Dr Stocker's research involves understanding the role of carbohydrates in immunology. Key highlights include the development of new 'green chemistry' methodologies and the synthesis of carbohydrate 'probes' to study diseases, such as cancer.
Winner of 2014 Zonta Science Award
7 May 2014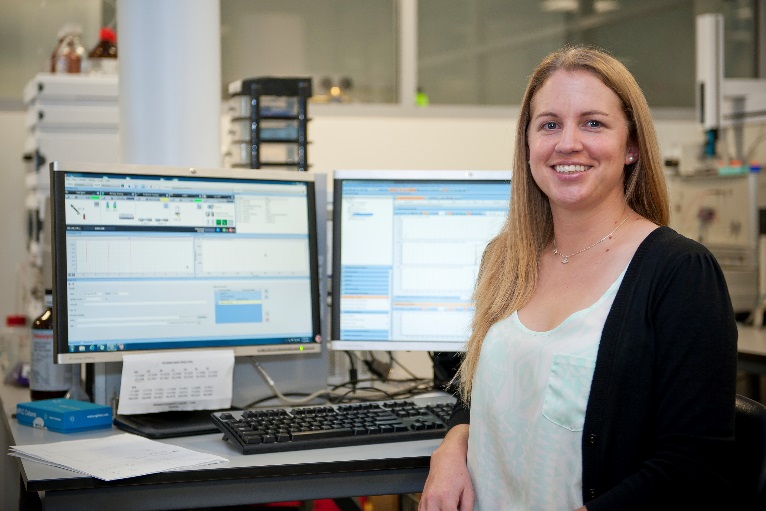 Dr Laura Green, who is part of a Victoria University of Wellington team researching better ways of treating the debilitating symptoms of multiple sclerosis, has won the 2014 Zonta Women in Science Award.
His Excellency, Lt Gen The Rt Hon Sir Jerry Mateparae, GNZM, QSO, Governor-General of New Zealand presented Dr Green her prize at a special reception hosted at Government House.
The Zonta Science Award provides Dr Green with $15,000 prize money, and $3,000 to be put towards overseas travel. She will use the funding to travel to Switzerland to work with an eminent researcher who has developed a new imaging technique that can visualise individual immune cells trying to gain entry to the central nervous system.
"I will then bring this specialist knowledge back to New Zealand," says Dr Green who is a Postdoctoral Fellow in Immunology at the Centre for Biodiscovery, School of Biological Sciences. She held her first research position at the University of Wisconsin-Madison in the United States at the age of 17, and has been involved in biomedical research ever since.
In 2003, Dr Green came to New Zealand and has held research positions at Massey University, and the Malaghan Institute of Medical Research based at Victoria.
She obtained her PhD in Cellular and Molecular Biology at Victoria in 2012.
Dame Margaret Sparrow, Convener of the Zonta Science Award, says the judges were impressed not only with Dr Green's commitment to science but also her community involvement, notably her enjoyment of public speaking and her enthusiasm for competitive road cycling, which includes assisting with cycle safety programmes and cycling skill clinics.
"Laura is passionate about making science accessible to the wider public and is involved in a number of projects including the use of cartoons and film to make science more exciting."
Guest lecture to focus on new drug developments
25 February 2014
The results of drug studies which could provide new treatments for life threatening infections will be the topic of the annual Ferrier Lecture presented next month by a visiting lecturer to Victoria University of Wellington.
Jef De Brabander, Professor of Biochemistry at The University of Texas (UT) Southwestern Medical Center at Dallas, United States, is delivering the annual Ferrier Lecture, established in honour of Emeritus Professor Robert (Robin) J. Ferrier, one of New Zealand's eminent chemists and a leader in the field of carbohydrate chemistry.
In his lecture, Professor Brabander will discuss a unique drug development aimed at the treatment of pneumonia and other life threating infections.
He will present the results of his chemical and biological studies related to an antibiotic called Mangrolide A, isolated from a microbe found in the mangrove swamps in the Bahamas. The studies were carried out in collaboration with John MacMillan at UT Southwestern Medical Center.
"The frequency of antibiotic-resistant bacteria is currently rising at an alarming rate, so the need to identify new antibiotics has reached a critical level," says Professor De Brabander.
Supported through the Victoria University Foundation by Dr Peppi Prasit, a former PhD student of Robin Ferrier, the New Zealand Institute of Chemistry, and Victoria's Faculty of Science, the Ferrier Lecture aims to bring internationally-renowned scientists to Wellington to inspire current students and deliver a public lecture.
New knowledge about treating multiple sclerosis
4 February 2014
New information that could lead to improved treatment of multiple sclerosis (MS) has been uncovered by Victoria University of Wellington scientists.
A study carried out at Victoria, and recently published online in the international scientific journal PLOS ONE, holds promise for patients suffering from secondary progressive MS, an advanced form of the disease, which causes nerve degeneration leading to impaired vision and coordination, and eventually, paralysis.
The study focused on understanding how a new MS drug, MIS416, developed by the New Zealand biotech company Innate Immunotherapeutics, is able to help patients with secondary progressive MS, a form of MS with few effective treatments.
The team of scientists includes Dr Anne La Flamme, an Associate Professor in Victoria's School of Biological Sciences and head of the MS Research Programme at the Malaghan Institute of Medical Research, PhD student Madeleine White, and Dr Gill Webster from Innate Immunotherapeutics.
"We know this drug works, but we are not sure why. This study has helped us understand the pathways that are driving the disease and how the medication alters the immune system, giving us a better idea of why MIS416 works as well as insight into how to treat patients and predict who will do better on this sort of medication," says Dr La Flamme.
Most people believe MS revolves around T cells, says Dr La Flamme, but the Victoria study reveals that targeting other cells in the central nervous system can significantly reduce advanced forms of MS.
For more information contact Dr Anne La Flamme on 04-463 6093 or anne.laflamme@vuw.ac.nz. You can read the full article here