Climate futures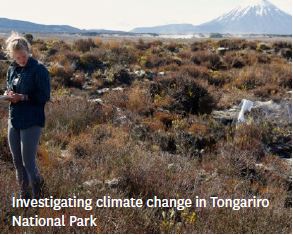 New Zealand is experiencing high rates of climate change. This change may cause weed invasions that will threaten our taonga flora and fauna in fragile alpine environments. Interactions between plants and soil microbes
will play key roles in determining the biodiversity and resilience of terrestrial ecosystems as climate warms. Centre members are engaging in the first global collaboration of research sites
(10 sites in 10 nations). The sites are using common experimental methods to assess the effect of warming and species interactions on alpine ecosystems. The study employs small greenhouses to warm soil and air and manipulations of the plant community at two sites in Tongariro National Park. Our work will provide critical information for the conservation of the iconic desert-road ecosystems under anthropogenic climate.
See also, research on extreme environments.