2018
Researcher edits special issue of Pacific Conservation Biology journal
The special issue, edited by Associate Professor Heiko Wittmer from the Centre for Biodiversity and Restoration Ecology, focuses on why conserving biodiversity in urban environments is important and why it requires different, often new, approaches.
7 December 2018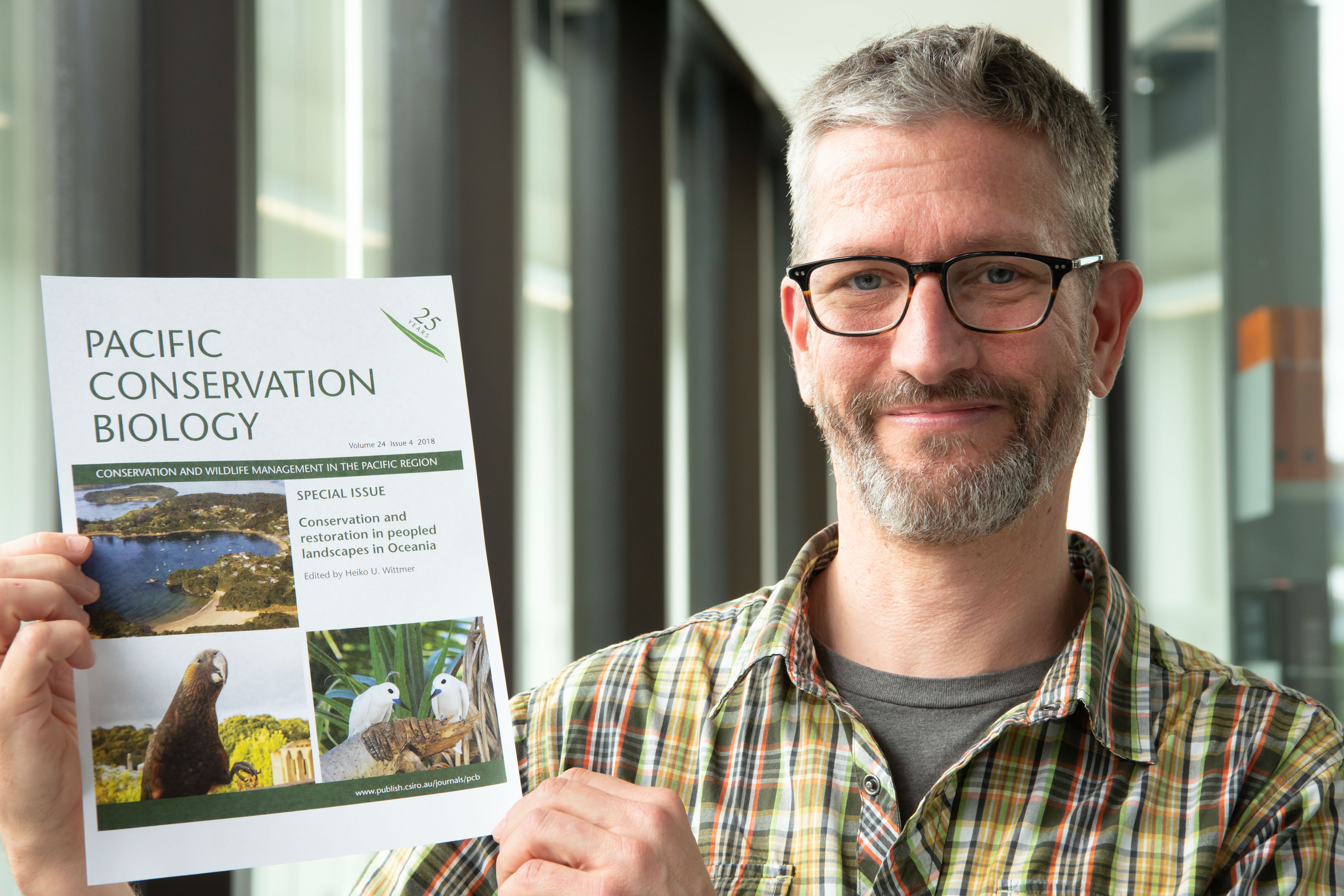 "To achieve conservation outcomes that can be seen and enjoyed by everyone, we need to start directing significant conservation efforts towards peopled landscapes," says Associate Professor Wittmer. "I consider myself very lucky to live in Wellington, a city that is at the forefront of such novel approaches to conservation, thanks to our progressive council, caring and informed citizens and opportunities associated with Zealandia, our inner-city nature reserve."
The issue brought together scientists and conservation practitioners to explore three aspects associated with conservation in peopled landscapes: opportunities for conservation in densely populated and highly modified urban areas; challenges for invasive species control in urban areas; and stakeholder involvement for conservation action in protected areas.
Entitled 'Conservation and Restoration in peopled landscapes in Oceania' it includes seven research papers and a synthesis paper. Associate Professor Wayne Linklater, Dr Monica Gruber and Professor Phil Lester, all of whom are involved with the Centre for Biodiversity and Restoration Ecology, also contributed.
"These contributions provide rationale for directing greater conservation efforts towards areas inhabited by people while also highlighting challenges and how to avoid mistakes," says Associate Professor Wittmer.
Beginning the issue with an editorial written from his perspective, Associate Professor Wittmer describes how he came to care about this particular area of conservation. He discusses how conservation in urban environments, like Wellington city, offers exciting opportunities that can have multiple benefits, for both the native species and the residents. He talks about the use of novel technologies, social media and citizen science, all of which could be utilised in these situations and the opportunities for society to enjoy and learn about this biodiversity.
However, despite the importance of urban conservation, Associate Professor Wittmer emphasises that there is still a lot of research needed in this area, which is why he gladly agreed to edit the special issue.
Contributions from members of the Centre for Biodiversity and Restoration Ecology
Conservation and restoration in the peopled landscapes in Oceania: opportunities and challenges
Associate Professor Wittmer and co-authors synthesised information from a number of different case studies around Oceania to highlight that conservation in urban environments will require different, often novel approaches. They suggest that this kind of conservation offers great opportunities for community involvement in all aspects of the planning and implementation. They also emphasise using the best available ecological and social evidence to avoid potential negative outcomes.
Wildlife conflict in urban areas–a case study involving kaka
Led by Associate Professor Linklater, this case study of kākā in Wellington city highlights the emerging conflict amongst residents over the reintroduction and increasing abundance of the native parrot. This conflict could negatively influence resident's attitudes to the species and to biodiversity conservation in general. Solutions will require that conservationists become more inclusive of the diversity of the public's values.
Multi-pronged decision making for invasive species control: a case study of yellow crazy ants in Atafu, Tokelau
Dr Gruber is the lead author of a research paper that assessed the effects of the invasive yellow crazy ants in Atafu, Tokelau. The research suggested that yellow crazy ants negatively affected other ant communities, and caused concern to people. It also found that they negatively affected white tern productivity, though other factors may influence this, such as human activity and rat abundance. Based on this research, a control programme was implemented.
---
New innovative rat lures attract global interest
Dr Michael Jackson from the School of Biological Sciences at Victoria University of Wellington is leading a research project team for finding better lures for traps.
8 November 2018
What's the best way to lure a rat? Trapping and using lures are a big part of the plan to make Aotearoa predator free by 2050, but not all lures are created equal.
Wellington researcher Dr Michael Jackson is a step closer to seeing his innovative, sustained-release rat lure products on the global pest control market, with assistance from the KiwiNet Emerging Innovator Programme. Jackson received the $25,000 award to aid the commercialisation of his new lures which emit chemical compounds that he and his colleagues identified are attractive to rats, one of the world's most damaging pest mammals.
Dr Jackson from the School of Biological Sciences at Victoria University of Wellington is leading a research project team to transform a number of chemical compounds they have identified as attractive to rats into viable, commercially available products. The chemical compounds are being put into easy-to-use pest control products that emit the compounds in a controlled and sustained manner over extended time periods, thus offering users a time and cost saving replacement for traditional, perishable lures.
Listen to the whole interview with Michael on Radio NZ or read the story on Scoop.
---
Victoria students to present at Conservation Biology Oceania conference
The Society for Conservation Biology Oceania's 2018 conference will take place at Te Papa on July 3rd to 5th.
2 July 2018
The conference aims to bring together communities of conservation professionals to address challenges and present new findings, initiatives, methods, tools and opportunities in conservation science and practice.
Victoria University of Wellington are proud to be co-hosting the conference, and the University's Centre for Biodiversity and Restoration Ecology is supporting Master's and PhD students to present their research.
Follow our link to view the full story about students and the projects they're presenting.
---
Research partnership reveals new species of diving petrel
A new species of diving petrel has been identified on Whenua Hou (Codfish Island), located off the coast of Stewart Island/Rakiura.
29 June 2018
Named the Whenua Hou petrel (Pelecanoides whenuahouensis sp. nov), the entire population – thought to be approximately 250 birds – live on a 1km sand strip.
The identification is the result of a joint research project between Victoria University of Wellington, the Department of Conservation (DOC), the Museum of New Zealand Te Papa Tongarewa and the Chizé Centre for Biological Studies in France.
Victoria University student and doctoral candidate Johannes Fischer, who worked on the project for his Master's thesis, says the researchers compared birds from the Whenua Hou population with museum specimens from around the world to uncover differences.
Follow the link for more information about the new species of diving petrel.
---
Birds call out 1080 silent forest claim
The use of 1080 for pest control is supported by a range of conservation and farming organisations, but opponents claim forests fall silent when the poison is dropped, saying this is evidence of harm to native bird communities.
6 April 2018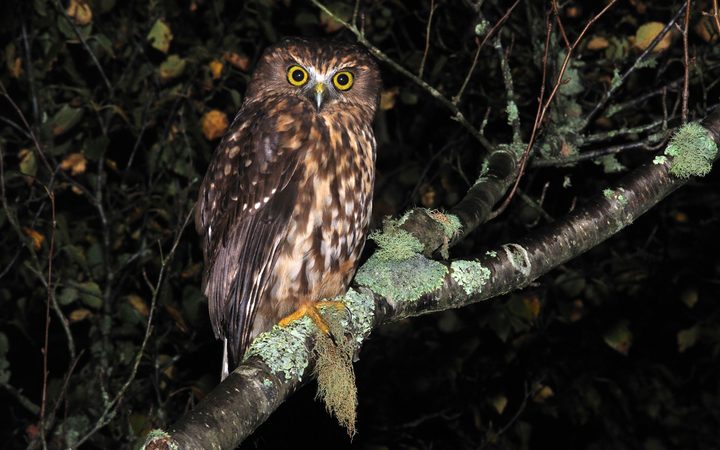 The use of 1080 for pest control is supported by a range of conservation and farming organisations, but opponents claim forests fall silent when the poison is dropped, saying this is evidence of harm to native bird communities.
To investigate, Roald Bomans used bioacoustics to listen to the sound of native bird species in the Aorangi Ranges in June and the Rimutakas in July.
Bomans, a Victoria University Masters student, set up recording units in the forests five weeks before and after the 1080 aerial drops.
In the Aorangi area, there was no increase in the periods the forest was silent, and in the Rimutakas there was more birdsong after the toxin drop than before.
Bomans developed an algorithim to isolate particular bird calls within the enormous amount of data collected, focusing on moreporks.
Including a third set of data over a longer time period, the results suggested an overall positive effect from 1080 mammal control on the morepork population.
The assumption is the recorded calling rate is linked to how many birds are present, but Bomans says that still has to be tested.
He selected morepork partly because they're susceptible to secondary poisoning; when birds die from eating poisoned invertebrates or rodents.
But he says the recording technique is limited to species that, like the morepork, call often and would be difficult to apply to more naturally silent birds such as the New Zealand falcon.
---