Too many kaka? What nonsense
Conservation has a new frontier. Its location may surprise some New Zealanders, because it's not an isolated beach or distant alpine valley. Long silent, these places remain so, their birdlife and dawn choruses destroyed as predatory mammals invaded over the past two and more centuries.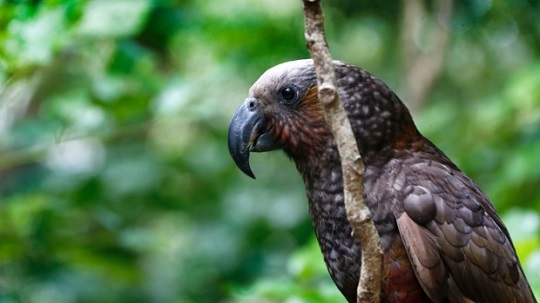 OPINION
Wellingtonians will not be surprised - their city is the spearhead of the new frontier. Zealandia's abundant birdlife is moving beyond the safety of its mammal-proof fence and re-claiming the city, made safe for native birds after 20 years of committed pest mammal control by Wellington City Council and the regional council.
The Zealandia movement has gone national. Fenced sanctuaries now dot the length of the New Zealand landscape, often within easy flight distance of a city: Orokonui (near Dunedin), the Brook Waimarama (Nelson), Cape Sanctuary (Napier/Hastings), Shakespeare and Tawharanui (Auckland).
Rotokare (New Plymouth) and Maungatautari (Hamilton) are only slightly further from their cities. Tui, bellbirds, kereru, and even kaka are colonising an urban frontier that is safer habitat than our native forests.
Why has this happened? Many reasons. Most importantly, people love nature. Nature inspires us - as Associate Professor Wayne Linklater recently said, "The sound and sights of kaka... are simply awesome."
Nature galvanises and rejuvenates our spirits. A rapidly growing body of research also tells us that connections to nature are essential to human and economic health and well-being.
Almost 90 per cent of New Zealanders now live in cities. We will experience nature on a daily basis only if nature returns to cities. Local and regional councils understand the benefits of biodiversity.
Wellington City's widely reviewed biodiversity strategy, Our Natural Capital, "recognises that healthy biodiversity contributes to healthy environments and that creates healthy people," as well as contributing to economic sustainability, tourism, and our quality of life - hence the council's substantial investments in environmental restoration and pest control.
Achieving the ambitious goals of Our Natural Capital requires a concerted effort. Led jointly by Wellington Zoo and Zealandia, the Nature Connections programme brings together 10 Wellington region environmental partners to advance the region's ecological goals.
The Department of Conservation actively partners with Nature Connections and nationally supports hundreds of local environmental groups.
Wellington is a leading player in the international Biophilic Cities Project, which aims to foster, protect and grow "deep connections and daily contact with the natural world."
To contributing cities, "Nature is not something optional, but absolutely essential to living a happy, healthy and meaningful life." Wellington's partners include such forward-thinking cities as Oslo, Singapore, Perth, and San Francisco.
None of this might need mentioning, except that Associate Professor Linklater's enthusiasm for nature appears measured. Despite noting that over 80 per cent of Wellingtonians support kaka and other wildlife in the city, he asks if "reintroducing kaka... was a tremendous mistake?"
Because of the damage kaka have caused to some trees, gardens and buildings, he concludes that it was.
Nature can indeed be bothersome. In 1856, the great English naturalist AR Wallace observed the famously foul-odoured but much loved durian fruit in Borneo falling from trees and injuring or killing people who sought to obtain them.
He remarked that "all the varied productions of the animal and vegetable kingdoms, have not been created solely for the use and convenience of man."
Like kaka and durian, trees can be inconvenient. They drop all those annoying leaves, and their roots damage urban infrastructure. But we treasure and manage urban trees because they make our lives better.
Neighbourhoods with more trees have happier, healthier residents and less crime.
Let's keep the return of kaka and other birds to our cities in perspective. As environmental stewards, our challenge is to make our cities safe for both nature and people. Internationally, designers are creating high rise buildings that minimise birdstrikes.
Canadians have learned to co-exist, mostly peacefully, with grizzly, black and polar bears, fearsome predators that sometimes wander down city streets. Swedes love their moose, despite 5000 road accidents annually involving moose, a few fatal to humans.
In Nepal, community development programmes include initiatives for co-existence with tigers that are safe for humans and tigers.
Wellingtonians have committed to a visionary plan for a better, nature-rich future for its citizens.
The occasional inconveniences that nature in cities may bring are bumps in a long journey and sure signs of success. The challenges that birdlife will bring to New Zealand cities are modest in comparison to the joy, pleasure and benefits they bring.
We will find new, imaginative ways to manage their return.
So now is not the time to flinch. We have much to gain from a biophilic future. Congratulations, Wellington. Too many kaka? Don't be ridiculous.
Charles Daugherty is Professor Emeritus of Ecology at Victoria University of Wellington. He is a former Trustee of Zealandia and is presently a Trustee of Predator Free New Zealand, and a Board Member of Zero Invasive Predators. He is a Fellow of the Royal Society of New Zealand and an Officer of the New Zealand Order of Merit for Services to Conservation.
- The Dominion Post