Esteemed Italian author visits Victoria roundtable
On Tuesday 29 November, staff of the Schools of Languages and Cultures (SLC) and English, Film, Theatre, and Media Studies (SEFTMS) hosted a roundtable discussion with Judge Giancarlo de Cataldo, author of Romanzo criminale.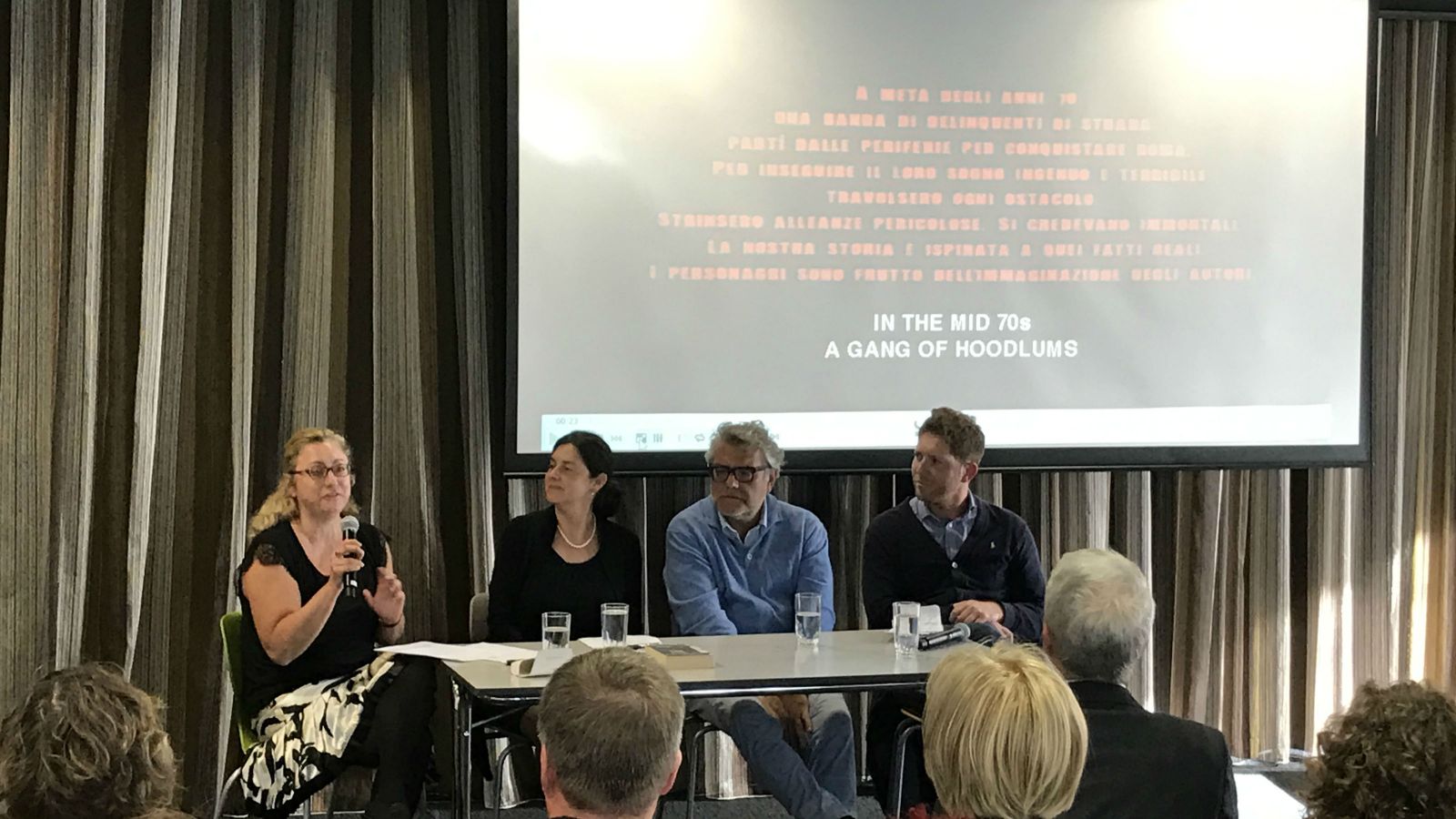 From left to right: Dr Claudia Bernardi and Dr Barbara Pezzotti (Italian), Judge Giancarlo De Cataldo, and Dr Alfio Leotta (Film Studies).
The special event was held at Te Whare Apārangi, Royal Society of New Zealand, and was organized and chaired by Dr Barbara Pezzotti, Honorary research fellow of the Australasian Centre for Italian Studies. Dr Pezzotti has a PhD from Victoria, and is also a teaching fellow and research assistant in the SLC's Italian programme. Joining Dr Pezzotti and Judge de Cataldo in the discussion were senior lecturers Dr Claudia Bernardi (SLC) and Dr Alfio Leotta (SEFTMS).
Italian literature, film and television of late have been realistically re-envisioning the stories of terrorism from the Years of Lead, a period of socio-political turmoil in Italy that lasted from the late 1960s until the early 1980s. This round-table discussion investigated the comparisons between those waves of violence and the surge of global-wide attacks driven by religious fundamentalism since the targeting of World Trade Centre towers in New York on 11 September 2001.
Giancarlo de Cataldo works in Rome as a judge of the First Appeal Assizes Court of Rome. He has also written many crime and historical novels and essays, including two books based on his more than 30-years of experience as a criminal judge. His most famous novel, Romanzo criminale, has been adapted for film and television.
The event served as a fundraiser for those affected by the recent earthquake in Amatrice, Italy. It was attended by the Italian Ambassador, His Excellency Fabrizio Marcelli, and sponsored by the Australasian Centre for Italian Studies (ACIS), the Royal Society of New Zealand and the Embassy of Italy.