Development and commercialisation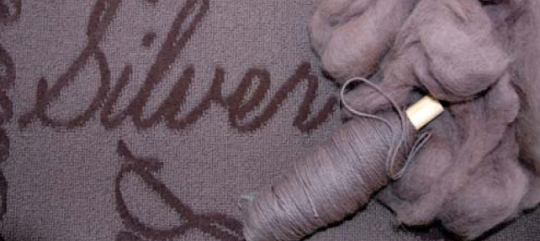 The development and commercialisation of all our technologies and associated products is an important part of our strategy. This is consistent with the government's desire to support existing local industries and establish new knowledge-based industries with high added value to support the growth of New Zealand's high-tech sector.
We are actively involved in establishing new export manufacturing businesses and licensing and partnering with New Zealand and international companies with complementary interests. Students in the group gain valuable insights working with these companies on the process of commercialisation of new products and technologies. Some examples are included below.
Gold wool and silver wool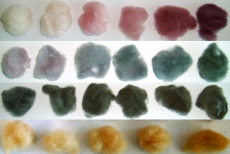 Prof Jim Johnston and Dr Kerstin Lucas have successfully led the development of our gold wool product. They have utilised nanotechnology to incorporate nanogold as a colourfast colourant in New Zealand merino and strong wool fibres.
Gold in its bulk form is yellow, but in nano form it exhibits different colours depending upon the size and shape of the particles. It avoids the use of synthetic dyes and links the high value of gold with high-quality New Zealand wool fibres for discerning customers.
This innovation captures a unique opportunity to develop a range of nanogold-coloured wool for high-value fashion apparel, textiles and premium carpets for international luxury markets. High-value woollen products such as these add substantial value to the New Zealand wool industry.
In a similar approach, Jim Johnston and former PhD student Fern Kelly have formed and bound nanosilver and its compounds to wool fibres to create a comparable range of colours. Silver also has well known antimicrobial properties, so the wool is being developed for use in textiles for public seating, transport, carpets, personal care clothing, medical clothing and sterile environments. This is also being extended to include hemp and linen fibres.
A key feature of both the nanogold and nanosilver wool technologies is the strong chemical bond between the gold and silver and the protein chains of the wool fibre. The colour and antimicrobial properties are permanently applied to the wool and will never wash or rub off, or fade.
Laboratory scale development continues and large samples have been produced in a small pilot plant using a scaled up process, for European and UK textile and carpet manufacturers for market evaluation and acceptance. These have been very well received and investment capital is currently being sought for full commercialisation.
Nano-structured calcium silicate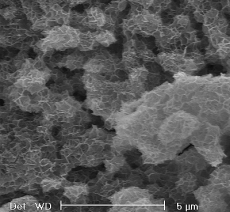 We have developed a suite of designer nano-structured calcium silicate materials with micron size particles comprising a 3D arrangement of stacked nanosize platelets. The material has a high pore volume for liquid absorption and a highly accessible surface area that can be functionalised to bind different chemical species. Applications being pursued include its use in filled and coated paper to improve print quality, anti-corrosive and anti-microbial paints, the recovery of phosphate and heavy metals from waste streams, and in composite phase change materials for passive heat storage and release. No other products currently in the marketplace have this unique combination of properties. The material can be produced from sodium silicate or geothermal water.
The technology has now been fully developed on a laboratory scale and implemented at a pilot scale operation in the US. We are negotiating with interested parties regarding sale or licence agreements.
Enhanced energy recovery from geothermal waters

The unwanted deposition of amorphous silica from the separated geothermal water, supersaturated in dissolved silica following the steam/water separation process, is a major problem worldwide and results in blocked pipes, heat exchangers and re-injection wells. It necessitates the use of higher steam/water separation temperatures, higher binary cycle heat exchanger temperatures and lower overall heat recovery.
We have carried out research to control the precipitation of dissolved silica and produce a nano-structured calcium silicate product, which does not adhere to the surface of pipes or heat exchangers and can be readily separated as a useful product prior to reinjection. This enables the use of higher steam-water separation temperatures for steam production as well as greater heat recovery from the separated water in the heat exchangers of a binary cycle electricity generating plant. Both of these factors enable more electricity to be generated from the geothermal resource.
The technology has the potential to increase the recovery of geothermal heat energy for electricity production by about 10-15%. In addition, maintenance and field operating costs will be considerably reduced.
The laboratory scale development is now complete and investment is being sought to implement the technology at pilot scale prior to commercialisation.
Wet air oxidation
We have developed a proprietary wet air oxidation technology to degrade problematic organic components of wastewater streams from agricultural and food processing industries. This enables the safe disposal of the waste stream to surface waterways. Applications for this technology include dairy sheds and milk, vegetable and meat processing operations.
The unwanted organic material is oxidised in water at an elevated temperature and pressure. This process breaks it down into smaller molecules that can be readily digested by microbes and substantially reduces the chemical and biological oxygen demand of the waste stream. It can then be safely discharged to a waterway or used as a chemical feedstock, in the plastics industry for example.
Our technology will enable industries to meet the increasingly stringent environmental requirements and compliance costs that relate to the discharge of organic waste into surface waterways. Some current disposal practices are no longer acceptable or sustainable and this new technology offers a simple and attractive solution. It is applicable both in New Zealand and worldwide.
A new company Wetox Ltd was established in 2010 to commercialise the technology.