People
Group members
Academic staff
---
Associate Professor – Chemistry School of Chemical and Physical Sciences

Room 507, Laby Bldg Gate 7 Kelburn Pde

Associate Professor – Chemistry School of Chemical and Physical Sciences

Room 508, Laby Bldg Gate 7 Kelburn Pde
Post-doctoral researchers
Dr Kristel Kodar
PhD students
Alex Hunt-Painter
Amy Foster
Kristiana Santoso
Chriselle Braganza
Thomas Teunissen
Ayesha Khan
Masters students
Research assistants
Kanu Waihi
People in the news
Podcast - Dr Bridget Stocker
8 September 2011
Radio New Zealand National, Nine to Noon: Dr Bridget Stocker discusses the intense scientific investigations involved in the search for cures for common diseases like cancer and diabetes.
Teamwork gets iminosugars review and artwork on journal cover
9 March 2010
The Immunoglycomics group, led by Bridget Stocker and Mattie Timmer has an iminosugar review article featured on the front cover of the latest issue of the European Journal of Organic Chemistry.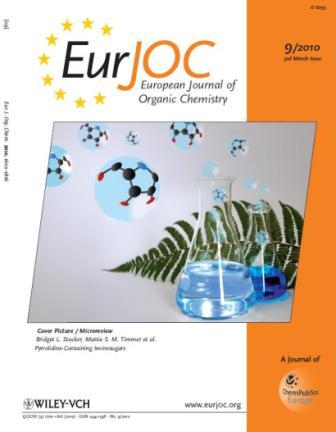 Drs Stocker (Malaghan Institute of Medical Research) and Timmer (School of Chemical and Physical Sciences) co-lead the Immunoglycomics group based at Victoria University of Wellington.
The research group all contributed to the review and to the artwork for the cover. "We wanted to get everyone involved in this - it was a real team effort, says lead author Dr Stocker.
"It's an area of chemistry where the group has a lot of expertise, so I was keen to update the literature with a review," she said.
The 'microreview' outlines recent developments in the synthesis of pyrrolidine-containing iminosugars. Iminosugars are sugar mimetics (mimics) that are commonly found in nature and have potential in the treatment of a number of diseases due to their biological activity. Some iminosugar-based drugs are already in clinical trials for the treatment of diabetes and much effort has been spent in developing efficient routes for their syntheses.
The team wanted to add a New Zealand flavour to the cover artwork and used the ponga fern (Cyathea dealbata) as the centrepiece, indicating that iminosugars are naturally occurring in many plant species around the world. Iminosugar bubbles, created in the flasks float up and out. The authors thank Sam Win-Mason for the photograph.
A better way of making the medicine go down
3 February 2010
Article by Kiran Chug, The Dominion Post.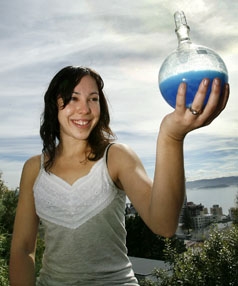 Developing drugs to treat disease can involve using a host of chemicals, but researcher Emma Dangerfield has found greener ways.
For the past two years, Mrs Dangerfield, 25, of Wellington, has been trying to make drug molecules in ways that use fewer resources and create less waste than is generated in traditional methods.
Carrying out the work as part of a joint project between Victoria University of Wellington and the Malaghan Institute of Medical Research, she has found a way to make the molecules used to treat diseases such as diabetes, cancer and HIV more quickly and efficiently.
For patients, this could mean cheaper, more widely available drugs. But Mrs Dangerfield will first have to get a pharmaceutical company to commit to developing the molecules on a large scale.
She has patented her formula, in which the drug molecules are made in five to eight steps, roughly halving the traditional process. It involves using solvents such as water and ethanol instead of petrol, and rethinking the order of steps used to make the molecule to result in less waste.
Victoria University of Wellington lecturer Mattie Timmer said some drugs produced toxic by-products during their development process.
Using Mrs Dangerfield's method would make it quicker and easier for drugs to be purified and made ready for consumption. "By using non-toxic chemicals you get a drug that needs less purification to meet the standards."
Malaghan research group leader Bridget Stocker said green chemistry was a developing field of research in California and Germany, but was difficult and required creativity. Green methods could enable chemists to produce large quantities of substances very quickly, which could then lead to the faster discovery of more drugs.
"A lot of drug discovery can be hit and miss, so it's good to make a lot of things quickly."
Mrs Dangerfield, whose method has been published in the journal Organic Letters, said she hoped the concept would be used in university curriculums as well as in drug manufacture.
Anna Win-Mason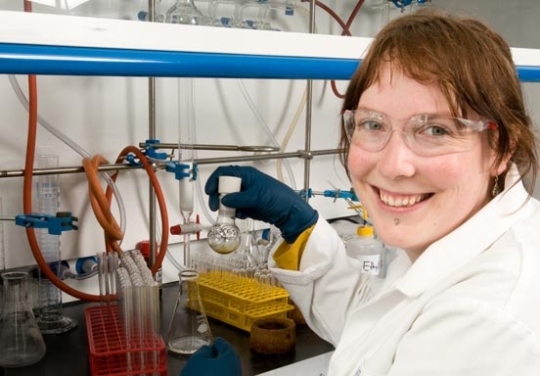 I asked Anna how she got started in chemistry. It seems to have begun with the mysterious arrival of a brochure about CHEM 191 (a bridging course at Victoria University of Wellington) in the mail one day. She had just arrived home from six months in the USA as an exchange student and was wondering what to do next.
These kinds of fortuitous moments have marked Anna's already fascinating career in chemistry. Of course she took the summer course, to round out her knowledge from school. She then carried on, preferring chemistry to psychology "because of the smaller classes and nice lecturers". She finished with 1st class honours in 2001.
Embarking on a PhD was a big decision and she took a year out; synthesising inositol standards at Industrial Research Ltd (IRL), which confirmed her desire to make a career of chemistry. The motivation to "be like the guys out there", with their knowledge and experience, saw her back at University with a Genesis Oncology Trust postgraduate scholarship for PhD study.
The first year went well, but during the second, Anna's supervisor moved overseas and she decided not to follow him to the US. In hindsight it was a good choice, since she later became seriously unwell, having to endure nine hours of brain surgery to remove a benign cyst, and a recovery that took nearly three years. The PhD was put on hold and eventually given away, after she decided it would be better to try something else.
But, chemistry came calling again! Anna took a part-time job at GlycoSyn (IRL) as a Logistics Assistant, in order to work with chemists, and a few months later a colleague persuaded her to try some bench chemistry one day a week. Her skills came back quickly and her confidence returned. Confidence enough to return to study; this time a Masters with the Immunoglycomics Research group, funded by an Enterprise Scholarship in conjunction with IRL. Funnily enough, six months in, she has decided to have another crack at that PhD and will simply extend her Masters research.
Anna is feeling positive, saying, "the chemistry is working and the group is great – it's cool". Anna got married last year and would like to post-doc overseas. As for hobbies, she loves gigs, movies and books, but I am left in no doubt when she says, "my main hobby is people".