NMR spectrometers
Te Herenga Waka—Victoria University of Wellington hosts one of the largest NMR suites in New Zealand with five magnets operating between 400 MHz and 600 MHz.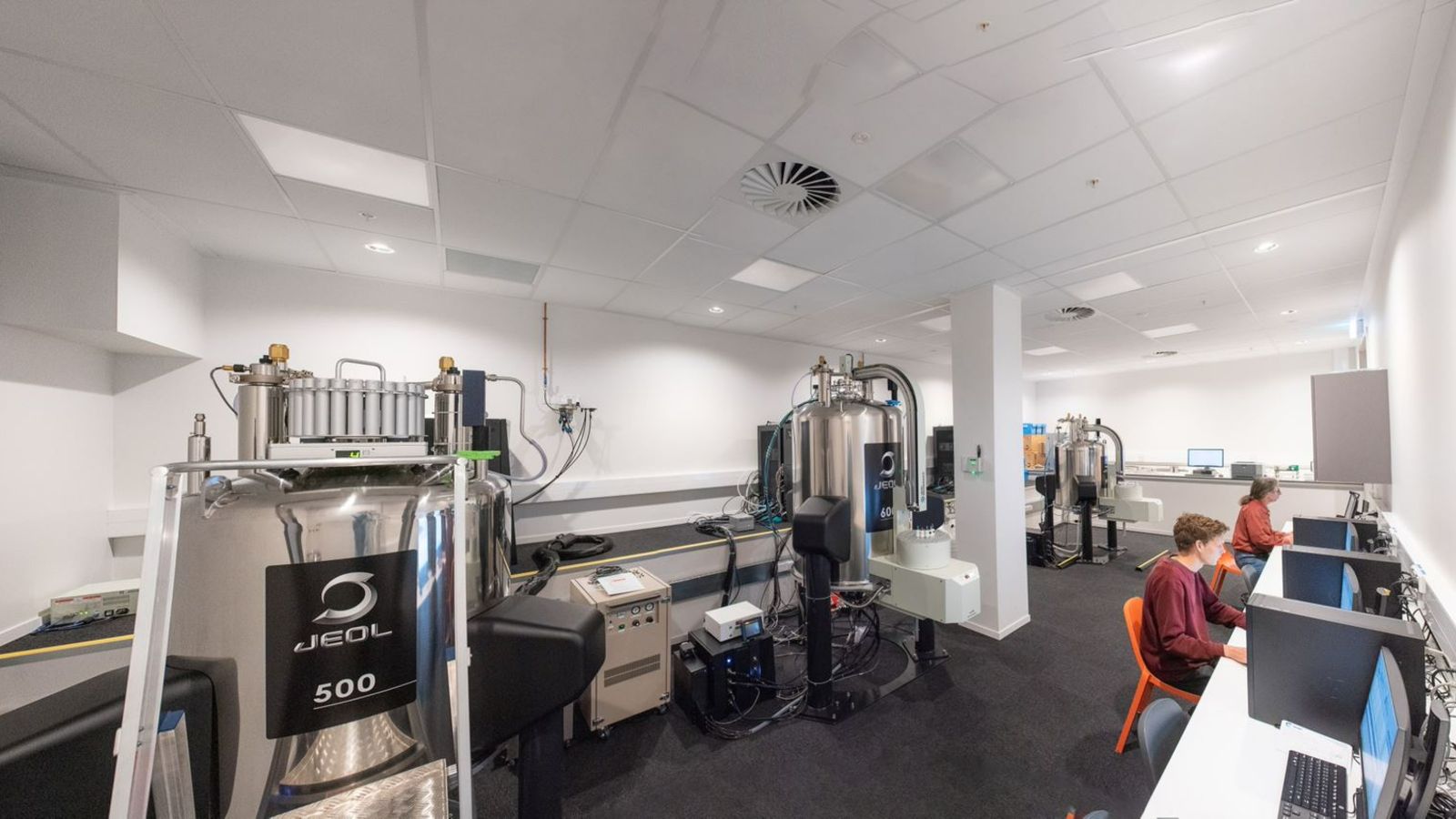 The University's NMR facility offers a range of spectrometers, and is located in the School of Chemical and Physical Sciences.
The 500 and 600 MHz instruments are used primarily for postgraduate research in chemistry. The other two systems, both operating at 400 MHz, are more commonly used to study physical processes such as rheometry and diffusion. A helium recycling system is installed, and there is an liquid nitrogen production unit for the NMRs on campus.
The NMR Facility on level 0 of the Laby building has the following functionality:
Long Term variable temperature unit -30°C for 24 hours.
Short term VT unit using liquid nitrogen is 6 hours at -100°C and 24 hours at 0°C.
The VT units can be used on any of the NMR systems.
All NMRs are equipped with an auto sampler.
3-Channel 500MHz Nuclear Magnetic Resonance Spectrometer
Tuneable X-Nuclei probe indirect detection probe
Variable temperature range from -120°C to +150°C.
Auto tuneable between P31 and N15 including K39 and Ag109. Installed as the standard probe.
5mm XPH broadband probe for P-X decoupling
X is between the N15 and C13 frequency.
Temperature range is from -100°C to +150°C.
An 24 position auto sampler.
This probe can be used on special requests if needed. Please enquire at least 2 days in advance.
2-Channel 500MHz Nuclear Magnetic Resonance Spectrometer type JNM-ECZ500S for routine analyses aimed towards 24/7 routine analyses
Inverse detection proton sensitive auto tuneable HC probe.
64-sample waist-level Auto Sampler.
Specifications of installed probe.
NM-03822RO5SS 500 MHZ 5MM FG/RO DIGITAL AUTO TUNE PROBE S. This probe is used for 1H and multinuclear NMR observation while irradiating 1H, or for 1H NMR observation while irradiating one nucleus among multiple nuclei by applying a pulsed magnetic field gradient to a sample using a 5 mm sample tube. Nuclei for observation and irradiation: 1H, 19F, 31P to 15N, 39K, 109Ag Auto Tuning Unit, tuning and matching of each nucleus can be done automatically.
600MHz Nuclear Magnetic Resonance Spectrometer type JNM-ECZ600R
5mm FG/SC Auto Tune to Si29, N15, C13 and P31 SuperCOOLCryogenic Probe and a 5mm FG/RO Digital Auto Tune room temperature indirect detection Probe.
64-sample waist-level Auto Sampler.
Two 400MHz Bruker Avance II
Magnets are both 89 mm vertical wide-bore cryostats.
Located in LB308.
Studying the rheology and diffusion of soft materials or the flow dynamics of liquids in porous media.
Contact
There is more information on the NMR Facility's own website and the NMR wiki page.
All potential users should contact: