Welcome
Welcome from the Head of the School of Chemical and Physical Sciences, Te Wānanga Matū.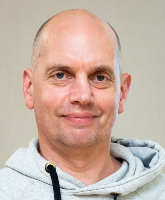 It is my pleasure to welcome you to the School of Chemical and Physical Sciences, Te Wānanga Matū. Our School houses two areas of natural science, Chemistry and Physics, and is recognized nationally and internationally for the quality of its research and teaching programmes in both disciplines.
Chemistry is a broad discipline that covers subjects ranging from how a drug interacts with the body to how solar cells convert light into energy. Our Chemistry courses deliver in all key areas, building on foundations established in the early stages of the programme to encompass the most recent innovations and challenges as your knowledge in the subject grows.
A diverse range of subjects examining all aspects of the physical world are offered in the Physics teaching programme. For example, quantum mechanics and nanotechnology are concerned with the smallest components of our universe, whilst geomagnetism and astrophysics deal with the largest.
The Chemistry and Physics teaching programmes have both been externally commended for the integration of staff research into courses, and the commitment of the academic, technical, and professional staff towards providing a positive student experience.
The research expertise of the School is reflected in our excellent record of publishing in top-ranked international journals, as well as our outstanding ability to attract external funding from the most competitive and high-profile sources. The School supports research ranging from fundamental "blue-skies" projects, seeking solely to enhance our scientific understanding, to applied research to directly benefit humankind. The School is noted for the ecosystem of successful start-up companies that continue to emerge from the research programmes.
The School houses world class facilities supported by highly trained and motivated technical and professional staff. Many strong collaborative links exist between members of the School and researchers in New Zealand and around the world. We host the MacDiarmid Institute for Advanced Materials and Nanotechnology, one of New Zealand's centres of research excellence. We cultivate close links with the Ferrier Research Institute (applying carbohydrate chemistry to real life problems including the design of better drugs and materials) and Paihau—Robinson Research Institute (at the interface of engineering and applied physics for the development of advanced technologies).
We provide a challenging and inspiring academic environment to undergraduate and postgraduate students. Students are warmly invited to contact academic staff with enquiries about courses and research programmes and opportunities.
I look forward to meeting you in person and wish you the very best for an enjoyable and stimulating education in your chosen field.