People
Academic staff
Senior Lecturer - Chemistry School of Chemical and Physical Sciences

Room 207, Alan MacDiarmid Building
I am a native Wellingtonian and completed my Bachelor of Science with Honours (First Class) in 1995 at Victoria University of Wellington. After short term positions at ESR and Industrial Research Ltd, I undertook PhD studies at the Australian National University under the supervision of Professor Martin Banwell in the area of cyclopropane chemistry (1997–2000).
I was subsequently awarded an Anglo-Australian Fellowship (2001-2002) and then a Ramsey Memorial Post-doctoral Fellowship (2002–2004) at the University of York, working with Professor Richard Taylor.
In 2004 I returned to Victoria University of Wellington as a lecturer and am now a senior lecturer in organic chemistry.
Associate Dean - Academic (Programme Development) School of Biological Sciences

Room 308, Alan MacDiarmid Building
I completed a BSc in Chemistry at Nottingham University, UK in 1987 and a PhD in Pharmaceutical Sciences (studying peptide chemistry) under the supervision of Professor Barry Bycroft in 1991.
Following a position as lecturer then senior lecturer in the Department of Chemistry at De Montfort University in the UK, researching anthraquinone anti-cancer agents and glutathione-mediated detoxification and toxicity, I was appointed to the staff of the School of Biological Sciences at Victoria University of Wellington in July 2000.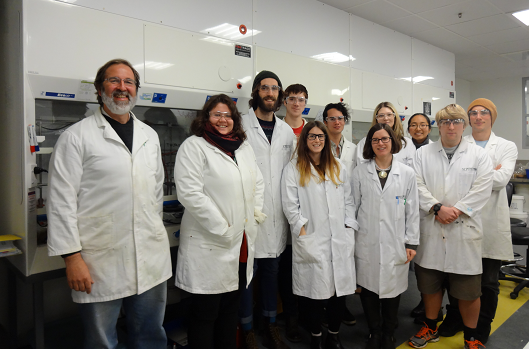 Current students
PhD students
Sophie Geyrhofer
Amira Brackovic
Xu Tao
Jordan McCone
Masters students
Intern
Chris Orme (MChem student, York)
Previous group members
Jingjing Wang (PhD)
Thomas Bevan (PhD)
Kalpani Somarathne (PhD)
Mark Bartlett (PhD)
Hemi Cummings (PhD0
Sarah Brown (Masters)
Matt Fisk (Masters)
Dan Phipps (Masters)
Hedley Stirrat (Masters)
Ash Asbury (Masters)
Dylan Davies (Masters)
Scott Riordan (Masters)
Claire Turner (Masters)
Loic Lassueur (Masters)
Ben Durrant (Masters)
Peter Moore (Masters) 2010 - 2012
Xuyu Liu Masters 2010 - 2012 Now a PhD student at University of Sydney
Julia Schuster Intern 2010 - 2011 Now at ETH, Switzerland
Dr Russell Hewitt PhD 2006 - 2010 Now at ICES, A*STAR, Singapore
Sam Ting Masters 2009 – 2010 Now at IPONZ
Febly Tho Masters 2008 – 2010 .
Cédric Colomban Intern 2010 Université Joseph-Fournier, Grenoble, France
Dr Lynton Baird PhD 2005 – 2009 Now teacher training
Dr Emma Casey (née Turner) PhD 2004 – 2007 Now a post-doctoral fellow at the University of Bath, UK
Dr Shivali Gulab (previously supervised by Dr John Hoberg) PhD 2004 – 2007 Now with IRL, currently working at Albert Einstein College of Medicine, New York
Jack Anderson Honours 2009 .
Anita Corderoy Honours 2008 Now working at AsureQuality
Shi Lei Postgrad Dip 2008 .
Caitlin (Cat) Patchett BBmedSc(Hons) 2006 Now teaching chemistry in Australia
Emma Dangerfield (née Smith) Honours 2006 Now graduated with a PhD, VUW
Birthe Cortner Honours 2005 Now a PhD student at University of Otago
People in the news
Four 'generations' of chemists at Science graduation
21 May 2010
Four academic generations of chemists were present at Victoria University of Wellington's Science graduation ceremony on Tuesday evening.
Two received doctoral degrees. Russell Hewitt, the youngest, graduates with a PhD in organic chemistry, and alumnus Professor Martin Banwell was awarded an honorary doctor of science degree.
Mr Hewitt's supervisor Dr Joanne Harvey (herself a doctoral student of Martin Banwell's from the Australian National University) and Professor Banwell's former PhD supervisor Emeritus Professor Brian Halton were also be present at the ceremony.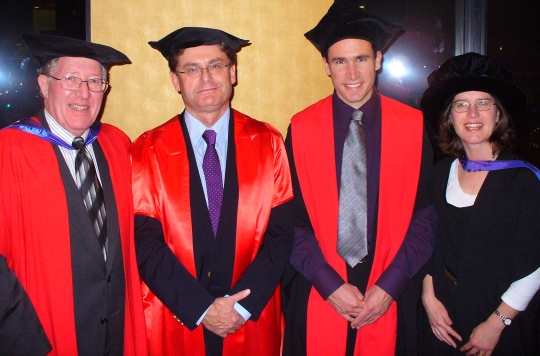 "To the best of our knowledge, this was a unique event in New Zealand chemistry. The international nature of scientific research and the size of New Zealand's science community means that the simultaneous gathering of multiple generations of PhD graduates is rare," says Dr Harvey.
"Added to this are the doctoral achievements of Martin and Russell that were celebrated at the graduation ceremony."
The four generations have all made significant progress in the understanding and use of three-membered ring (cyclopropane) compounds. These can be used in a number of ways, including in the synthesis of important pharmaceutical and pharmacological end products now in use.
"We intend to continue exploiting the chemical reactivity present in cyclopropanes to gain access to a wide range of useful products," says Dr Harvey.
"Victoria has been a leading centre of research on strained organic chemicals, including cyclopropanes, through Brian Halton's work over the past 40 years. We hope to continue that tradition in our investigations of cyclopropane reactions, inspired by the successes of Martin Banwell's group at ANU."
A symposium celebrating Professor Banwell's honorary doctorate was held by the School of Chemical and Physical Sciences yesterday. The full day event featured research seminars by all of the four generations of chemists mentioned above and highlighted chemistry in the Wellington region.