Friends and Colleagues Deeply Saddened by Loss of Pablo Etchegoin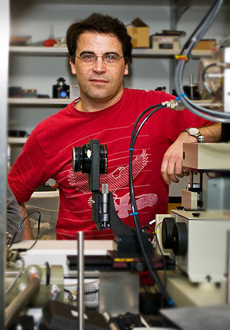 Victoria University this week mourns the loss of one of its leading scientists, Professor Pablo Etchegoin.
Pablo Gabriel Etchegoin was widely regarded as one of the world's most successful condensed matter physicists. His particular interest was in using Surface-enhanced Raman Scattering (SERS) to probe biological systems. Pablo and his research team established the Raman Laboratory, a world-class experimental facility that allowed them to contribute much to the field of single molecule detection.
Pablo was closely involved with the MacDiarmid Institute for Advanced Materials and Nanotechnology as a Principal Investigator and had strong research links with Imperial College in London, as well as with groups in France and Switzerland.
During his time at Victoria, Professor Etchegoin became a close friend to many in the School of Chemical and Physical Sciences, the Faculty of Science and the wider university community.
Professor David Bibby, Pro Vice-Chancellor of the Faculty of Science, praised Pablo's impressive reputation as a physicist working on world-leading research.
"Professor Etchegoin was at the forefront of the first-class research our scholars are undertaking in the area of physics and nanotechnology. He made many significant contributions in his specialist areas of study, and hoped to make a positive difference to the world through his research. He will be very much missed."
Pablo studied electronic engineering and physics in Argentina, before moving overseas to complete his doctoral studies. In 1990, he became a Fellow of the Max-Planck Institute and, in 1994, completed his PhD in Physics at the University of Stuttgart. He then moved to Cambridge University as a Marie-Curie post-doctoral Fellow of the European Union.
Before arriving in New Zealand in 2003, he had been a Senior Lecturer at Imperial College London and had also returned to his country of birth to work at the National Commission for Atomic Energy of Argentina.
Professor Etchegoin's contributions to science were recognised through a number of awards, including, in 2004, the T.K. Sidey Medal for outstanding scientific research from the Royal Society of New Zealand, which also elected him as a Fellow in 2011.