Leading Carbohydrate Chemist farewelled this week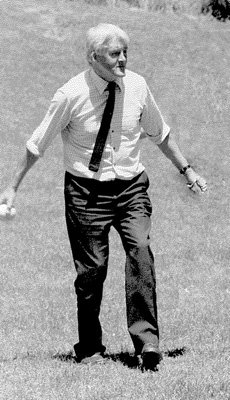 Emeritus Professor Robin Ferrier, who died last week, was one of New Zealand's eminent chemists and a leader in the field of carbohydrate chemistry.
He taught numerous undergraduate students and supervised many postgraduate Master's students and 11 doctoral research students before retiring from Victoria in January 1998.
Robin then spent 15 years as a Chemistry Consultant at Industrial Research Limited - now Callaghan Innovation - with IRL's world-leading Carbohydrate Chemistry team.
Throughout his career, Robin consistently published in chemistry's premier international research journals, produced over 150 papers, reviews and books, and lectured at many international meetings.
He discovered two reactions in the area of sugars having double bonds, each of which became known as the Ferrier Reaction and/or the Ferrier rearrangement.
In 2012, Dr Peppi Prasit, a former Victoria PhD student of Robin's, led the establishment of an annual lectureship to honour Robin's distinguished career in Carbohydrate Chemistry. The inaugural Ferrier Lecture, in March this year, was given by Professor Vern L. Schramm, Professor and Ruth Merns Chair of Biochemistry at Albert Einstein College of Medicine in New York.