Sue Orr
Sue's project combined a novel, The Party Line, and a critical analysis of the manipulation of the eavesdropping act and motif in Maurice Gee's adult fiction.
PhD awarded 2016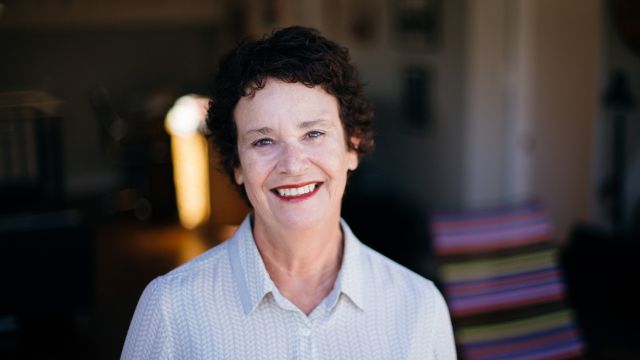 Sue completed an MA in Creative Writing at Victoria University of Wellington in 2006. Before starting the PhD in 2013, she had published two short story collections – Etiquette for a Dinner Party (Vintage, 2008) and From Under the Overcoat (Vintage, 2011). From Under the Overcoat was shortlisted for the NZ Post Book Awards 2012, and won the People's Choice Award.
Her work has also been published in the NZ Listener, Sport, in various anthologies and has been broadcast on Radio New Zealand National. Sue reviews for the NZ Listener and The Spinoff and also occasionally teaches creative writing at Manukau Institute of Technology in Auckland. In 2011 she was a Buddle Findlay Sargeson Fellow.
Sue's creative component was a novel, The Party Line, set in rural New Zealand in the 1970s. The Party Line was published mid-candidature in 2015 by Vintage and spent several months at the top of the NZ Bestseller List. The title refers to both the shared party lines of 1970s New Zealand (and the possibility of eavesdropping on them) and to the implications of crossing social hierarchical party lines.
Her critical research examined the manipulation of the eavesdropping device in two of Maurice Gee's adult novels, Plumb and Prowlers.
Since 2016, Sue has been teaching creative writing in women's refuges in Auckland and Wellington. In 2018, she joined the Write Where You Are Trust and has been teaching creative writing in Rimutaka and Arohata prisons in Wellington. Her second novel, Loop Station, will be published by Te Herenga Waka University Press in 2021.
Read more