International guest writers 2014
Guest writer profiles 2014
Introduction
Each year the International Institute of Modern Letters invites leading international writers across a range of genres to teach masterclasses for current students of the MA in Creative Writing, and appear in public events in Wellington. A sample of previous international guests includes Guillermo Arriaga, Santo Cilauro, Teju Cole, Richard Ford, Janice Galloway, Lee Gutkind, Joy Harjo, Michael Hofmann, Michael Hulse, Ben Lewin, Andrew Motion, Mal Peet, Ron Rash, Mary Ruefle, Robert Shearman, Karen Solie, and Scarlett Thomas.
Our first guest for 2014 was the Scottish poet Jen Hadfield. The Catalan writer and translator Jordi Puntí and Jamaican-born poet and novelist Kei Miller - both guests of New Zealand Writers Week - visited in March, while April saw a welcome return visit from the Scottish writer Janice Galloway. In May our students were visited by the German writer, screenwriter and journalist Maike Wetzel, and in September the IIML and the New Zealand Literary Translation Centre welcomed the Mexican-born, English-domiciled poet, novelist, translator, anthologist and publisher Michael Schmidt for a masterclass and several public appearances.
International guest writers 2013
International guest writers 2012
International guest writers 2011
International guest writers 2010
Jen Hadfield (February 2014)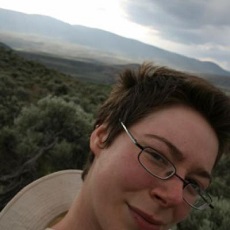 In 2008, Jen Hadfield became the youngest person to win the TS Eliot Prize, with her second collection Nigh-No-Place (Bloodaxe Books). Judge Tobias Hill celebrated her 'sheer joy of poetry', while fellow judge Andrew Motion commented: 'she is a remarkably original poet near the beginning of what is obviously going to be a distinguished career.'
In 2003 she won an Eric Gregory Award for the manuscript of Almanacs ; published by Bloodaxe in 2005. Three years later, at 30, she won the T S Eliot Prize for Nigh-No-Place. The poems in both books, she writes, 'are united by my fascination with spoken language and by themes of wildness and subsistence; fretting over what it means to be "no-place" and what it means to make yourself "at home".'
Born in Cheshire to Canadian and English parents, she developed a deep love of Shetland and the Western Isles while travelling there, with funding from a Scottish Arts Council bursary, during the writing of Almanacs. A residency with Shetland Arts Trust followed, and she now lives in Shetland where she is currently Reader in Residence at Shetland Library, having also been a Scottish Poetry Library Poet Partner at Shetland Library in 2007-10. Alongside the residencies, prizes and bursaries she has supplemented her income with work ranging from framing pictures to gutting fish.
Her third collection Byssus was published by Picador in 2014.
Hadfield's work has increasingly been described as nature poetry, where 'nature' means not simply a description of the natural world, but the changing ecology and the challenges of how we adapt to living in the landscape, as well as being impressed by its difference: 'for me it comes down to being honest about the present tense that you live in and looking as accurately and intently as possible at one place'. Her poems also invoke the sounds of liturgical language; in her hands, a combination of natural subjects, secular idioms and liturgical forms make a complex, enriched idea of a contemporary nature poem.
Alongside poetry, Hadfield is a member of the artist's collective Veer North and works in painting, photography and sculpture, exploring salvaged materials, and making artists books. In 2007 she received a Dewar Award to research Mexican devotional folk art and to create an exhibition of Shetland 'ex-votos' - devotional miniatures incorporating illustration and 'sacred' text.
Jen Hadfield visited our MA in Creative Writing students for a reading and Q&A session on 20 February. She also appeared at Unity Books for a lunchtime reading on 27 February.
(Sources: Scottish Poetry Library and Poetry Archive listings.)
Read more:
Rogue Seeds: Jen Hadfield's blog
Jordi Puntí (March 2014)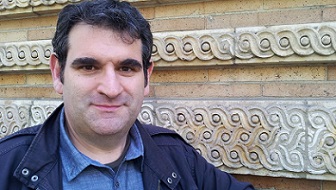 Jordi Puntí is a promising new voice of contemporary Catalan literature. As well as translating into Catalan books by Edward Gorey and novels by the likes of Paul Auster and Amélie Nothomb, Puntí writes regularly about culture and football for the Spanish and Catalan press. His own books have been translated into 15 languages, including his 'inventive, absorbing and beautifully written' (Daily Mail) debut novel Short Luggage(Short Books, 2013), which received the National Critic's Award, the Catalan Bookseller's Prize and the Lletra d'Or, and has recently been published in New Zealand.
Puntí visited the IIML on 10 March for a masterclass with our postgraduate Creative Writing students. He spoke about arriving at the unique four-person narrative voice of his novel Lost Luggage, the demands of sustaining and then solving key mysteries within the plot, and the differences between working on short stories ('cut, cut') and a novel, where multiple stories and characters can be put in play and disappear or return and eventually affect each other. It was a great session which really captured the way playfulness and curiosity can come off the page.
Puntí visited Wellington as a guest of the 2014 New Zealand Festival Writers Week. On Wednesday 12 March he was in conversation with poet Michael Harlow in a session titled Lost and Found in Translation.
Biographical details sourced from the New Zealand Festival Writers Week programme.
Kei Miller (March 2014)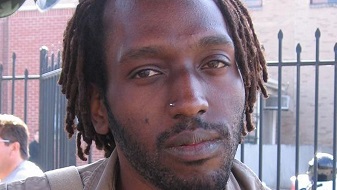 Jamaican-born, Scotland-based writer Kei Miller was also a guest of the 2014 New Zealand Festival Writers Week. He has written three poetry collections and two novels, was the editor for Carcanet's New Caribbean Poetry Anthology and was short-listed for a Commonwealth Writers First Book Prize. Miller teaches creative writing at the University of Glasgow and is the recipient of a 2013 Rhodes Trust Fellowship. In his forthcoming collection, The Cartographer Tries to Map a Way to Zion, he dramatises what happens when one system of knowledge, one method of understanding place and territory, comes up against another.
In his 12 March masterclass with the IIML's postgradudate students, held at Hannah Playhouse, Kei Miller read from The Cartographer Tries to Map a Way to Zion and spoke of his belief that a good poem 'must take a leap - this must steal your breath - you didn't see it coming.' Although much of his poetry begins in ideas and events, not from the personal, he says 'a poem owes nothing to the event it's narrating. A poem is the event.' He also spoke of the force motivating his essays: 'This is what I believe. This is urgent. (Which is kind of experimental in a British context.)' It was a terrific and inspiring session..
On Monday 10 March at the Embassy Theatre, Miller was in conversation with novelist, short story writer and PhD Creative Writing graduate Tina Makereti in a Writers Week session titled Where We Might Fit In.
Biographical details sourced from the New Zealand Festival Writers Week programme.
Tina Makereti is the convenor of the IIML's Māori and Pasifika Creative Writing Workshop in second trimester 2014.
Janice Galloway (April 2014)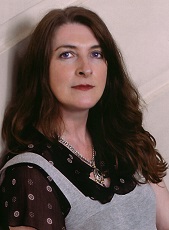 Following the runaway success of Scottish writer Janice Galloway's visit to Wellington and the IIML in 2013, we were delighted to welcome her back this year for a masterclass with our postgraduate students, during her residency as the inaugural holder of the University of Otago Scottish Writers Fellowship.
Galloway's first novel, The Trick is to Keep Breathing, is regarded as a contemporary Scottish classic, and her writing continues to be widely celebrated. Galloway works across many forms, including short stories (now collected in one edition from Vintage), novels, prose poetry, collaborations with visual artists, and opera libretti. Most recently her 'anti-memoirs' This is Not About Me and All Made Up have won critical acclaim including Scottish Book of the Year. Her writing is valued for its 'lethal accuracy', lyricism and compassion.
Galloway has held several other international residencies, including in prisons, at the British Library, in Belgium as part of Het beschrijf writer scheme and at Hotel Chevillon in France courtesy of the Robert Louis Stevenson Award. She has taught courses for the Faber Academy.
Galloway first visited the IIML and Wellington in August 2013, with the support of the Melbourne Writers' Festival, to give a public reading as a featured guest in our Writers on Mondays series, and to lead a masterclass with our MA cohort (21 August). Read more about her 2013 visit. She returns to take up the University of Otago's Scottish Writers Fellowship; a three-month literary residency based in Auckland.While in New Zealand she was also a guest of the Dunedin Writers and Readers Festival.
Read more:
Maike Wetzel (May 2014)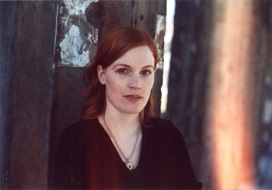 The German writer, screenwriter and journalist Maike Wetzel is the author of two award-winning collections of short stories:Lange Tage (2003) Long Days, and HochzeitenWeddings (2000), both published by S. Fischer Verlag. The English translation of Long Days (Comma Press, UK, 2008) was longlisted for the Frank O'Connor short story award in 2009. Her stories have appeared in over 40 anthologies, as well as on radio and screen, and have been translated into numerous languages.
Wetzel's journalism has appeared in newspapers and magazines including Die Zeit, Süddeutsche Zeitung and the Frankfurter Allgemeine Zeitung. She has directed short films and documentaries and also writes screenplays.
In 2014 she was the inaugural Goethe Institute New Zealand's Writer in Residence, spending two months in Wellington.
Wetzel came to visit the IIML on 22 May, in the final week of her residency, and talked about her work and writing life to a packed audience of MA fiction, script, poetry and creative non-fiction students. Her session introduced us to some of the differences between the literary and film worlds in Germany and New Zealand: in Germany, book events are solely readings rather than discussions; there is critical resistance to creative non-fiction; and they have a genre called Kammerspielfilm, which works as a chamber piece or drama, almost like a play, with a small cast and a psychologically-driven story. There was agreement that this could work well in Aotearoa - or perhaps the vampire comedy What We Do in The Shadows is already our Nosferatu.
A lunchtime reading at Unity Books on 23 May featured Wetzel reading from Long Days in German, alongside translation by Creative New Zealand's Calvin Scott.
Read more:
Long Days reviewed on Booktrust
Michael Schmidt (September 2014)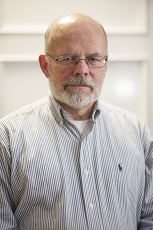 In association with the New Zealand Centre for Literary Translation, the International Institute of Modern Letters proudly hosted a visit in September by Mexican-born Anglophone man of letters Michael Schmidt. A poet, novelist, translator and anthologist, Schmidt is also founder/publisher of two of the UK's most illustrious and globally-minded poetry outlets, the Carcanet Press and the PN Review, and has for many years been Professor of Poetry at Glasgow University. Following his compendious Lives of the Poets (1998), Schmidt published, in 2014, an equally comprehensive and engaging look at how the novel made the modern world. The Novel: A Biography has been hailed as 'brilliant, intimate, assured, and almost unflaggingly interesting' (The Atlantic).
Michael Schmidt held a masterclass with students of the IIML on 10 September, of which Emily Perkins reported: 'We got an insight into how Schmidt, as a poetry editor, approaches work by new writers, listening for "the noises that the language makes" and how the poem can "not direct the reader, but create a space for the reader to enter". Also, he's a fan of the interesting cover letter. The stimulating, often funny session went on to draw connections in fiction from Cervantes to Flaubert to Gertrude Stein to Knausgaard, focusing on Flaubert's challenge to see how much you can do with how little. The value of form, and of rejecting familiarity, was touched on, leading to that crucial advice: to read widely, to learn the difference between taste and judgement, and to have the willingness to change your mind. He talked, too, about more pragmatic kinds of connections – the importance of trusted advocates for new writing, who can help it find a place in the world.'
While in Wellington, Michael was also our guest in a Writers on Mondays session at Te Papa on 1 September, chaired by Gregory O'Brien. That evening, he joined Wellington poets Dinah Hawken, Gregory O'Brien and John Dennison in a panel session entitled 'Will you enter creation? Four writers talk about faith'; held on Victoria's Kelburn campus and jointly sponsored by the Anglican Chaplaincy at Victoria University and and the Centre for Christian Studies. And on 10 September, he was in conversation with geographer Warwick Murray and translator Marco Sonzogni in another public event at Victoria; 'The Geographies of Translation: A conversation with Michael Schmidt.' This event was presented by the New Zealand Centre for Literary Translation and the Spanish and Latin American Studies Programme in partnership with VILLA and the Embassy of Mexico in New Zealand.
Michael Schmidt interviewed by Kim Hill on Radio New Zealand National (30 August 2014)
Michael Schmidt's visit to Wellington was supported by the New Zealand Centre for Literary Translation.