International guest writers 2015
Guest writer profiles 2015
Introduction
Each year the International Institute of Modern Letters invites leading international writers across a range of genres to teach masterclasses for current students of the MA in Creative Writing, and appear in public events in Wellington. A sample of previous international guests includes Guillermo Arriaga, Santo Cilauro, Teju Cole, Richard Ford, Janice Galloway, Lee Gutkind, Jen Hadfield, Joy Harjo, Michael Hofmann, Michael Hulse, Ben Lewin, Kei Miller, Andrew Motion, Mal Peet, Ron Rash, Mary Ruefle, Michael Schmidt, Robert Shearman, Karen Solie, and Scarlett Thomas.
Our guests in 2015 were the Irish poet Vona Groarke and the Sri Lankan-born Australian novelist Michelle de Kretser. We were also visited by the North American poet, publisher, translator and novelist Jonathan Galassi, who was brought to Wellington and hosted at Victoria University by the New Zealand Centre for Literary Translation.
International guest writers 2014
International guest writers 2013
International guest writers 2012
International guest writers 2011
International guest writers 2010
Vona Groarke (May 2015)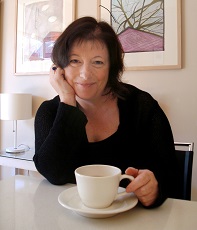 The acclaimed Irish poet Vona Groarke has published six collections with Gallery Press, the latest being X, (2014), a Poetry Book Society Recommendation. Others include Spindrift (2010), Flight (2002), and her translation from Eibhlín Dubh Ní Chonaill's eighteenth-century Irish, Lament for Art O'Leary (2008), which is currently being adapted as an opera by Irish composer, Irene Buckley. In the U.S., she publishes with Wake Forest University Press.
Her work has been recognised with many prizes, including the Brendan Behan Memorial Award, the Hennessy Award, the Michael Hartnett Award, the Forward Prize, and the Strokestown International Poetry Award. Her poems have recently appeared in Yale Review, The New Yorker, Kenyon Review, Boston Review, The Guardian, The Times and Poetry Review.
In 2010, Groarke was elected to Aosdána: the Irish arts collective. She has been a co-holder of the Heimbold Chair of Irish Studies at Villanova University in Philadelphia and has taught at Wake Forest University in North Carolina.
She now teaches poetry in the Centre for New Writing at the University of Manchester in the UK and is the editor of Poetry Ireland Review. In 2015 she will be on the judging panel for New Zealand's Sarah Broom Poetry Prize.
Following her appearance at the Readers and Writers Festivals in Dunedin and Auckland, Groarke was in Wellington for a week hosted by the IIML.
On Thursday, May 21st, she gave a lively lunchtime reading at the City Gallery, chaired by Cliff Fell. Along with her own poems, she read from her translation of EibhlÍn Dubh NÍ Chonnaill's 'Lament for Art O'Leary', a poem extemporised in the Irish keening tradition, which was very much the preserve of women. The poem is considered one of the greatest 18th century Irish poems. Groarke's translation is the first by a woman.
Her masterclass at the IIML on the 22nd was in two parts. The morning session, open to all our MA in Creative Writing students, focused on metaphor, with students working through examples of metaphoric language from the Exeter Book, Emily Dickinson and Seamus Heaney, before doing a couple of limbering up exercises and then producing their own poem; an extended metaphor that transferred concrete images to an abstract noun.
In the afternoon, Groake worked with students from the Poetry and Nonfiction MA group, workshopping their responses to an exercise on the five senses that she'd set a couple of weeks before.
Read more:
Poetry International Foundation listing
(Biographical details courtesy of the Sarah Broom Poetry Prize site. Image courtesy of Gallery Press.)
Michelle de Kretser (September 2015)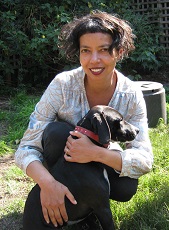 Michelle de Kretser was born in Sri Lanka and lives in Sydney, Australia. She is the author of four novels, including the multi-award winning The Lost Dog ( 2007) and Questions of Travel (2012), which won the Miles Franklin Award in 2013. Michelle's most recent publication is the novella Springtime: A Ghost Story.
She was our guest at a Writers on Mondays event on 7 Sepember, and then held a masterclass with MA in Creative Writing students at the IIML.
Michelle's Wellington visit began with a packed house for her reading and conversation at Te Papa for Writers on Mondays. Her latest novel Questions of Travel was the focus of the event, which shone new light on an important element of life and fiction: if place is a preoccupation of post-colonial literature, this engaging session suggested, the habits and causes of migration from and to those places are equally worth investigation.
Following the public event Michelle spent a full day with the MA Page cohort, elaborating on her writing life, her daily process, and the ways in which reading and thinking inform her work. We looked closely at the Mary Swan story 'The Deep', which revealed multiple layers and possible truths. The students have continued to remark on Michelle's warmth and generosity, and many of her observations about writing have been passed back and forth like precious coins in the weeks since she was with us. This was a highlight of the year.
Read more:
Michelle de Kretser interviewed in The Guardian, 22 June 2013
Questions of Travel reviewed by A.S Byatt (The Guardian, 27 April 2013)
Springtime: A Ghost Story reviewed in the Independent, 2 April 2015
(Image credit: Chris Andrews)
Jonathan Galassi (September 2015)
As part of a visit to Victoria hosted by Marco Sonzogni of the New Zealand Centre for Literary Translation, the noted New York poet, publisher, translator and novelist, Jonathan Galassi, dropped in at the IIML on 6 September 6 and later met with IIML students.
The author of three collections of poems, most recently Left-handed (Knopf, 2012), Galassi's long-term – and ongoing – project has been the translation of Eugenio Montale's complete poems. A revised and annotated edition of Montale's Collected Poems 1921-1954 was published in 2012. In the same year Galassi also published an acclaimed translation of Leopardi's Canti.
While his translations and writing are outstanding, Galassi is perhaps best known as an editor and now publisher and president of the New York publishing house, Farrar, Straus and Giroux, whose list is one of the wonders of the contemporary literary scene. His visit followed appearances at the Melbourne and Brisbane Writers festivals, where he was promoting his recently published first novel, Muse, a thinly-veiled roman a clef based around the New York publishing world, featuring his marvellous creation, the much-lauded iconic poet Ida Perkins. Her namesake, our own Emily Perkins chaired a public event with held at Waiteata Press, while fellow MA convenor Cliff Fell facilitated a lively discussion of his career in which Jonathan Galassi thoroughly entertained this year's MA students.
(Photo copyright Nancy Crampton. Source: Poetry Foundation website.)
Read more:
Muse reviewed (New York Times, 16 June 2015)