International guest writers 2010
Guest writer profiles 2010
Introduction
Each year the International Institute of Modern Letters invites a number of leading international writers across a range of genres to teach masterclasses for current students of the MA in Creative Writing, and appear in public events in Wellington. Recent guests have included Richard Ford, Lavinia Greenlaw, Eliot Weinberger, Richard Powers, Michael Palmer, Linda Vorhees, Andrew Bovell, Brian Castro and Christopher Reid.
In 2010 our guests were the poet Glyn Maxwell, novelist David Vann, creative nonfiction maestro Lee Gutkind and one of Hollywood's top story consultants Christopher Vogler.
David Vann (May 2010)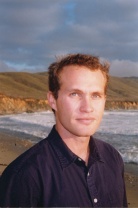 US writer David Vann is best-known for Legend of a Suicide, a remarkable book of stories set around his father's suicide. This genre-defying work - a fictionalised memoir - has been named in numerous Best Books of the Year lists in the UK, US and Australia. It is a best-seller in France, and has been translated into many languages. American writer Lorrie Moore praised the book for its 'luminous narrative art'. David has also written two other memoirs connected with his disastrous adventures as a sailor.
More recently, his account of the Northern University of Illinois shooter, Steven Mazmierczak, who killed five students, won the 2009 AWP Non-Fiction Prize. His novel, Caribou Island, will be published next year.
In May 2010 David taught a masterclass for the 2010 MA (Page) students during which he discussed the prose style of writers such as Cormac McCarthy, Annie Proulx, and Marilynne Robinson in the context of linguistics, Old English, Middle English and Latin. He also made a public appearance in a special event presented by the IIML at City Gallery on Wednesday May 26 at 6pm.
Related website:
Lee Gutkind (June 2010)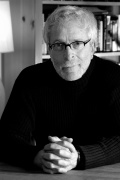 Another significant American writer arrived to teach a masterclass at the IIML in the first week of June 2010. Lee Gutkind is widely known as the 'godfather of creative nonfiction'. 'Creative nonfiction stories,' in Gutkind's definition, 'are dramatic, true stories that use scene, dialogue and close, detailed descriptions - techniques usually employed by poets and fiction writers - to examine and explore a variety of subjects: politics, economics, sports, race relations, family relations, the arts and sciences and more.'
Lee Gutkind is the founding editor of Creative Nonfiction magazine and prize-winning author or editor of more than a dozen books, the most recent of which is Almost Human: Making Robots Think. His forthcoming book is a memoir, Truckin' with Sam, co-written with his son.
Lee Gutkind appeared in conversation with the IIML's Creative Nonfiction workshop leader Harry Ricketts in a public event at City Gallery on Thursday 3 June, 6pm.
Related websites:
Glyn Maxwell (March 2010)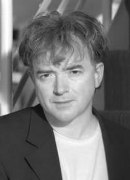 MA (Page) students at the IIML were lucky enough to take part in a masterclass with UK poet Glyn Maxwell at the end of their first week in the building. Maxwell unpacked poems by Edward Thomas and W H Auden with the students in the morning, and spent the afternoon on exercises based on the first lines of poems, and on revision of biographical prose anecdotes through the lens of cinema and the medium of poetry. He was a generous and convivial guest, and we also enjoyed his appearances at New Zealand Post Writers and Readers Week. Maxwell's appearance at the International Arts Festival was supported by both the IIML and New Zealand Post.
Related websites:
Christopher Vogler
Christopher Vogler is a veteran story consultant for major Hollywood film companies and a respected teacher of filmmakers and writers around the globe. His book The Writer's Journey, applying the ancient patterns of myth to modern story-telling, has helped to shape the way people in movies, TV, and publishing think about stories and is required reading at many film schools and literature programs. He has influenced the screenplays of movies from The Lion King to Fight Club to The Thin Red Line and most recently wrote the first installment of Ravenskull, a Japanese-style manga or graphic novel. He was the executive producer of the feature film P.S. Your Cat is Dead and writer of the animated feature Jester Till.
A native of St. Louis and a graduate of the University of Missouri School of Journalism, he served as a US Air Force officer and made documentary films on the military space program before doing graduate work at the University of Southern California film school. He started work in the film industry as a story analyst for Twentieth Century Fox and other major studios. He was part of the animation story staff at Disney while The Lion King, Aladdin, Hercules, and Mu-Lan were being developed. His book The Writer's Journey grew out of a short memo he wrote while at Disney, pointing out the usefulness of Joseph Campbell's concept of the Hero's Journey. Recently he has consulted on films such as 10,000 BC, Hancock, I am Legend, Darren Aronofsky's The Wrestler, the Karate Kid remake, and Helen Hunt's directorial debut, Then She Found Me.
On 29 August Christopher Vogler ran a masterclass for the MA in Scriptwriting students at the IIML.
Related websites: