International guest writers 2011
Guest writer profiles 2011
Introduction
Each year the International Institute of Modern Letters invites a number of leading international writers across a range of genres to teach masterclasses for current students of the MA in Creative Writing, and appear in public events in Wellington. Recent guests have included Andrew Bovell, Brian Castro, Richard Ford, Lavinia Greenlaw, Lee Gutkind, Glyn Maxwell, Michael Palmer, Richard Powers, Christopher Reid, David Vann, Christopher Vogler, Linda Vorhees and Eliot Weinberger.
In 2011 we were visited by the Australian screenwriter Santo Cilauro and the American poet and performer Joy Harjo. We were also pleased to host a return visit by one of our 2010 guests, David Vann.
David Vann (Feb - July 2011)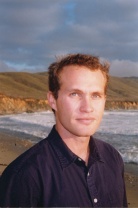 US writer David Vann is best-known for Legend of a Suicide, a remarkable book of stories set around his father's suicide. This genre-defying work - a fictionalised memoir - has been named in numerous Best Books of the Year lists in the UK, US and Australia. It is a best-seller in France, and has been translated into many languages. American writer Lorrie Moore praised the book for its 'luminous narrative art'. David has also written two other memoirs connected with his disastrous adventures as a sailor.
More recently, his account of the Northern University of Illinois shooter, Steven Mazmierczak, who killed five students, won the 2009 AWP Non-Fiction Prize. His novel, Caribou Island, was released in 2011 to rapturous reviews.
Following his highly-successful MA masterclass visit in 2010, David accepted our invitation to return for a longer visit to Wellington to teach an Advanced Short Fiction Workshop at the IIML.
Related website:
Caribou Island reviewed in the Los Angeles Times.
Joy Harjo (August, 2011)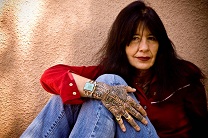 Born in Oklahoma, with a Muskogee Creek heritage, Joy Harjo is an internationally known poet; a performer, a writer (of plays among other things), and a saxophone player. She has received many awards for her poetry including the William Carlos Williams Award from the Poetry Society of America. Her books include: In Mad Love and War (1990); She Had Some Horses (reprinted 2008); and most recently How We Became Human: new and selected poems (W.W. Norton & Company 2002). She has released three award-winning CDs of original music. Until recently, she taught at the University of New Mexico. She has spent many years in Hawai'i.
Joy was the IIML's guest in August; leading a masterclass for students, featuring in our Writers on Mondays series in conversation with Patricia Grace, and giving a special public presentation at Victoria University's Rutherford House.
Related websites:
Joy Harjo (read about the poet and listen to her work)
Santo Cilauro (September 2011)
Santo Cilauro's screenwriting credits include iconic Australian feature films The Castle and The Dish, as well as a long history of much-loved TV comedy series from The D-Generation and The Late Show through Funky Squad and Frontline to The Panel and Thank God You're Here. A partner in the Melbourne-based film and television production company Working Dog Productions, Santo's talents include producer, actor, comedian, co-author of the Jetlag Travel Guides and internet phenomenon.
Santo took a scriptwriting masterclass at the IIML in September. The wider Wellington public also had a chance to hear him in conversation with Ken Duncum at a special event at Wellington's Film School.