International guest writers 2018
Guest writer profiles 2018
Introduction
Each year the International Institute of Modern Letters invites leading international writers across a range of genres to teach masterclasses for current students of the MA in Creative Writing, and appear in public events in Wellington. A sample of previous international guests includes Guillermo Arriaga, Stephen Burt, Santo Cilauro, Teju Cole, Richard Ford, Jonathan Galassi, Janice Galloway, Vona Groarke, Lee Gutkind, Jen Hadfield, Joy Harjo, Michael Hofmann, Michael Hulse, Michelle de Kretser, Ben Lewin, Kei Miller, Andrew Motion, Andrew O'Hagan, Mal Peet, Ron Rash, Mary Ruefle, Michael Schmidt, Robert Shearman, Karen Solie, Scarlett Thomas and Charlotte Wood.
2018 has been a bumper year for visitors. Our first guests were Indian journalist, poet and novelist Jeet Thayill and English author Francis Spufford; both in Wellington in March as guests of the New Zealand Festival. The American writer Terese Svoboda, who was our guest in 2012, made a welcome return visit in May; followed in swift succession by the Samoan poet and novelist Sia Figiel, Michael Heyward of Australia's Text Publishing, Chilean writer Carlos Franz (with thanks to the Embassy of the Republic of Chile), and French novelist Amélie Lucas-Gary (a 2018 Randall Cottage Resident, hosted by Victoria's NZ Centre for Literary Translation). In June we were visited by US poet Devin Johnston. Our final guest for the year, in August, was the Scottish poet and UK publisher Robin Robertson (with thanks to Pirate and Queen).
Read about guest writers from previous years at the links below:
Jeet Thayil and Francis Spufford (March 2018)
We were very pleased to welcome Jeet and Francis for masterclasses with our MA students in the first week of the teaching year. Both writers were in Wellington as guests of the New Zealand Festival's Writers and Readers 2018.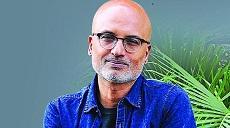 Jeet Thayil is a poet, novelist, librettist and musician. Born in India and educated in Bombay, Hong Kong and New York, he worked as a journalist for many years. He has published five collections of poetry including These Errors Are Correct (2008),which won the Sahitya Akademi (India's National Academy of Letters) Award. His first novel Narcopolis (2012) was awarded the DSC Prize for South Asian Literature, and shortlisted for the Man Booker prize, among others. In 2012, he also wrote the libretto for the opera, Babur in London, in collaboration with the composer Edward Rushton.
His second novel, The Book of Chocolate Saints, was published in late 2017.
Read more:
Notes on Jeet Thayil's masterclass (by MA 2018 student Andrei Seleznev)
British Council writer file (8 March 2018)
Jeet Thayil interviewed in The Guardian (9 February 2018)
The Book of Chocolate Saints reviewed (The Guardian, 4 March 2018)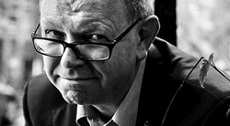 Francis Spufford is the author of numerous award-winning and eclectic works of non-fiction on subjects ranging from polar exploration and the effect of books on a child's character, to post-war British scientific achievements, the Soviet communist project, and why Christianity still matters. He has been longlisted or shortlisted for prizes in science writing, historical writing, political writing and theological writing. His first novel, the multi-awarding-winning work of historical fiction Golden Hill (2016), was described as 'extraordinarily acccomplished', 'dazzling' and 'ingenious'. In 2007 he was elected a Fellow of the Royal Society of Literature. He teaches writing at Goldsmiths College, University of London, and lives near Cambridge.
His latest book, True Stories & Other Essays, is a career-spanning collection of book extracts, blog posts, journalism, book reviews, talks and speeches that include his thoughts on reading, technology, religion, the Soviet Union and Antarctica.
Read more:
Guardian interview (29 May 2016)
Golden Hill reviewed (The Washington Post, 14 July 2017)
True Stories and Other Essays reviewed (The Evening Standard, 19 October 2017)
Terese Svoboda (May 2018)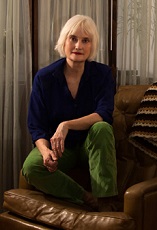 Terese, who first visited our MA writers in 2012, made a welcome return for a full-day masterclass on 16 May. 2018 MA in Creative Writing student Laura Southgate has written about the masterclass on the IIML's modernlettuce blog.
The recipient of a 2013 Guggenheim, Terese is the author of highly-praised books including the biography Anything That Burns You: A Portrait of Lola Ridge, Radical Poet (2016); Bohemian Girl, named one of the ten best 2012 Westerns by Booklist and an Historical Book of the Year Finalist in Foreword; and the memoir Black Glasses Like Clark Kent, which won the Graywolf Nonfiction Prize and The Japan Times 'Best of Asia 2008.' She is also the author of five books of prize-winning poetry and Cleaned The Crocodile's Teeth - Nuer Song; translations of song-form poetry which she collected and transcribed in the Sudan. Her opera Wet premiered at L.A.'s Disney Hall in 2005.
Terese's writing has appeared in many journals and publications, including the New Yorker, Times Literary Supplement and Paris Review. It has been selected for the 'Writer's Choice' column in The New York Times Book Review, a Spin Magazine book of the year, and one of the Voice Literary Supplement's ten best reads.
She has been awarded the Bobst Prize, the Iowa Prize for poetry, the O. Henry Award for the short story, and is a three-time winner of the New York Foundation for the Arts Fellowship. She has held a wide range of academic positions, and residencies at Bellagio, Bogliasco, Yaddo, MacDowell, the James Merrill House, and Ossabaw.
Read more:
The Rumpus interview (11 May 2016)
Anything That Burns reviewed (Northwest Review of Books, 9 April 2016)
Three poems online (Conjunctions, 23.1.18)
Sia Figiel (May 2018)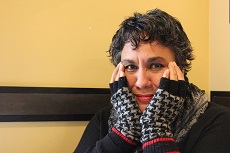 Our postgraduate students had the welcome opportunity to hear from the Samoan novelist, poet and performance poet Sia Figiel, in New Zealand for the Auckland launch of her latest novel Freelove (2018 revised edition).
Sia is recognised as the first contemporary woman novelist from Samoa. Her novels have won praise for her use of traditional Samoan storytelling techniques. She has said of her writing, 'Like every Samoan or Pacific Islander, I grew up on the Bible (parables) as well as fagogo/ myths/legends. I've always been intrigued however by legends, adding to it poetry (solo) and faleaitu (theatre). The imagery and music of the fagogo and the solo continues to shape and form the way I write in English.'*
She won the Polynesian Literary Competition for poetry in 1994 and her first novel, where we once belonged (1996) won the Best First Book award in the South East Asia/South Pacific region of the 1997 Commonwealth Writers Prize. Her other books include novels The Girl in the Moon Circle and They Who Do Not Grieve and the prose poetry collection To a Young Artist in Contemplation. Her works have been translated into French, German, Catalan, Danish, Spanish, Swedish, Turkish and Portuguese.
She studied in New Zealand and the USA and has held numerous residencies in Europe and the South Pacific, including at the Institucio de les Lletres Catalanes in Barcelona, the University of Technology in Sydney, the East-West Center in Hawaii, the Pacific Writing Forum at the University of the South Pacific in Fiji, and Logoipulotu College in Savaii. She was the first Pacific Islander to read at Shakespeare's Globe Theatre in London, and is also a visual artist who has exhibited in the USA and Germany.
After an inspiring and warmly received morning of reading and conversation with the whole MA group, Sia met for a second session with current and recent Māori and Pasifika creative writing students, in which she acknowledged that 'writing-when-indigenous' necessarily entails a conversation with sociopolitical histories and questions of identity, and encouraged them to be fearless. Suggesting that when an indigenous person picks up a pen there is always an autobiographical truth to the meta narrative, she nevertheless refuted the notion (often proposed by reviewers) that her own stories are autobiographical, and emphasised that it's vital to 'honour the fiction'. Sia shared her latest work and discussed writing as 'the stitching together of stories, songs, vignettes', citing where we once belonged as a result of this process. Open about her own tendency to write transgressively, she was also clear that this can be deeply internal and exhausting work, and cautioned the students to take care of themselves through the process. And she challenged them to believe in themselves no matter what.
Read more:
Island Lives: The Writing of Sia Figiel (Samoa) and Celestine Hitiura Vaite (Tahiti), by Wendy E. Cowling (Junctures journal, 2009)*
Michael Heyward (May 2018)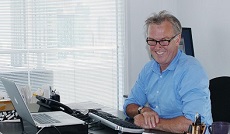 The head of Australia's independent powerhouse Text Publishing, Michael Heywood visited for a Q&A and discussion with MA students while in New Zealand to announce the inaugural winner of a new literary prize for New Zealand writers; Text's Michael Gifkins Prize for an Unpublished Novel.
Text publishes a broad range of fiction and non-fiction, international and local, books for adults and young adults. Just a taste of its author list includes Margaret Atwood, A.S. Byatt, Tim Flannery, Elena Ferrante, Helen Garner, Kate Grenville, Elizabeth Harrower, Lloyd Jones, Thomas Keneally, John Ajvide Lindqvist, Kelly Link, Gerald Murnane, Philip Pullman, and Barack Obama. Alongside the calibre of its authors, it has developed a well-earned reputation both for prescience in acquiring international rights and for successes in selling its books to the world.
It has been awarded the ABIA Small Publisher of the Year three times and won the inaugural Leading Edge Books Small Publisher of the Year in 2018. The company has been entirely Australian-owned since 2011.
Michael's highly enjoyable MA session took in his own path from a childhood love of books and reading, via early encounters with the world of publishing in the UK and his 'apprenticeship' on the much-loved literary magazine Scripsi (which he co-founded and ran for close to a decade), to Head Publisher and CEO of Text. Discussing the landscape of Australian publishing, he offered the view that there's never been a better time to be published in the southern hemisphere. And he gave some backstory to the 2017 establishment of the Gifkins Prize – honouring late New Zealand literary agent Michael Gifkins – as a publication and profile opportunity for New Zealand writers.
He discussed Text's approach to nurturing long partnerships with its writers; noting that the author / editor relationship is at the core of everything they do. He described this process as a long conversation, which takes 'the time it needs' – a first-time Text author won't be published before the book is ready, even if that means throwing out the schedule. On the editing process itself, he was passionate and engaging; describing the editor's work as surrendering to the voice emerging from the manuscript and helping the writer discover what's essential and immutable within it. And he offered revealing insights into the process; that the company doesn't assign costs against editorial time, for example, or that editorial discussion with a first-time author inevitably includes the second book (the seed of which, he believes, is 'always contained in book one').
Michael was generous with answers to questions covering everything from when a manuscript is really ready to be submitted, how Text's slush pile works, and the nitty gritty of how to query them, to how successfully New Zealand themes and content might translate to an Australian audience and beyond, and what a writer can salvage from rejection. A fascinating, insightful and encouraging session.
Read more:
Meet Michael Heyward - Text Publisher profile
Text Publishing Michael Gifkins Prize for an Unpublished Novel
Text Publishing celebrates 20 year milestone (Sydney Morning Herald, 15 August 2014)
Carlos Franz and Amélie Lucas-Gary (May 2018)
Continuing our bumper run of guests in May, our MA students heard from Carlos and Amélie in the same day.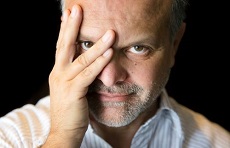 Carlos Franz is one of Chile's most accomplished writers and the recipient of multiple awards including the 2016 Mario Vargas Llosa Awardfor Si te Vieras con mis Ojos. His major novel, The Absent Sea | El desierto the only book to be translated into English to date, is a study of Chilean history and collective guilt. It won the International Novel Prize La Nacion / Sudamericana in 2005.
Carlos followed a visit to the Auckland Writers Festival with a conversation at the Stout Centre, hosted by IIML Director Damien Wilkins. His visit to the IIML was supported by the Embassy of the Republic of Chile and the Ambassador for Chile was in attendance. Carlos read from his novel translated into English, The Absent Sea, and spoke with Damien about the influences on his writing and trends in Chilean literature, including the interest a younger generation of writers has in writing about Chile's late 20th Century history.
Read more:
Carlos Franz interviewed (Words Without Borders, April 2011)
The Absent Sea reviewed (Kirkus, June 2011)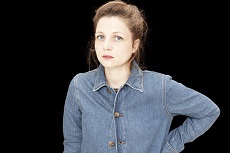 Photographer-turned-novelist Amélie Lucas-Gary is the Randell Cottage's French writer in residence for 2018. She studied at the Sorbonne, graduating with degrees win cinema and history, and photography at the National School of Photography in Arles. Her first novel, Grotte (Cave) was published in 2014, and her second, Vierge (Virgin) in 2017. Lucas-Gary creates contemporary myths with a poetic and metaphoric language, playing with time and space and inviting her readers to distance themselves from the present and reality.
Towards the end of her tenure at Randall Cottage, Amélie visited the IIML to talk about her move from making visual art to writing, and the significance of shape and structure on her approach to fiction. She spoke about her two published novels as well as her current project, whose narrative involves a hole that travels through the earth from suburban Paris to Wellington. Amélie was hosted by Victoria's New Zealand Centre for Literary Translation and the session was attended by the Centre's Founding Director Jean Anderson, who had translated extracts of Amélie's work for the students.
Read more:
Randall Cottage Writers Trust announces new residents (January 2018)
Devin Johnston (June 2018)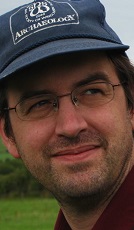 American writer and publisher Devin Johnston has is the author of five collections of finely tuned lyric poems that are deeply attentive to the natural world and the human lives within it. Sources was a finalist for the National Book Critics Circle award, and his most recent book is Far Fetched (Farrar, Straus & Giroux, 2015). In his 2009 essay collection, Creaturely, Johnston turns his keenly observant eye on the animals with which we share the world.
A former poetry editor for the Chicago Review from 1995-2000, Johnston co-founded and co-edits Flood Editions with Michael O'Leary. He teaches at St Louis University, where for the past decade he has also been involved with running an arts and education programme that brings poetry and art workshops, a speakers series and concerts to people in prisons.
Devin was our guest in a public talk and poetry reading at Victoria's Stout Research Centre on 7 June. In his MA masterclass the following day, he read a selection of his poems and talked about his passion for the highly musical and highly local poetry of Basil Bunting, and having his first book published in Australia. He also read from his essay collection Creaturely, which attempts to understand and inhabit the sensory world of animals. The title essay observes the English language's insufficiencies in describing smell: 'We have little language proper to smell, only makeshift analogies that take on a currency through volatility.' Our afternoon workshop on writing with the senses began with Johnston passing sprigs of rosemary around the room, moved on to olfactory metaphors, and finished with all of us using those metaphors as springboards for pieces of original writing.
Read more:
Academy of American poets profile
Saint Louis University staff page
'Description and the senses': MA in Creative Writing student Tim Grgec on Devin Johnston's IIML masterclass
Robin Robertson (August 2018)
Robin Robertson is a major Scottish poet and an influential UK publisher. He has published four poetry collections, received the E.M. Forster Award from the American Academy of Arts and Letters, and is the first poet to have won all three categories in the prestigious Forward Prize: Best First Collection; Best Poetry Collection of the Year; and Best Single Poem (for 'At Roane Head', from his 2010 collection The Wrecking Light). He has written 'new versions' of works by the Swedish poet Tomas Transtömer (The Deleted World, 2006), and a translation of Medea (2008). His most recent book is The Long Take; a novel-length narrative poem, which was longlisted for the 2018 Man Booker Prize at the time of his visit.
A veteran of the UK publishing industry, Robin is the Associate Publisher at Jonathan Cape, where he has edited fiction writers from Irvine Welsh to Anne Enright, and poets from Alice Oswald to Anne Carson and Ocean Vuong. Robin was visiting New Zealand to appear at the WORD Festival in Christchurch, and his IIML masterclass on 28 August was made possible by Wellington production company Pirate and Queen.
He began the session by reading sequentially, from the early landscape poetry of 1997's A Painted Field to the urban noir of 2018's The Long Take; 'a beautiful, vigorous and achingly melancholy hymn to the common man.' (The Guardian) In conversation with MA Page convenors Chris Price and Emily Perkins, Robin discussed the the evolution of The Long Take, which follows a traumatised Canadian WWII veteran through New York, San Francisco and, pivotally, the Bunker Hill neighbourhood of Los Angeles from the 1940s until its destruction and levelling in the 50s to make way for the city's new corporate agenda. A refuge for the poor, the working class, veterans and other outcasts from the American Dream, Bunker Hill was also a part of the new America's mythology; the setting of many of the film-noir classics Robin was obsessed with as he grew up. He re-watched hundreds of these films as part of the painstaking process of recreating the neighbourhood, and described this as the most pleasurable aspect of the years of research that fed the book; generating characters and crucial events, as well as its settings.
Robin's own wry assessment of this genre-defying and critically acclaimed work as a 'disastrous' publishing prospect segued into a discussion of his unusual route into publishing more than forty years ago and the seismic shifts he's witnessed in that time. As an editor, he holds to the belief that 'if a writer wants to make a mistake badly enough, they should be allowed to make it because it's their book.' He cited his successful battle to publish Irving Welsh's Trainspotting in 1993 as key to his subsequent freedom to champion brave and talented new writers, but he also described a commitment to artistic merit over likely commercial success as 'outmoded' in mainstream publishing. After a thoughtful, wide-ranging and often very funny Q&A with Chris and Emily, Robin fielded questions from students and talked through how he works with an author from acquisition of their book through to publication.He also offered some clear-eyed advice: 'Writing is writing; attend to it. Publishing is something else.'
Read more:
The Long Take reviewed in The Guardian (by John Banville, 24 March 2018) and The Los Angeles Review of Books (by Woody Haut, 22 June 2018)
Robin Robertson interviewed on Radio New Zealand (1 September 2018)