International guest writers 2016
Guest writer profiles 2016
Introduction
Each year the International Institute of Modern Letters invites leading international writers across a range of genres to teach masterclasses for current students of the MA in Creative Writing, and appear in public events in Wellington. A sample of previous international guests includes Guillermo Arriaga, Santo Cilauro, Teju Cole, Richard Ford, Jonathan Galassi, Janice Galloway, Vona Groarke, Lee Gutkind, Jen Hadfield, Joy Harjo, Michael Hofmann, Michael Hulse, Michelle de Kretser, Ben Lewin, Kei Miller, Andrew Motion, Mal Peet, Ron Rash, Mary Ruefle, Michael Schmidt, Robert Shearman, Karen Solie, and Scarlett Thomas.
Our first guest for 2016 was the Scottish novelist and editor Andrew O'Hagan, who was in Wellington in March as a guest of New Zealand Writers Week. He was followed in April by fellow Scottish writers Zöe Strachan and Louise Welsh. American literary critic, poet and Harvard professor Stephen Burt held a public masterclass in poetry with Bill Manhire in December.
Read about guest writers from previous years at the links below.
Andrew O'Hagan (March 2016)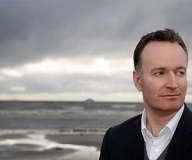 From being an editor-at-large at Esquire magazine and contributing editor of the London Review of Books to ghost-writing Julian Assange's never-materialised memoir, Andrew O'Hagan is not afraid to get his teeth into challenging, contemporary subjects. His latest novel, The Illuminations, was longlisted for the 2015 Man Booker Prize and, like many of his books, is an original enquiry into the human experience.
While in Wellington appearing in the 2016 New Zealand Writers Week, Andrew visited the IIML on 9 March for a spirited conversation with the members of the MA workshops.
Andrew talked about the genesis of several of his novels, explaining that often a book comes from a single moment or image. He answered craft questions concerning point of view and person, walking the students through decisions he made while writing several of his novels.
Andrew also explained his interest in what he calls the 'unstable boarder between fiction and non- fiction', stating that he believes that both forms are at their most interesting when they borrow from each other. He asked us to imagine a Venn diagram with one set labelled 'fiction' and the other 'non-fiction', explaining that he is most interested in the overlap in the middle.
A lively discussion took place in relation to Andrew's 2014 London Review of Books essay Ghosting, which details his time ghost-writing the abandoned memoir of Julian Assange. Conversations concerning the ethics of writing were of great interest to students working in all genres.
Read more:
Zöe Strachan and Louise Welsh (April 2016)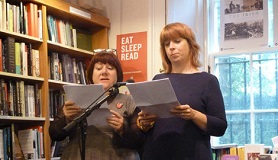 Zoë Strachan and Louise Welsh are talented and accomplished writers across a range of genres.
Zoë has published three novels, written theatre and opera, and had her short work published in literary journals and broadcast on radio. She teaches creative writing at the University of Glasgow.
Louise has written seven novels. She has also produced many short stories and articles and written for radio and the stage, including a libretto for opera. Louise's work has been translated into twenty languages.
Louise and Zoë have been awarded several international fellowships and residencies and are the current holder of the University of Otago Scottish Writers Fellowship.
Zoë and Louise stopped in Wellington/Poneke on their way to Dunedin/Otepoti on April 15, 2016, to deliver a three-hour workshop at the IIML on the importance of details to all creative writing.
During the workshop, Zoë and Louise guided members of the MA workshop through several exercises designed to 'peel back the layers of habitual seeing' in order to harness the power of detail in writing. Through the exercises and conversation, Zoë and Louise showed that if we use choose to represent our fictional, poetic and non-fictional worlds through the prism of our character's inner lives, details become telling markers of character and plot as well as setting.
The workshop was followed by a question and answer session where Zoë and Louise generously answered questions about their writing lives, including working across multiple genres, collaboration in creative writing projects, and the work of writing a book.
Read more:
Stephen Burt (December 2016)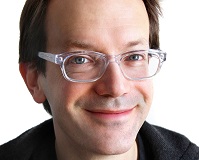 Stephen Burt is Professor of Poetry at Harvard University. Their influential reviews and books have made them one of the leading critics of their generation, and their enthusiasm for new writing has helped to establish the careers of younger poets, and helped audiences to appreciate their work.
Burt's 1998 essay 'The Elliptical Poets' is widely credited with identifying a new school of poetry. The book that followed, Close Calls With Nonsense (2009), includes an essay on James K. Baxter among those on more recent poets.
In their new book, The Poem is You, Burt explores 60 American poems. Publisher's Weekly wrote that: 'Burt's many ways of looking at a poem will inspire new students and accomplished poets, especially as many of his meditations circle the question of what poetry does or should do: making readers pay attention, ask questions, and experience new things.'
In 2012 a NY Times interview hailed Burt as 'Poetry's Cross-Dressing Kingmaker'. Burt identifies as transgender, and their poetry chapbook All-Season Stephanie (2015) explores coming of age as it might have happened for their female alter-ego. Burt prefers to use the gender-neutral pronoun 'they'.
On 12 December, Burt was the IIML's guest at a public masterclass: Close Calls with Nonsense: How to Read New Poetry held at the City Gallery.
Steered by Emeritus Prof. Bill Manhire, Burt guided the audience through a number of contemporary poems by writers from the United Kingdom, United States and New Zealand, illuminating their methods and unfolding their pleasures. This event aimed to introduce both tentative and long-time poetry readers to the rewards of reading new poetry. Burt also gave a reading of their own poems.