2014 News
Read past news stories from the School of Design Innovation's 2014 news archive.
On this page:
Media Design student secures internship at Creative Commons
14 November
Second year Victoria University of Wellington Media Design student Rachel Mataira has secured an internship at Creative Commons Aotearoa New Zealand this summer.
She has joined the non-profit organisation as a Graphic Designer for three months, tasked with revamping their website, brochures and templates.
Matt McGregor, Public Lead at Creative Commons says Rachel has been a great addition to the team.
"We've thrown her in the deep end, and asked her to design resources that will go out to thousands of schools, heritage and research organisations around the country. She's done a phenomenal job so far," he says.
Rachel, who is studying toward a double degree in Design and Commerce, has always been interested in graphic design, and also has a particular interest in software design and development.
She says the design and commerce really balance each other out and fit well together. "When I feel like a change of focus, I can go to the other and it's completely different.
"The internship is a fantastic opportunity—a steep learning curve, but great at the same time.
"I consistently try to challenge and push the briefs we are given in my design courses. I have found that developing a strong graphic design aesthetic has helped me to do that in my role at Creative Commons NZ."
Wearable technology on show
28 October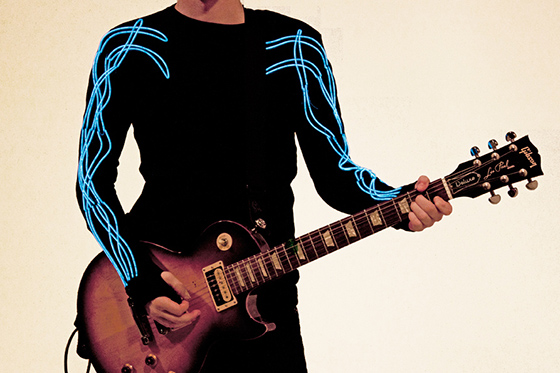 Video of a selection of garments on show
Sound sensing lights, colour sensing clothing and meditation gloves are all features of Victoria University Design students Wearable Technology show this Thursday 30th October.
The show presents some of the outstanding student projects from the course Wearable Technology, which explores wearable computing, techno fashion, intelligent jewellery and smart clothes.
Course Coordinator Anne Niemetz says "This year we have a broad range of works, from colour-sensing garments to a futuristic dress suit, post-apocalyptic costumes and media-critical design."
"We also have a lot of sound-reactive wearable projects designed for musicians and performers."
These include a shirt with sleeves which light up according to sound input. The lights are in sync with the music and are in four separate sections, each is slightly delayed from one another, creating a flowing effect as though the lights are shooting up and down the wearers arms. And a buttercup flower necklace which lights up when it hears sound, adding a visual element to performances. If its environment is quiet for too long the buttercups will flick on and off as a means of attracting attention and applause.
The Wearable Technology show is open to the public Thursday 30th October, WIG401, Victoria University, 139 Vivian St, Te Aro.
Championing the Dragon's Den
20 October
The Faculty of Architecture and Design hosted the final Dragons Den event at the Te Aro Campus where British High Commissioner his Excellency Jonathan Sinclair and Victoria's Professor Miriam Lips and Professor Brad Jackson were the "dragons" or judges for the evening.
Three student teams presented, pitched and defended their digital action campaigns with considerable passion and strong arguments.
Food Fight's campaign aimed to create awareness around healthy food by creating online communities through Facebook, Pinterest and Wordpress. This was followed by Digital Youth's campaign, which focused on recommendations to parents of the new digital native generation about how digital devices can be used as a supplement rather than a substitute. The final campaign, #wheresmydata, cleverly wove some Facebook stalking of audience members into a campaign that looked at privacy issues in online data.
The three groups then defended their campaigns against questioning from the dragons and the audience.
The winning team of both the popular audience vote and the dragons vote was #wheresmydata.
The judges recognised that all three teams had researched and delivered their campaigns, as well as organising the event, whilst maintaining their own studies.
This VILP project involved both pan-university collaboration and global engagement with a diverse range of stakeholders taking part from the School of Design, the School of Government, the Development Studies programme, diplomatic missions, study abroad providers and exchange partners.
Victoria students win design awards
14 October
Four Victoria University students have won at the 2014 Best Design Awards.
The awards, an initiative of the Designers Institute of New Zealand recognise outstanding graphic, interactive, product and spatial design.
Master of Architecture student Logan Swney received the Silver award for Best Spatial Design. His entry Mountain Market explores a unique architectural response to Wanaka which, in the past 30 years, has become increasingly suburban bringing with it standardised buildings driven by efficiency, and resulting in a disconnect between architecture and space.
Logan offers a solution that responds uniquely to the place, connecting a market, car park, accommodation and a juice bar, while also providing a public space with awe-inspiring views.
Logan's project was created under the supervision of Sam Kebbell, a lecturer in the School of Architecture, who received a silver award in the Spatial Design category last year for his design titled Resn's Office.
Holly Bradshaw-Clegg, a third year Bachelor of Design Innovation student won the Bronze award for Best Product Design. Pascal Stool—a modern, simple and elegant stool that shapes to the contours of the body, activating an overhanging light when pressure is applied.Sitting down to read a book, getting comfortable, then realising she had forgotten to turn the light on sparked Holly's idea. "I thought how useful it would be if when you sit down, the light turned on automatically," she says.
Working under the supervision of Ross Stevens, a senior industrial design lecturer, and alongside Metco Engineering in Lower Hutt, the pinewood and metal stool was crafted using computer controlled cutting (CNC) manufacturing and many hours of labour.
"For weeks, I practically spent from 8.30am until 10pm in the workshop individually sanding hundreds of rods. A lot of hard work went into the stool," says Holly.
Simon Crane also won the Bronze award for Best Product Design. Simon designed his entry C5 Aid Brace during his bachelor's study at Victoria.
Student Adam Ben-Dror, received the Bronze award for Best Interactive Design with his project the Abovemarine—a mobile fish tank controlled by the fish's movement, which is tracked by a webcam.
This is the second year running that Adam has been recognised in the Interactive category. Last year, he and a cross-disciplinary team of media and industrial design students won gold for their project, Pinokio.
Also among the 2014 finalists was Bachelor of Architecture student Amelia Hoult with her project Duel Realities, and a number of other Victoria University graduates.
For more information visit Best Awards—New Zealand's Best Design.
Exhibition highlights future of 3D printing
14 October
Work by students and staff exploring the future of 3D printing is on show in an exhibition co-curated by one of the country's leading researchers into 3D prototyping, Victoria University's Tim Miller.
The exhibition presents outcomes of research focused on pushing the boundaries of the digital and natural worlds, grouped under the themes 'Pattern and Growth', 'Generative Code' and 'Digital Materials'.
One highlight is Seamless Blossom—the world's first inflatable 3D print—by Master of Design Innovation student Richard Clarkeson.
Seamless Blossom is a curved hollow chamber with flexible rubber. As you inflate it, it creates a gap of air that pushes against the inner layer, forcing the outer layers open—blooming like a flower.
The exhibition also explores digital anatomies, under the titles 'Wearable Prosthetics', 'Structural Prosthetics' and 'Desirable Prosthetics'. These examples demonstrate how 3D scanning and printing allow the production of digitally tailored prosthetics that fit more exactly to the individual both physically and emotionally.
A 3D printed alternative to the traditional cast for fractured limbs is part of the show. Designed by a final year Bachelor of Design Innovation student, Jake Evill's Cortex Cast is lighter, morebreathable and more hygienic than plaster casts, while still providing the same support for the healing process.
The exhibition complements a series of public talks organised by Hutt City Libraries, which is committed to growing people's understanding and competence with technologies.
As part of the series, Tim will present a lecture on Wednesday 15 October on how 3D printing is being used in design and what we can expect to see in the future. His talk will be held at the Little Theatre, 2 Queens Drive, Lower Hutt from 7–8pm.
Student exhibition
The student exhibition is on now until 23 October at the War Memorial Library, Corner Queens Drive and Woburn Road, Lower Hutt. All welcome.
3D printed nose wins design award
28 August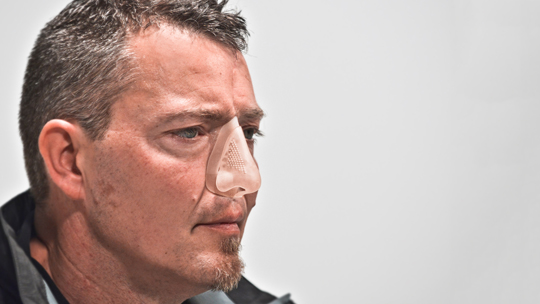 Zach Challies, under the supervision of Bernard Guy and Ross Stevens from Victoria's School of Design, has created a shock-absorbing scaffold that sits under a traditional prosthetic nose. His printed prosthesis will be New Zealand's entry in the international design award, which will be judged in the United Kingdom with the winner announced in November.
In collaboration with a maxillofacial surgeon and a prosthetic wearer, Zach identified several issues with a traditional prosthesis and the way it held onto his client's face. "It's just a simple magnet connection, so gets knocked free easily," says Zach.
"I wanted to investigate where we could start to help out through design." His solution, a support fitted under a nose-shaped facade, was made using a 3D printer at a cost of under $50.
"Utilising a multi-material printer, we're looking at different retention methods so it will be more secure on the face and provide a lot more security to the wearer," he says.
Zach says he wanted to give his client the opportunity to play sport again, which led to the second component of his design—a cheap version of the mould and a nose-shaped facade that could be printed in around two hours.
Before his cancer and rhinectomy, Zach's client enjoyed playing social sports. However, he is unable to lead an active lifestyle due to fear of his prosthesis being knocked loose. "To have the area beneath exposed would be a very traumatising experience," he says. "On top of that, if it gets damaged the replacement cost is around $1,000."
With Zach's design, people who have to wear prosthetic noses have the option of replacing their traditional prosthesis with one of Zach's sporting versions.
"Traditionally the prosthesis is there to replace the missing anatomy, whereas we're focused on trying to enhance the wearer's lifestyle through design," he says.
Zach is continuing to improve his design. "The goal is to create a prosthetic that's desired by the wearer. It's also about challenging preconceptions of what a facial prosthetic should be."
For more information visit the James Dyson Foundation website.
Relive your favourite musical years
4 August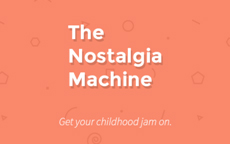 A Victoria University student spent his mid-trimester break creating The Nostalgia Machine, a website that generates playlists by year so you can "get your childhood jam on".
Eliot Slevin, a second year Bachelor of Design Innovation student, collaborated with his friend Jake Doran who is studying Web Development and Design in Christchurch, to put the site together in under two weeks. The pair were rewarded with one million page views in the first week, and posts about the website on notable technology sites including engadget and gizmodo.
The idea came about when Eliot and Jake were discussing old music, and realised people often share nostalgic feelings about the same thing. "We thought about having other media on the site, but we decided pop music appealed to a wider audience," says Eliot.
The website invites users to relive the music of their youth by picking a year. The site then loads up the music videos of the Billboard Year-End Hot 100 singles chart from the given period.
"Going to School of Design puts you in a position and mindset which really enables you to get into projects like these," says Eliot.
Top 10 most played songs:
Faith Hill—Breathe
Santana Feat. Rob Thomas—Smooth
Coolio Featuring L.V.—Gangsta's Paradise
Sisqo—Thong Song
Next—Too Close
Ace of Base—The Sign
TLC—No Scrubs
Destiny's Child—Say My Name
50 Cent—In Da Club
Sixpence None The Richer—Kiss .
Read more about The Nostalgia Machine on Eliot's blog.
Student film to screen at international festival
23 July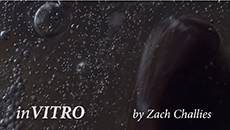 A film created by a Victoria University of Wellington student is a finalist in the non-narrative category of the 2014 Uni Shorts International Student Film Festival.
Zach Challies, a Master of Design Innovation student, made the film as part of an assignment for the postgraduate Design Led Futures course last year, under the supervision of Ross Stevens, a senior lecturer in the School of Design.
In Vitro is one of 35 films selected to screen in the competition, which runs from 12 to 14 September in Auckland, and includes panel sessions and guest speakers. The three minute film explores a future where organ-growth is as simple as setting up a fish tank in your own home.
The concept of In Vitro, explains Zach, is an imagining of the future of medical science and growing anatomy. "It's suggesting that maybe in the not so distant future we will have the technology to make back-up surrogates of our essential organs, the way we do our data, and store them privately in our homes—a physical insurance policy, in case of illness or trauma.
"It's also asking whether the stigma around vices and self-indulgence will continue when we have the ability to replace any of our damaged organs with a pristine copy of the original," he says.
Zach is excited to be accepted into a festival where the primary participants are film students—"though that same fact makes it pretty daunting," he says. "It'll be interesting to see how In Vitro fares."
You can watch In Vitro here: https://vimeo.com/78789503
For more information about Uni Shorts visit, unishorts facebook or search @unishorts on Twitter.
Award winning 3D printed shoes
20 July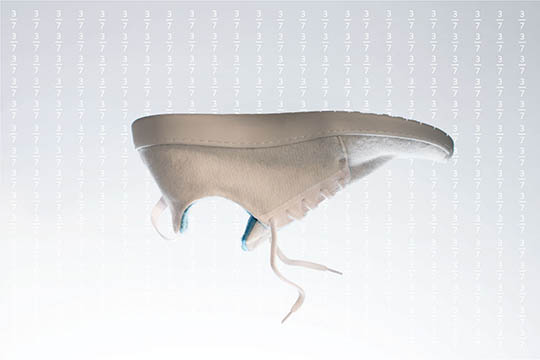 Master of Design student Earl Stewart has been recognised as part of a company that has won the Virgin Media Three New Things competition.
Three Over Seven comprises three kiwis based in London: Tim Brown (Founder), Nicholas Couch and Earl. Currently manufacturing woollen running shoes, Wool Runners, their pitch took out the first place in the Virgin Media Business competition earlier this year.
Earl began talking with Three Over Seven when his Master's thesis, XYZ shoe, went viral and was noticed online by people moving in a similar direction. XYZ shoe focuses on creating 3D scans of a human foot, and printing a custom shoe that fits perfectly. This extends to the concept of mass customisation which looks to be made a reality with the future of 3D printing.
Earl's involvement with Three Over Seven is to help them move in a digital direction. "Three Over Seven is about offering a unique, New Zealand flavoured solution to a global problem (shoe sizing). We've highlighted the bottlenecks and problems within standard mass manufacturing and see going digital as a way to overcome a lot of these problems."
Wool Runners are running shoes specifically designed for sockless wear, a world first. The shoes are made in Portugal and designed in New Zealand by product designer Jamie McLellan. The company started out with a Kickstarter campaign which reached maximum pledge target in just five days.
"Moving ahead we are going to be developing a digital tool to help us fulfil our mission of customised fit, winning the competition has opened so many doors for the company. The best thing at the moment is feeling like are part something great, and potentially disruptive," says Earl.
The prize includes consultation with Richard Branson, and a considerable amount of funding for business telecoms.
Baptism by fire
3 July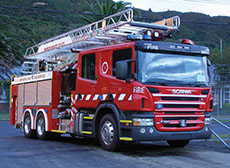 A group of eight industrial design students recently undertook an intense, five-week course which saw them develop 'real-life' products for Fraser Engineering Group – a Hutt Valley company that designs and manufactures fire engines for the domestic and international market.
The course is the brain child of Jeongbin Ok, a Senior Lecturer from the School of Design, who wanted to develop more industry-based opportunities for his students. "Jeongbin is an inventor and entrepreneur himself, so he knew how beneficial it would be for his students to gain hands-on experience developing solutions to real world problems," explains Abby Buchanan, Viclink's Student Entrepreneurship Manager. "So when Cath Randall at Grow Wellington suggested introducing us to one of their clients, Fraser Engineering Group, it was the opportunity we needed to pitch the concept for Jeongbin's course."
Abby says that the manufacturer was keen to collaborate with the University, giving students project ideas that required fresh and innovative thinking, and supporting them through the development process. Projects included finding a smarter way to illuminate the areas where firefighters and rescuers work, developing a safer fire hose nozzle, and creating a more effective way to stow and release self-contained breathing apparatus.
The students say they valued the opportunity to work directly with an innovative manufacturing company: "It has added real value to my CV, and given me an immediate advantage when I enter the job market," says Jack Redpath, who worked on the lighting project. "It's also given me the confidence to look for a job locally instead of thinking that I would have to go overseas to find work in my field."
In addition to working closely with Fraser's, the students also met with end-users (fire fighters) and administrators at various fire authorities to understand the different needs, expectations, and design opportunities involved in each project.
Martin Simpson, General Manager of Fraser Engineering Group, is delighted with the outcome of the course. "The students have come a long way in a short time," he says. "Some of their ideas have real commercial potential, and we're interested in taking those to the next stage."
Viclink helped the students to work through intellectual property (IP) issues associated with the designs they created, and was also involved in protecting the IP and negotiating contracts.
"This has been a really successful collaboration between Fraser's, Viclink and the University," says Abby. "It has proven that working with industry provides some great opportunities for our students."
Lamp to tour in international exhibition
20 June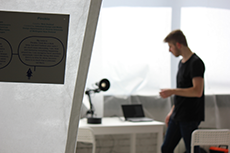 Pinokio, the Victoria University-designed animatronic lamp, will feature in the Digital Revolution world touring exhibition alongside big names such as American singer songwriter will.i.am, electronic artist Rafael Lozano-Hemmer and digital media artist Aaron Koblin.
Recently back from a trip to Russia for the Robo-Forum exhibition, design student Adam Ben-Dror is taking Pinokio, designed in collaboration with fellow student Shanshan Zhou, to the exhibition opening in London. This exhibition has been described as the most comprehensive presentation of digital creativity ever to be staged in the United Kingdom.
Adam and Shanshan spent three months building two new lamps from scratch, the second of which will be housed at the Barbican Centre, Europe's largest multi-arts and conference venue, from July to September before embarking on the touring exhibition for five years.
Adam says the chance to exhibit at such a large exhibition is significant for both him and Shanshan.
"The opportunities to network with established artists in the new media arts industry is opportune for a design student from New Zealand. I have been following some of these people for a long time. Rafael Lozano-Hemmer, for example, has been a big influence and inspiration for me.
"As designers and artists, this opportunity means recognition and the chance to meet some really inspiring people. Shanshan and I are honoured to be able to have this opportunity at this stage in our careers," he says.
Originally created as a course project under the supervision of Douglas Easterly, Deputy Head of Victoria's School of Design, Pinokio has attracted a high level of internet attention, so far clocking nearly one million views on Vimeo. The building of two new Pinokios, one for Russia and one for London was supervised by Walter Langelaar, lecturer in Media Design.
Pinokio picked up Gold in the Interactive Category of the 2013 Designers Institute of New Zealand Best Awards, and is now drawing international interest, with the curators of the Digital Revolution exhibition spotting Pinokio online.
Victoria leads charge for child-safe batteries
17 June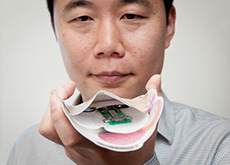 Innovative battery technology designed at Victoria University of Wellington could soon be helping to save the lives of young children all over the world.
Design lecturer Jeongbin Ok has hit upon a solution to minimise the damage of swallowing coin-sized, button cell lithium batteries, commonly found in electronic devices such as toys and remote controls, which can result in serious harm or death if not treated within two hours.
In collaboration with one of the world's largest battery manufacturers, Mr Ok, who has qualifications in design and chemical engineering, has spent the last three years developing modifications to button batteries.
His invention involves applying a thin layer of highly concentrated food colouring to the surface of button batteries during production. The food colouring is activated by saliva.
"If a child swallows a battery it will immediately stain their mouth, so that caregivers know what has happened and can seek medical treatment immediately," says Mr Ok.
To assess the viability of his invention, Viclink, Victoria's commercialisation office, helped Mr Ok to identify a suitable partner, putting in place a joint development and licensing agreement. Mass production is expected to begin early next year.
"For Victoria University to be involved in a project that will have global implications for the safety of children is a great opportunity. I hope that once the product is commercialised it will become an industry standard," he says.
Mr Ok is also working on new packaging technology to keep loose batteries secure and provide a safe way of disposing of used batteries.
His research has led to Victoria University being the only academic institution to partner in a national and global initiative, called The Battery Controlled, which is focused on preventing children from swallowing button batteries.
Mr Ok's research has been conducted with support from the Consumer Product Safety Commission in the United States and Consumer Affairs New Zealand.
From 2011 until 2013, the National Poisons Centre received 175 calls regarding button battery-related child injuries.
Sixty-three children were treated at Starship Children's Health emergency department from March 2009 until February 2012.
Children under six years old are at the greatest risk of swallowing button batteries.
When a button battery gets stuck in a child's throat, their saliva triggers an electrical current that can severely burn the oesophagus in as little as two hours.
Symptoms may be similar to other childhood illnesses, such as coughing, drooling and discomfort.
When X-rayed, the battery can be mistaken for a coin.
Once burning begins, damage can continue even after the battery is removed.
Search for the perfect campaign
4 June
Two Victoria University students are part of a group that developed the campaign branding for the 2014 New Zealand Best Design Awards, an annual competition run by the Designers Institute of New Zealand (DINZ).
Design students Oscar Pipson and Adam Ben-Dror, both in their final trimester of study with Oscar also completing a Bachelor of Commerce, were asked by DINZ to be part of the collaborative project alongside students from Massey University and the Auckland University of Technology.
"As the project moved on we used our different skill sets to bring to life The Search for the Perfect Purple campaign 'story' we'd came up with as a group," says Oscar.
Everyone is searching for their own perfection, says Adam, and it is precisely this search, represented by the perfect purple campaign that unites us. "It is one thing that spurs us to do better, and pushes us forward. And this is manifested somewhat humorously in a reference to the campaign branding."
Oscar says that the project was a good opportunity to work with design students in other specialisations. "A lot of what we do at university is relatively individual, so getting everyone on the same page and working on the same idea as a group was a new and valuable experience."
Adam adds that a real-world project, such as this marketing campaign, has a greater sense of finality. "It is something going out into the world and once it is done you move on, which is actually kind of nice.
"It was really good exposure to the design industry in New Zealand. We got to meet people doing interesting things with design in our own backyard," he says.
The Search for the Perfect Purple has received positive feedback, with the call for entries in the competition closing in July. The students will also be responsible for designing the Best Awards ceremony in October.
For more information about the Best Awards visit http://bestawards.co.nz/
Image credit: Rachel Knight
Balancing physiotherapy and fun
4 June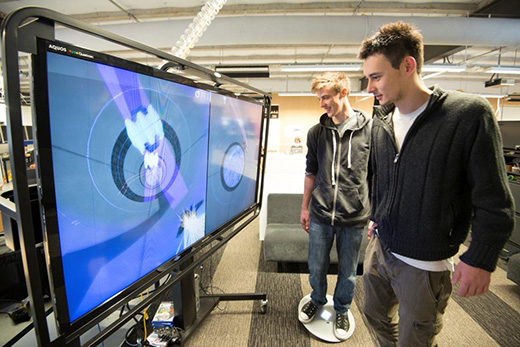 A team of Victoria University of Wellington students and graduates have created a balance board that helps people stay motivated and have fun while undergoing physical therapy.
As part of the Viclink Digital Futures / Product Futures summer 'boot camp', an interdisciplinary team of engineers, marketers and designers developed Switchboard—a balance board that connects to a smartphone and allows patients to play games.
Numerous studies have shown that balance boards are an effective aid for muscle rehabilitation, which is why their use is often prescribed by physiotherapists. Switchboard addresses what is considered the biggest fault in traditional boards—the user's lack of motivation to train consistently.
The solution in Switchboard is a suite of games which are custom made for the balance board controller, including snowboarding and flying, which users play while they are exercising.
"The user doesn't have to think about the fact that they are exercising, because they are having fun," says engineering student and project manager Lukas Stoecklein.

"Additionally, having the balance data in digital form provides physiotherapists with insights about their patient's progress. We can even change what exercises the games encourage you to do, according to what the physiotherapist or user wants, so people can train more efficiently."
During the 'boot camp'—designed to help graduates learn how to bring a product to market—the team met with Steve McHardy, General Manager at the International Rugby Academy, to give a demonstration to rugby players. "The players were keen on the idea and said they would enjoy using the board as part of their training," says Lukas.
Alongside Lukas was a team of two media designers, one industrial designer, one electrical engineer, and two software computer scientists. The programme was led by Dr Edgar Rodriguez and Kah Chan from the School of Design, Dr Will Browne from the School of Engineering and Computer Science, and Alan Hucks from Creative HQ.
Switchboard has commercial opportunities on the horizon, with support from Viclink, Victoria's commercialisation company. The team has also formed a start-up company called Swibo to continue work on the project.
Switchboard is currently in the prototype stage, and is being tested by Wellington physiotherapists.
Viclink connections create student opportunities
3 June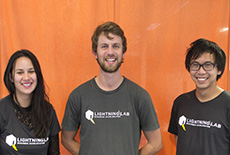 Thanks to Viclink's close connections with the innovation community, 14 of Victoria's students and graduates are currently involved in an intensive, three-month internship programme, assisting ten digital technology start-ups as they progress through Lightning Lab – a business accelerator programme.
"Lightning Lab was founded by Wellington's start-up incubator, Creative HQ," says Abby Buchanan, Viclink's Student Entrepreneurship Manager. "Viclink has close ties with both organisations, so we were first to hear they were looking for technical development, design and business talent to help teams taking part in The Lab's 2014 programme." She says it was a fantastic opportunity for Victoria's budding entrepreneurs to learn more about what's involved in creating a start-up and to find out what it's like to work in the business world. "We put the word out to students, and then helped them with their applications to give them the best chance of being accepted."
Of the paid Lab Tech positions and unpaid internships available, Victoria University students scored two of the paid positions and 12 of the unpaid roles.
"Taking ten of the country's best digital start-up companies from concept to investment-ready (normally two years' worth of business progress) in just 13 weeks is a huge undertaking," explains Sam Bonney, Lightning Lab's Programme Manager (pictured, centre). "The Lab Techs and interns help the teams make the progress we need to see during the programme; what they get in return is the opportunity to take part in all of the Lightning Lab's events, make some great connections and learn some real-life business skills from New Zealand's leading entrepreneurs and business experts."
It's an opportunity that two of the Lab Techs – Victoria's Yasmin Stewart and Michael Szeto – are relishing. "It's teaching me how to work in a 'lean' environment," says Yasmin (pictured, left), who finished her degree in Industrial Design last year. "I've learned how to produce work of a high standard, very quickly and across teams – skills that are going to be really attractive to future employers." Michael (pictured, right), a Digital Media Design student, agrees: "The design industry is hugely competitive – you've got to be at the top of your game to even be considered for a job. The skills I'm learning, and the connections I'm making, could make all the difference when I start looking for work."
Student project takes the world stage
19 May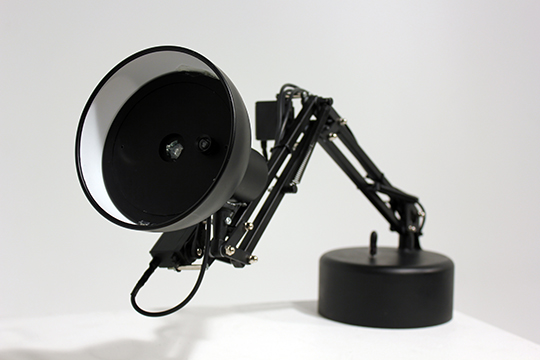 Pinokio, the Victoria University-designed animatronic lamp that has become an internet sensation, is on show in Russia this month.
Its co-creator, Victoria University student Adam Ben-Dror, has taken Pinokio with him on a trip to Russia where he will speak at the Robo-Forum Conference.
Pinokio, collaboratively designed by Adam and Shanshan Zhou from the School of Design, Victoria University, has already clocked almost one million views on Vimeo. Adam was invited to speak about the lamp and his explorations into interaction design and robotics after the Robo-Forum organisers got in touch with him.
Robo-Forum brings together experts from vastly different fields to weigh in on the future of robotics and the robots market. Pinokio will feature in the associated exhibition, and Adam is looking forward to stepping back and watching people enjoy the project.
"It will be rewarding to set Pinokio up and let people see his new behaviours and movements—he is a real delight," says Adam.
The four day conference is held in Russia's capital Moscow, and features more than 50 speakers. As well as offering opportunities for networking and putting Pinokio on a global stage, Adam hopes to come away with new ideas and potential for collaborations.
The interdisciplinary style of the conference is reflected in Pinokio's origins. Not only was the project completed by students across disciplines within the School of Design, most notably Media Design graduate Shanshan Zhou who programmed Pinokio's interaction model, but it was inspired by principles in three separate fields: design, animation and artificial intelligence.
Pinokio is based on the iconic Anglepoise Lamp designed by George Carwardine in 1932. "The style is instantly recognisable, though Carwadine's lamp was described as being 'flexible, obedient and practical', whereas Pinokio is the most disobedient lamp imaginable," says Adam.
In terms of animation, Pinokio is closely related to Disney's famous short film Luxo Jr. from 1986, where the potential for the angle poise lamp to be animated was realised. Inspiration from the field of Artificial intelligence has Pinokio switch himself back on if he is turned off—a reference of Marvin Minsky's Ultimate Machine that's only purpose was to switch off when turned on.
"I think it is these ideas that come together and make Pinokio compelling. He is a mash-up, a collage of ideas and works from the past century," says Adam.
The Robo-Forum programme and speakers list is available online at http://mosroboforum.ru/eng/index.shtml
Adam's work, including Pinokio, can be found on his website http://ben-dror.com/
Counting sheep, dreaming of future technologies
12 May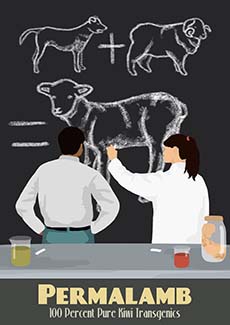 How do you think internet technologies should be used in livestock farming? Researchers from Victoria University of Wellington are using fictional scenarios to investigate how New Zealand merino might be grown and used in future.
The three year Marsden-funded research titled Counting Sheep: NZ Merino in an Internet of Things, aims to understand how collecting and sharing farm data online can reshape how people and animals interact with each other.
Over the past two years, Dr Anne Galloway, a design ethnographer and senior lecturer in Victoria's School of Design, travelled the country visiting merino stations, A&P shows, shearing and woolhandling competitions, labs and offices, in order to understand what matters to the people who produce New Zealand merino.
Based on her findings, Dr Galloway and student researchers created fictional scenarios which combine evocative designs and storylines about future production and consumption of merino sheep and products.
"Today's farms can generate and collect large amounts of data," says Dr Galloway. "Our aim is to figure out what people can do with this information, and understand the kinds of science and technology people want—or don't want—in the future."
The fictional scenarios are designed to explore people's hopes and fears about technology, imagine where they might lead in the future, and challenge us to think differently. They include growing your own lamb, woollen casts knitted over broken bones, a new half-dog half-lamb companion for every New Zealander, and a wool shed for public use in the city.
"We want to know, for example, if a scenario like 'Grow Your Own Lamb' gives too much power to consumers, or if 'PermaLamb' changes issues around animal welfare. We want to understand what people think are good and bad uses of technology—before researchers, businesses, and governments make them happen."
Anyone can participate in the study by taking a brief online survey about the scenarios (http://countingsheep.info/). The goal is to provoke an instinctive response, says Dr Galloway. "So far, we've heard everything from 'I would rather die than live in this world' to 'this is the most brilliant thing I've ever seen'." The survey is open until 15 June, 2014.
The researchers will make the results available online and they hope the online process they are running to encourage public debate will help inform policy makers on how new technologies can be harnessed.
Some of the scenarios:
Grow Your Own Lamb
Choose to grow your lamb on the paddock or in a lab. If you choose the latter, you can choose to flavour it with rosemary or mint as it grows.

Boneknitter
When you break a bone, this wooden device knits fiberglass-strength merino wool and flax around your limb while you have a hot cuppa. It heralds a complete shift in the medical procedure of getting a cast applied.

PermaLamb
The DNA of a Merino sheep and a working dog are combined, creating a new, transgenic super-species. The new creature provides information, entertainment, clothing and food for the entire country.

Kotahitanga Farm
This concept blurs traditional boundaries between people and animals, urban and rural spaces. Merino sheep can be tracked on screens inside the wool shed, or seen grazing in city parks.

For more information visit http://countingsheep.info/ or contact Dr Anne Galloway on 04-463 6230 or anne.galloway@vuw.ac.nz.
On a fast track
30 April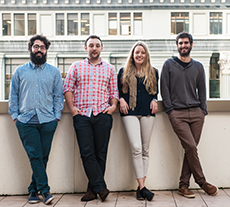 The morning after Hannah Faesenkloet graduates with a Bachelor of Design Innovation, the 21-year-old will be back working in the start-up company she's founded with three other former Victoria University of Wellington students.
Hannah is the youngest person, and the only woman, to currently be part of Wellington's Lightning Lab—New Zealand's first digital accelerator programme to help fledgling companies prove, build and launch their offering.
Hannah's company, Cogo Digital, has developed a management tool that maps knowledge resources. Called Co-Operly, the system gathers information about employees' knowledge and roles, helping to reduce the impact when staff members leave and improving efficiency in how knowledge is distributed through an organisation.
But the idea wasn't what got Hannah and her co-founders—Marcelo Hudson, Joseph Milsom and Dale Galloway—into the Lightning Lab. The team started the accelerator programme with a health and fitness app designed to get people off the couch.
"After one terrible day in the first week, we knew it wasn't going to work," says Hannah. "We went out for an ice cream and realised you have to be really passionate about something and believe in its potential, to take it through an intense programme like the Lightning Lab."
After their "ice cream epiphany", Hannah says the four members of the group spent the weekend forming a new idea.
"My personal motivation was frustration with having to troll through 45 minutes of a video to find the two minutes I wanted or seeing our developers trying to find succinct answers to programming roadblocks.
"It was one of our mentors at the Lightning Lab who pointed out the potential to adapt our idea for the corporate world."
Hannah, who moved from Auckland to Wellington to enrol at Victoria's Design School, is no stranger to innovation. During her three-year degree at Victoria, majoring in media design, she created a piece of novel wearable technology called TacitLanguage that helps people with impaired hearing to communicate in low light situations by illuminating the user's hands and face.
She was part of a Victoria University team that developed the Forager mobile phone app, which highlights sources of wild food growing on public land around Wellington and, last summer, took part in a Digital Futures programme where she helped create the health and fitness app her team initially took to the Lightning Lab.
"I was always the creative one, even as a child," says Hannah. "If someone had to draw, it would be me."
Hannah says her degree has equipped her well. "We were really encouraged to think out of the box, go that little bit further and not to hand in anything we weren't proud of. We also had a lot of projects on the go at University and that's helped me learn to move quickly and multi-task."
Those skills are proving essential at the Lightning Lab which Hannah describes as "an inspiring environment where everyone is hugely driven to do well".
"I never expected to be the founder of a company going through an accelerator programme at the age of 21 but I have absolutely no regrets.
"Even if this business idea doesn't fly, you can't put a price on the experience and business knowledge I've gained."
Hannah graduates with a Bachelor of Design Innovation on Wednesday 14 May at 6pm.
Joseph Milson graduated from Victoria with a Bachelor of Music in sonic art in 2013 and will graduate with a Graduate Diploma in Science with a computer science endorsement this year. Marcelo Hudson will graduate with a Bachelor of Music in sonic art this year and Dale Galloway will also graduate this year, with a Bachelor of Commerce and Administration in Marketing and a Bachelor of Science in Psychology.
To view some of Hannah's designs.
To find out more about Cogo Digital.
To find out more about the Lightning Lab.
A new voice for schizophrenia
7 April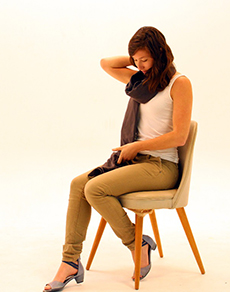 Personal circumstances inspired a Victoria University of Wellington student to invent new technology that helps family members of people with schizophrenia understand what it's like hearing voices.
As part of her Master's in design innovation, Sarah Mokhtar has spent the last year developing a downloadable app and wearable technology scarf that allow people to hear voices and understand what that experience is like.
In her teens, Sarah, who has an older sister with schizophrenia, attended a workshop which involved listening to a simulation of voices heard by a schizophrenic person. "I wanted to understand what it was like for my sibling to live with voices and also to help other people in the same situation as me."
Sarah set out to create an extension of what she had heard at the workshop, partnering with the organiser during her Master's year to develop new devices that can deliver a more accurate experience of a schizophrenic person's life.
"I started thinking about what we wear every day and came up with the wearable technology scarf. When it was done, I wanted to make it more accessible. The age group I'm marketing to are technology savvy, so creating an app was a natural fit."
Earlier this year, Sarah entered the scarf into an exhibition called Mental Blocks, an art initiative organised by mental health awareness group Changing Minds, to encourage discussion. "There was great response from people in the mental health community who were particularly interested in how it could help with education in schools."
The scarf and app respond to the environment and create a distracting experience for users as they go about their everyday activities. Until now, says Sarah, there hasn't been any resources for siblings and family members to understand what it's like to hear voices.
To appreciate its full effect, Sarah wore the scarf around Wellington for a day.
"It was much more difficult than I anticipated, to the point where I actually avoided conversations with people because I didn't want to have to cope with voices talking to me while trying to communicate normally," she says.
"The biggest change I've seen in myself through this project is my appreciation for my sibling. I want to be more involved in her life now. For me to want more contact with my sister and have a relationship I felt like I lost, is a significant change."
Arduino Day
19 March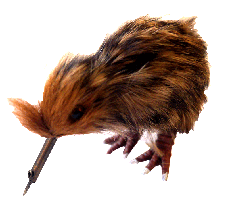 The School of Design is happy to be hosting an Arduino Day for Wellington on the 29th March 2014!
Arduino Day is a worldwide celebration of Arduino's first 10 years. Globally, it's 24 hours full of events, and we are hosting the Wellington event in the Media Lab of Victoria University's School of Design.
It is a free and open event including talks, demos, workshops and a show and tell session.
We know there is a lot of making happening in Wellington – it doesn't matter whether you are an expert or a newbie, an engineer, designer, crafter or maker: Arduino Day is open to anyone who wants to celebrate Arduino and all the things that have been done (or can be done!) with it.
For more info and sign-up.
Arduino Dday Wellington
Saturday, 29 March 2014
11am–6pm
Media Lab, 4th Floor
Faculty of Architecture and Design
139 Vivian Street
How does Wellington feel and what is it worth?
7 March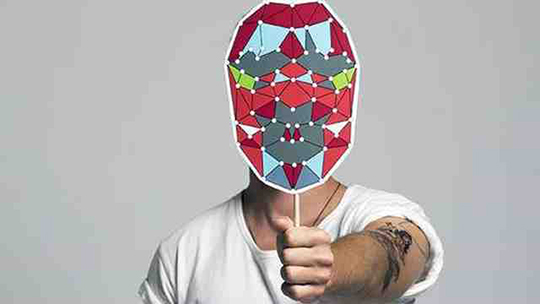 Insight into how New Zealand's capital city feels will be the result of a pop-up bank and art project led by Victoria University researcher Dr Sarah Elsie Baker and Wellington based artist Vanessa Crowe.
'Moodbank' is a collaborative project, believed to be a world first, which will document the collective mood of Wellington and allow people to consider how factors such as the weather, the traffic and who won the rugby, influence how we feel.
"Governments and businesses have come to see the value in finding out how happy we are, but we are interested in complex and contradictory moods. Sometimes we feel grumpy, rushed and excited at the same time," says Dr Baker, lecturer in Design Culture + Context at Victoria's School of Design.
At the 'Moodbank', in the old ASB bank at 29 Manners Street from 13 to 22 March, visitors will be invited to visualise, deposit and exchange emotion. Transactions can also be made via an ATM-style mood machine found in various locations throughout the city, and online at www.moodbank.co.nz.
City spaces have often been thought about in terms of their function, says Ms Crowe, but the places in which we live have a strong impact on mood. "How we feel is often overlooked—we hope to take the 'Moodbank' to different locations in New Zealand to reveal and compare how people feel."
"We chose to mimic and subvert the look and function of a bank in order to draw attention to the ways in which some moods are commercially valuable and others not so," says Dr Baker.
Throughout the project the collective moods of Wellington will be displayed via posters, video and a customised stock market mood ticker, allowing a visualisation of the usually unseen mood of the city to emerge.
Dr Baker and Ms Crowe will discuss their inspiration for the project, and reflect on collective mood data at an event on Thursday 20 March, 6.30pm, at 29 Manners Street, Wellington.
The 'Moodbank' project is run with funding and support from Victoria University, Wellington City Council Public Art Fund and Urban Dream Brokerage.
World first inflatable 3D print at Victoria University
28 February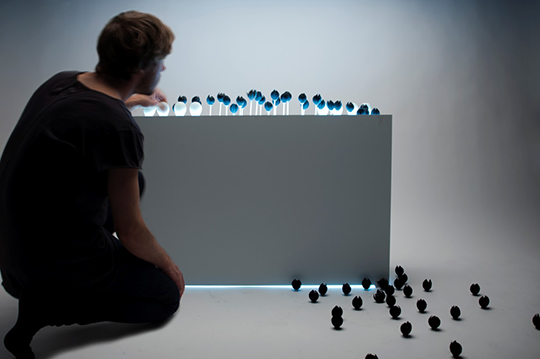 The world's first 3D printed inflatable object was created in the workshop of Victoria University's School of Design on their high end Objet Connex multi-material printer.
Seamless Blossom was created by design graduate Richard Clarkson in 2012 but has only just been made public.
Richard says the projectwas about exploring the potential of the new technology combined with the generative potential of 3D CAD programmes to create an inflatable 3D print.
The flowers are made from photosensitive polymers that range from a rubber like softness through to completely rigid. This allows for varied flexibility, meaning the flowers can 'bloom' when inflated.
"The petals are a curved hollow chamber made with soft polymer. As you inflate it, it creates a gap of air that pushes against the inner layer, forcing the outer layers open. The rigid centre was dyed to provide some colour, making the whole thing look like a flower blooming," he says.
Though Seamless Blossom had to be sent overseas for printing at the time, Victoria University now has the only 3D printer in New Zealand that can digitally mix materials required for printing the project.
Tim Miller, a senior lecturer at the School of Design and supervisor of Richard's project, says the breakthrough of being able to print multiple materials now means that the potential for 3D printing is enormous.
Richard is currently a Master's student at the School of Visual Arts in New York. For more information about his work and a video of blossom in action, visit http://richardclarkson.com.