Flavia Rose
Joining the School of Design Innovation as a BA graduate has led to some exciting opportunities for Flavia-Rose—including the chance to work at Weta Workshop.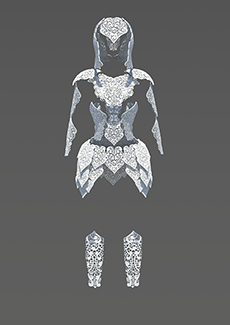 Flavia-Rose took a few Media Design papers during her BA and was captivated by them. She then enrolled in a one-year Graduate Diploma in Design.
"I was impressed by the inclusive community and maker culture I found at the School of Design Innovation. I had a strong desire to create and learn new skills so I enrolled."
Flavia-Rose was awarded a Summer Research Scholarship at Weta Workshop towards the end of her studies, part of a relationship between Weta and the School of Design Innovation.
"The summer scholarship opened huge doors for me—when it finished I was taken on as a Props Technician to work on upcoming films Ghost in the Shell and Power Rangers. Working at Weta had been a long-held dream—getting there would have been so much harder if it hadn't been for the scholarship."
Another milestone during her studies was when Dame Suzie Moncrieff, the founder of the World of Wearable Art show (WoW), came to speak to her Wearable Technology class.
"It was inspiring to speak with her and discuss the garment my team was working on. We're hoping it will feature in WoW."
Flavia-Rose is continuing to develop her animation portfolio and enjoying her work.