2010 News
Read past news stories from the Wellington School of Architecture's 2010 news archive.
2010 News
On this page:
Victoria student succeeds in leading architecture competition
15 December 2010
Joseph Shepherd from Victoria's School of Architecture was one of the three prize winners in the New Zealand Institute of Architects Graphisoft Student Design Awards.
Mr Shepherd, 23, won a Highly Commended Award in this annual competition for the country's top architecture students, for his proposed accommodation for scientists at the Taputeranga Marine Reserve. He says he chose this site because he wanted to illustrate how the environment changes a building over time.
Awards jury convenor Patrick Clifford, the president of the New Zealand Institute of Architects, says the judging panel was impressed by the quality of Mr Shepherd's research and presentation. "Joseph's proposal was sensitive and engaging," Clifford says.
"His drawings have a painterly quality. They're both contemporary and rather melancholy. It's interesting that someone who is just starting out on an architectural career understands that all buildings eventually pass away."
Mr Shepherd says he wanted to design a scheme that would reflect the inevitable results of ageing. "Every material is impermanent," he says.
"My proposal was for building seen through time, not just a moment in time. A building in such a tough place as Wellington's south coast would soon show the signs of weathering.
"I think this evidence of history enhances a building's appeal. I like the idea that a building in a sense retains a memory of what it was, even as it declines over time."
Mr Shepherd, an old boy of Onslow College who say's he has "always had a thing for drawing", was one of a dozen entrants in the Student Design Awards which each year are contested by the four top final year students from each of New Zealand's three schools of architecture—at Victoria University, the University of Auckland and Unitec.
Mr Shepherd and fellow Highly Commended student Rowan Baird of the University of Auckland received their prize of a trip to Sydney at the awards function in Wellington on 2 December.
Solar powered Kiwi bach in display
29 November 2010
A solar powered Kiwi bach designed by Victoria University students for an international competition will be on public display on the Wellington waterfront next year.
A team from the School of Architecture at Victoria University, called First Light, is one of only 20 teams worldwide and the first entry ever from the Southern Hemisphere to compete in the prestigious US Department of Energy Solar Decathlon.
The highly energy efficient, solar powered house will be open to the public for up to three weeks at Frank Kitts Park in April 2011. After this, the plan is to ship the house to the US for the competition on the National Mall in Washington DC.
Visitors to the waterfront will have a chance to see energy efficient innovation in action when they visit the house. The team hopes the public will come away with an understanding of solar energy and the importance of using energy efficient technologies in both building and operating their houses.
"New Zealand has an amazing solar resource; we just need to harness it," says team member Nick Officer.
As well as showcasing solar technologies to the public, the assembly of the house on Frank Kitts Park will act as a practice run for the US competition, which begins in September 2011. The team wants to perfect the assembly sequence so they're well prepared for the competition.
"We need to have every little detail planned, down to how many washers and screws we need to take," says team member Anna Farrow.
Construction will begin in the New Year before the house is transported to Frank Kitts Park on 30 March to begin the seven day assembly process, the same timing as for the competition in Washington DC.
Visit the First Light website and show your support.
Well done to our Solar Decathlon team who met a major project milestone last week. Faced with the task of submitting a 364 page project manual and around 100 pages of drawings, not to mention a health and safety plan and building information model and costs, the team and staff worked hard to submit on time to the US Department of Energy.
Celebrating Architecture and Design's finest work
15 November 2010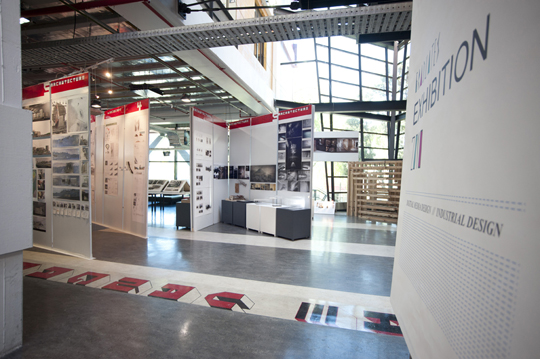 Victoria's Faculty of Architecture and Design is hosting its annual end-of-year exhibition, showcasing this year's finest work.
The School of Architecture's exhibition, Vanguard, showcases a selection of work from Years Two to Five of the architecture, building science, interior architecture and landscape architecture disciplines.
The School of Design exhibition, The End, is a curated exhibition by staff and students of the School's final year digital media design and industrial design disciplines.
On display are four projects by William Samuels, Shelly Clement, Nick Roberts and Joseph Shepherd that have been selected to compete in the national NZIA Graphisoft Students Design Award 2010, affiliated through the New Zealand Institute of Architects (NZIA). The designers of these schemes will compete against the best work from New Zealand's other architecture schools, UNITEC and Auckland University, in early December.
Awards were presented at the exhibition opening last Tuesday, hosted by Head of School (Architecture) Associate Professor Diane Brand.
"It was a great way for the Faculty to celebrate its achievements over the past year and I look forward to an even better year in 2011," says Associate Professor Brand.
Shaan Cory won the John Fitzgerald Memorial Award for his proposal "Generic Energy Simulation Models for the Use of Assessing Energy Efficient Design Techniques and Technologies". This award will enable Shaan to carry out further research towards the completion of his PhD thesis.
NZIA Graphisoft Student Design Awards were presented by NZIA president Patrick Clifford and award sponsor Campbell Yule from Graphisoft, to recognise student excellence in Years One to Four in Architecture. The 2010 recipients were Year One Kelly Lambert, Year Two Hamish Beattie, Year Three Grace Mills and Year Four Katherine Walker, who each received prize money of $1,000. Highly commended prizes were awarded to Year One Benjamin Allnatt, Julia Thompson and Georgia Sanson; Year Two Thomas Strange, Harriet Eberlein and Xuanyi Nie; Year Three Duncan Harding, Samuel Skogstad and Hannah Wolter; Year Four Frances Loader, Sophie Hamer and Jennifer Giller, who each received prize money of $500.
A number of Faculty excellence awards were also presented to students.
The exhibition will be on display at Victoria University's Faculty of Architecture and Design, 139 Vivian Street, from 9 to 21 November daily from 9am-5pm.
The School of Architecture online gallery has more photos of the exhibition or you can visit the Victoria University Facebook Page.
Public Lecture: Architectural issues of the Canterbury earthquake
15 November 2010
Although no lives were lost in the Canterbury earthquake, damage to buildings was extensive.
Four of Victoria's School of Architecture's leading experts will discuss architectural issues from the Canterbury earthquake at a free public lecture at Victoria University on Tuesday 16 November.
Dr Geoff Thomas will talk about how damaged homes can be retro-fitted for safety in earthquakes, and show photographs from his recent trip to Christchurch, where he accompanied representatives of building association BRANZ to analyse structural damage of residential homes.
Teaching Fellow in Conservation David Kernohan will discuss whether post-quake retention of heritage architecture is feasible and who should pay for it.
Martin Bryant, Senior Lecturer – Landscape, will draw on his research into how to design public space better to provide places for people to congregate and shelter after a disaster.
Associate Professor Diane Brand, Head of the School of Architecture and a member of the Christchurch Urban Design Panel will consider the opportunities and risks in redeveloping sites in the Christchurch inner city.
Sustainable design minimises storm-water pollution
18 October 2010
A design proposal to minimise discharge of pollutants into Wellington Harbour during heavy rainfall has won Victoria University's supreme Benson-Cooper Award for Sustainable Design.
Nick Griffin, who graduated from Victoria University last year won the $1600 award for his project '25mm—A Hydrological Opportunity', created in the final year of his Landscape degree. He also won the Designed Landscape category for the Benson-Cooper Awards.
The award-winning concept was inspired by his research into Wellington's waste-water infrastructure. His research found that when the capacity of the storm-water system is exceeded, sewerage network is then used. This allows for sewerage to enter the storm-water system and be discharged into the harbour.
He says that the environmental effects are significant, with approximately 90 percent of pollutants, such as lead, copper, zinc and bacteria, rapidly transported from city surfaces into Wellington harbour by the first 25 millimetres of rain.
Mr Griffin's proposed system integrates an innovative collection strategy with the existing storm-water infrastructure. By creating strategic storage areas throughout the catchment, the first 25 millimetres of rainwater can be captured and then treated appropriately.
"The judges felt that this was an innovative and thorough project worthy of the supreme award," says one of the judges Maibritt Pedersen Zari, Lecturer n Sustainable Architecture at Victoria's School of Architecture.
"We were impressed by the combination of systems understanding, technical engagement and poetic design resolution."
The Benson-Cooper Awards are open to all students at Victoria University, with finalists selected by Faculty of Architecture and Design staff. Established in 2007 by the Benson-Cooper family of Napier, the awards aim to recognise innovative exploration into the potential of creative design and technical expertise as solutions that strive towards a sustainable future.
The other winners of the Benson-Cooper Awards for 2010 are as follows:
Benson-Cooper Awards for Sustainable Design Practice – Category Winners ($1200):
Emily Batchelor, David Gare, Kirsty Jones, Hayley Koerbin – Built Environment for designing a retrofit of an existing building as well as a newly constructed Centre of Excellence in Clean Technologies on the Kapiti Coast. The design in integrated several new sustainable technologies in innovative ways.
Alexandra Batten – Interior Focus Award for 'Disaster Relief Shelter', a simple earthquake relief shelter designed to be packed flat and transported in the event of a disaster.
Callum McLean – Building Technology Award for a 'Bio-inspired Moisture Filter', a simple piece of technology that can be fitted into existing ducting to reduce the moisture content of air in a heat recovery unit with no added energy input or moving parts. The technology mimics how lichen works in a natural setting to retain water.
Benson-Cooper Merit Award for Sustainable Design Practice ($200):
John Munro, Andrew Munn, Sigourney Lovell and Darni Struijc won the merit award for their 'Solar Decathlon Construction Project', exploring the use of SIPs (structural insulated panels) as a construction detail for Victoria's entry into the finals of the US Department of Energy's Solar Decathlon.
Other students shortlisted for Benson-Cooper Awards for their work were: Matthew Reid (third year Interior Architecture); Ben Allison (second year Interior Architecture; and Jaden Cairncross (third year Building Science student).
The Benson-Cooper prize winning projects are on display at the School of Architecture until the 15 October.
Also on display are entrants in an exhibition entitled 'Closing the Loops', which displays innovative ideas for transforming waste materials that Victoria University Architecture students have developed. Two of the displayed works were awarded sponsored prizes at an awards ceremony, at the same time as the Benson-Cooper Awards. Prize winners for the 2010 were:
Winstone Wallboards Prize for the best project investigating reuse of waste plasterboard ($500)
Jayden Thompson – Jayden used hessian sacks, crushed plasterboard and a layer of soil to devise a system to help regenerative river banks, particularly those damaged by cattle.
Porirua City Council Prize for the project with the most potential to reduce waste to landfill ($500)
Cleon Ferreira – Cleon created raised garden beds out of remoulded waste polystyrene.
First Light solar bach unites University
4 October 2010
The challenge to design, build and ship a solar-powered house to Washington D.C. is uniting students and staff across various departments at Victoria University.
The Victoria University team, First Light, has gained entry into the US Department of Energy Solar Decathlon 2011, a high profile competition held on the National Mall near the White House in the US capital. First Light will be one of 20 teams competing and is the only entry from the Southern Hemisphere ever to reach the finals.
"There is an excitement around the project and it's fantastic that others want to get involved," says one of the four students leading the project, Anna Farrow.
The First Light team started with a design created by four Victoria architecture students, Anna Farrow, Ben Jagersma, Nick Officer and Eli Nuttall. The number involved in the project has now expanded to include almost forty students from various departments around the University and a number of University staff. A number of departments have based courses and assignments around the Solar Decathlon engaging the larger student community with the project.
The students have taken responsibility for areas of the design and planning process including landscape design, interior design, environmentally sustainable design, architecture, PR, marketing and health and safety.
"The other students have really helped to lighten the load; it's great to see how enthusiastic they are about the project," says Nick Officer.
One architecture student has taken on the role of "resident model maker" and has been whipping up scale models for the team to test different materials around the project office.
It's not just students who are working together; the Engineering, Architecture and Design schools are working together on research opportunities created by the Solar Decathlon project. Staff members from these areas along with the Schools of Tourism, Marketing, and Museum Studies have also given their advice and assistance to the team.
Two staff members who are involved with the projects are Robert and Brenda Vale who are supervising the four Masters' students. The Vales are pioneers in sustainable housing and wrote The Autonomous House and The New Autonomous House, leading texts in green building.
"The Vales are experts in the field of sustainable housing, we are very lucky to have them on hand to offer their advice and expertise," says Anna Farrow.
As the team expands the date of the competition grows nearer, they are now just one year away from showcasing the Kiwi way of life in the US capital and are committed to taking New Zealand's best to the world.
Teams spend almost two years creating houses which are through a series of 10 contests to evaluate their aesthetics and measure their performance of a solar-powered house that is cost effective, energy efficient, and well-designed. The drama and excitement grows throughout the 21-day event in October 2011 until finally a winner is found.
Retro-fitting houses could save lives
13 September
Retro-fitting existing house foundations to resist earthquakes could save lives and reduce the extent of rebuilding required after a large quake, Victoria University researchers say.
Dr Geoff Thomas from Victoria's School of Architecture is leading a team that is investigating cost-effective, practical systems of retro-fitting houses, particularly for foundations with difficult access.
"Previous research by Masters student Jamie Irvine, sponsored by the Earthquake Commission, showed that more than half of domestic dwellings randomly sampled in Wellington did not meet current code requirements and their ability to resist a major earthquake is highly questionable," says Dr Thomas.
"Houses moved on their foundations during the Edgecumbe and recent Canterbury earthquake, but the potential consequences are far more severe for houses on sloping sites, such as many in Wellington."
"We aim to find a solution that is cheap and easy to install, making it accessible to homeowners."
Houses found to be especially at risk were those with fully piled foundations built before 1978 and those with damp, poorly ventilated sub-floors. "After a house is constructed it is very difficult, if not impossible, to install some types of foundation bracing and most standard connection details cannot be used due to space and access constraints or material incompatibilities. Our project will investigate alternative systems."
The project involves designing and building alternative bracing and connections, with testing in the structures laboratory at BRANZ.
Dr Thomas says the photo above shows a common problem. "Although the piles are well braced, there was a very weak connection between the top of the pile and the floor framing above."
Revisiting Age Old Concepts in Design
21 June 2010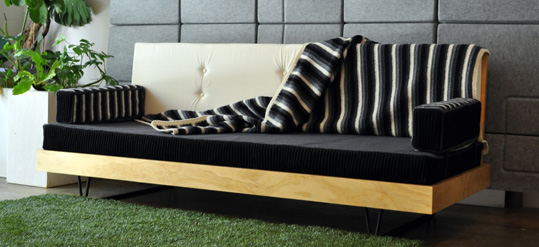 A contemporary couch design by a Victoria lecturer in Interior Architecture harks back to days of old, when furniture was handed down through the generations.
Natasha Perkins recently returned from eight weeks abroad, where she made connections with other architecture and design schools in New York, London, Tokyo, Osaka and Milan and exhibited her couch 'Nudge' at the Milan Furniture Fair, the largest furniture exhibition in the world.
Nudge is a design philosophy referring to the idea of nudging production and material selection towards eco effectiveness.
"The couch design draws from our grandparent's era, with a crochet cover and blanket on the back," says Ms Perkins.
"It uses sustainable materials and no glue—and is made so that if some part of the couch wears out it can be replaced."
The couch utilises two New Zealand primary products—timber and wool. The frame is made from Forest Stewardship Council (FSC) plantation grown hoop pine plywood with powder coated steel legs and arm inserts. Urethane foam squabs are covered in organic cotton and the removable crochet wool cover was made in collaboration with Lynda Richardson, a well-respected knitter, crochet and pattern designer from Otaki.
"It has been great to meet with so many industry leaders in furniture design and to have had the opportunity to make them think about the materials they use in production," says Ms Perkins.
"The Japanese in particular loved the concept, and it provoked much thought about retaining craftsmanship throughout the generations—much of their furniture is now made in China."
Ms Perkins also showcased her acoustic CODE tiles which she developed with Hutt Valley manufacturer Calvert Plastics Limited. The product won a prestigious international "red dot award" in the product design category for 2010. The tiles are made from Auxtex 100% polyester (PET) of which 60% is recycled from soda bottles, that is industrially needle punched and pricked, creating a felt like sheet material with acoustic properties.
"The research I'm doing looks at slowing down consumption—making products that last and can be passed down through the family—and recycled if need be."
Both the couch and tiles were developed in collaboration with product designer Jonathan Mountfort.
Ms Perkins' trip was made possible by Victoria University's New Researcher Grant (NRG), and Conference funding that partially funded the project.
"I am so grateful for this funding—it is a great opportunity for emerging researchers to network overseas, and get feedback on their work."
Lessons Learned From Chilean Earthquake
8 June 2010
A recent reconnaissance trip to Chile produced some interesting insights into the process of recovery following an earthquake for two academics from Victoria's School of Architecture.
Associate Professor Penny Allan, Programme Director and Senior Lecturer Martin Bryant of the Landscape Architecture Programme, as well as research assistant Mike Davis, were recently invited by the New Zealand Society of Earthquake Engineers (NZSEE) to join a small team to assess the aftermath of the recent earthquake in Chile.
"I believe this is the first time in New Zealand that landscape architects have been invited to join such a group," says Associate Professor Allan.
"Typically earthquake hazard management has focused on the strengthening of buildings and the reconnaissance missions have been largely composed of engineers.
"This mission is a new and exciting direction for NZSEE, which is committed to promoting a holistic approach that includes planning and design."
Much of the trip was spent in Concepcion, near the epicentre of the earthquake and in coastal areas that were affected by the tsunami.
"Chile was an interesting example for us because it has many similarities to New Zealand, in that it is a first world country with strong building codes and a similar standard of living," says Associate Professor Allan.
"In Chile a new government was elected around the same time as the earthquake happened—and the feedback was that it would have been helpful to have had certain data immediately available to architects and planners to assist with reconstruction.
"Awareness needs to be raised that pre-planning is essential".
"The situation in Chile also showed that communities were heavily reliant on each other for survival during the first few days following the earthquake—it makes sense, then, to pay more attention to the design of public areas such as local parks, which can act as a focal point for communities wanting support and information as well as possibly providing the kinds of services that are typically damaged during an earthquake, for instance small reservoirs to supply drinking water to the local community for several days."
Associate Professor Allan says that safety issues for Wellington city include not having sufficient open space in the inner city with access to higher ground. "Right now in some parts of the central business district, the only way to get to higher ground is through buildings, which could potentially be damaged and inaccessible following an earthquake."
Associate Professor Allan says one of the design challenges in designing for an earthquake resilient city is to ensure that any changes also make the city an exciting place to live in.
"We know that wide streets and lower buildings are safer, but they don't necessarily make for a vibrant city in everyday life.
"Part of our work is to understand how to be safe, but retain quality and character in the city."
Associate Professor Allan and Mr Bryant, along with the team from NZSEE, are currently preparing a roadshow to present their learnings in Chile to town councils, government bodies, engineers and designers and local communities throughout New Zealand.
Honour for Liz Richardson
10 May 2010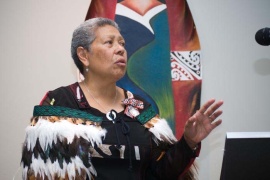 Liz Richardson was recently presented with a Queen's Service Medal (QSM) for services to Māori and Pacific Island education at a special ceremony at Te Puni Kokiri, the Ministry of Māori Development.
Liz is Deputy Dean (Equity) in Victoria's Faculty of Science and was awarded the honour in the New Year Honours.
At Victoria, she has helped establish Te Rōpū Āwhina, the on-campus whānau for students in the Faculties of Science, Engineering, and Architecture and Design, which celebrated its 10th birthday last year.
Since 1999, Āwhina has helped produce a Māori academic science staff member and students have won $4.6m of scholarships, $4.1m of which was nationally contested. A total of 691 students have completed their degrees, including seven with PhDs.
Building Science Scholarship Winners
4 May 2010
Several Building Science students have received funding this year for projects ranging from examining water use in office buildings to lighting in retail.
Besides two annual Dominion Post Scholarships, several are being funded by BRANZ, an organisation that provides independent and impartial research, testing, consulting and information to companies providing services and resources for the building industry. Victoria is also offering Building Energy End-use Study (BEES) scholarships. These are funded from BRANZ's Foundation of Research, Science and Technology (FRST) BEES project.
"It's great to have these scholarships available to help develop a new generation of skilled researchers," says Senior Lecturer from the School of Architecture Dr Mike Donn.
Recent award winners are:
Carmeny Field – Dominion Post Scholarship for Master of Building Science looking at the ecological footprint of Wellington in the 1950s (full-time, one-year) (Supervisor Brenda Vale)
Quinten Heap – Dominion Post Scholarship for Master of Building Science examining lighting in retail (full-time, one-year) (Supervisor Nigel Isaacs)
Chi-Yao (Henry) Hsu – BEES Scholarship for Master of Building Science looking at improving the performance of commercial building façade design (full-time, one-year) (Supervisor Mike Donn)
Shaan Cory – BEES Scholarship for PhD looking at obstacles preventing Net Zero Energy Buildings being built in New Zealand (full-time, three-years) (Supervisor Mike Donn)
Alexandra Hills – BEES Scholarship to develop a PhD proposal looking at using emerging web technology to understand resource Use in non-residential buildings (partial assistance to develop full PhD proposal, one-year) (Supervisor Mike Donn)
Lee Bint – BRANZ Scholarship for PhD researching water use in CBD office buildings (full-time, 2 ¼ years) (Supervisors Robert Vale and Nigel Isaacs)
Clare Dykes – BEES Scholarship to assist her to work with the BEES team on the development of User Perception Benchmarks for Commercial and Institutional Buildings in New Zealand.
Putting a Clean Technology Kiwi Bach on the World Stage
19 April 2010
A Kiwi bach powered by the sun is to be built for a major international competition and exhibited a stone's throw from the White House in the US capital.
A New Zealand team led by Victoria University has been selected among only 20 teams worldwide to build a solar powered house for the prestigious U.S. Department of Energy Solar Decathlon 2011. The student-based entry is the first in the Southern Hemisphere ever to be selected.
The New Zealand team will design, build and operate a reinvented Kiwi bach which will be powered entirely by solar energy, to create a sustainable home.
The house will be exhibited beside other contestants on the National Mall in Washington D.C. Over ten days in October next year, around 150,000 people will visit this temporary solar village.
Victoria University Vice-Chancellor, Professor Pat Walsh, says being selected for the international competition is an exceptional result.
"It's a tremendous achievement for the team to be finalists, especially in such an important area. It's an opportunity to showcase our innovation and capabilities on a world stage.
"It's brilliant too that the team is entering an updated version of the traditional bach into this competition for sustainable housing which will help raise public awareness about energy efficiency." The Solar Decathlon competition challenges university teams from around the world with the winner being the team that best combines design excellence with optimal energy production and maximum energy efficiency.
Other teams include 16 from the US and contestants from China, Belgium and Canada.
Applications were evaluated by a panel of engineers, scientists and experts from the Department of Energy's National Renewable Energy Laboratory. A panel of professionals from the American Institute of Architects, National Association of Home Builders, the US Green Building Council, building industry media and the Society of Heating, Refrigerating and Air-Conditioning Engineers also evaluated conceptual designs.
More information on the Solar Decathlon can be found at www.solardecathlon.gov
Scholarship to Turn Ideas into Reality
19 April 2010
Having a great idea is one thing—taking it to market is another.
Building Science (BBSc) Hons graduate Lauren Christie has received a scholarship to attend a prestigious and intensive course in the United States on how to commercialise the knowledge and skills she has gained during her studies.
Lauren, who recently submitted her PhD thesis for examination, has been accepted into a four-week course at Stanford Graduate School of Business Summer Institute for Entrepreneurship. She is one of seven New Zealand science and technology graduates to receive funding from the Foundation for Research, Science and Technology (FRST) for her fees and accommodation.
"I was pretty stoked to be accepted into course and to get the scholarship," says Lauren.
"It will be a great opportunity to network with the elite of the business world and get more ideas about how to take my idea that one step further, and get a business up and running."
Lauren will be staying on campus and will have a busy schedule, with classes and activities scheduled seven days a week.
"I'm looking to find a way to combine my cross-disciplinary knowledge in Building Science and Psychology," she says.
"I've already got an idea, which would involve setting up a service-based consultancy, but it needs some refining. My PhD, which investigated why New Zealand homeowners are not apparently adopting sustainability innovations, produced some exciting results and I'm now keen to apply those to plan interventions that encourage homeowners to move in a more sustainable direction."
During the course participants will be put into teams and will work collaboratively on developing an innovative business plan, which they will present to a panel of experienced venture capitalists from renowned Silicon Valley firms.
The scholarship is a continuation of Lauren's achievements at a national level. She was one of 50 in the country to be awarded a Top Achiever PhD scholarship in 2007. She was funded by the Ministry of Research Science and Technology to participate in a national workshop with British Council funded UK PhD scholars in 2008, and followed this by being the one of two New Zealand representatives funded to travel to London to present her work at the New Zealand Embassy on World Environment Day.
Victoria Architectural Exhibition off to Athens
12 April 2010
Following almost four years of work, Jeni Mihova is taking her exhibition 'Masks of Time: The Athenian Acropolis and Parthenon' to Athens. Jeni, a trained sculptor and architect, and a lecturer at Victoria's School of Architecture, displayed her exhibition at the Wellington Central Library and Te Aro Campus before going offshore.
"Never before have such beautiful and detailed models of the Athenian acropolis, the Parthenon and its sculptures been made," says Sue Dale, the librarian responsible for hosting the exhibition at the Wellington Central Library.
Research for the project, undertaken as a collaboration between Victoria and the Department of Information and Education of the Acropolis Restoration Service (YSMA), took Jeni three years. The actual execution of the models and other material on display required a further eight month's of dedicated work.
The exhibition has been ordered so that the viewer sees the development of Athens and the acropolis through time, and on passing through it experiences the monument as a classical Greek would have seen and perceived it. The display is a unique marriage of sculpture, architectural modelling, and fine art.
Jeni's principal assistants on the project were Jordan Wisniewski and Matt Fraser, both recent graduates from Victoria's Faculty of Architecture and Design.
On leaving Wellington the exhibition will be remounted in the Acropolis Museum in Athens.
Disaster Memorial Wins Prize
8 March 2010
A building design commemorating the Wahine Disaster has earned a Victoria University Architecture student second prize in an international competition.
Fourth year student Thom Ibbotson submitted his design to the Commonwealth Association of Architects (CAA) International Student Competition hoping simply to receive a certificate of participation for his CV.
"I thought being stacked against students from so many foreign universities I wouldn't stand a chance, so it was a wonderful surprise."
More than 90 students worldwide entered the competition. The judges commented on how well Mr Ibbotson had handled the relationship between a dramatic site and emotive subject matter.
"The Wahine Disaster didn't happen in my generation so it was interesting to research and offered a lot to work with," says Mr Ibottson.
The building, which has a boat-like structure, is situated on a cliff top on the Seatoun coast overlooking the site of the sinking. Inside is a gallery space containing large black and white photographs from the disaster, with windows at feet level looking out to the view, to enable visitors to contemplate the site where the disaster happened.
For the annual CAA competition, students are invited to make proposals for a memorial that does not already exist commemorating a significant past event in their own country, or the country in which they are studying. It must keep the memory of the event alive, as well as provide accommodation to house and publicly display relevant memorabilia.
Going With the Creative Flow
26 January 2010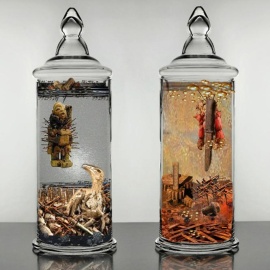 Staying in a villa overlooking the Italian Riviera, and being served meals and wine proved a surprisingly creative combination for Associate Professor Daniel Brown.
Victoria's Programme Director Interior Architecture was one of eight Fellows worldwide to receive a five-week Research Fellowship at the Liguria Study Centre for the Arts and Humanities in Bogliasco (Genova), Italy at the end of last year.
"The people running the Foundation were quite surprised and excited as I accomplished three projects during a five-week stay," laughs Associate Professor Brown.
"As you can imagine a lot of people who come there end up enjoying the atmosphere, and don't produce too much!"
His first piece of work was a performance piece called 'Overtones' which took place eight hours from Bogliasco in a palazzo.
The second piece drew upon the area where he was staying. Named 'Rivers of the Underworld' and based on Virgil's Aeneid, Associate Professor Brown spent considerable time finding abandoned or discarded objects in the local area, including rusted nails, hinges and locks, and exploring flea markets.
"It was a statement about sustainability and cultural artefacts, by taking the things people discard and using them as cultural identifiers," he says.
"I built these beautiful apothecaries out of garbage and found ways to make each one tell a story about the culture and history that was occurring in the village."
In his last week he was approached by a representative of the city of Genoa to produce his third piece as a fundraiser for a children's hospital. He based a series of drawings around the She-Wolf, which is the emblem of Italy's birth, and represents nurturing and caring.
"That created a lot of excitement, and brought attention to me as a New Zealand artist visiting Italy and staying there, taking advantage of their culture and returning something to them—it was a very satisfying finale."
Associate Professor Brown hopes to secure more fellowships this year, in order to continue exploring the work he initiated in Italy, in particular the 'Rivers of the Underworld' project, which he would like to explore in different cultural contexts.
Photo: Apothecary jars from Professor Brown's 'Rivers of the Underworld' exhibition.
Examining Sustainable Buildings from a User's Perspective
26 January 2010
Thirty of the most cutting-edge sustainable buildings in the world receive an unbiased evaluation in a new book by Victoria's Professor George Baird.
The book Sustainable Buildings in Practice: What the users think, released by Routledge earlier this month, looks at the buildings in terms of the users' perceived comfort, health and productivity.
"Current assessment methods of sustainable buildings do not adequately account for the users' needs," says Professor Baird, Professor of Building Science at the School of Architecture.
"Given that over the life of a building, total salary costs far outweigh both operating costs and combined capital and rental costs, the occupants' needs are not something which should be sensibly ignored."
While conducting research for the book, Professor Baird visited the buildings, interviewed the design teams and examined the findings of a 60-question standardised user questionnaire. The book includes 30 case studies covering mixed-mode, passive and environmentally sustainable commercial and institutional buildings.
It provides detailed insights into the principles underlying the design of sustainable buildings worldwide, over several climatic zones and 11 countries, together with clear explanations and illustrations of innovative design practice. There is also a discussion of common issues and the lessons that may be learnt from a study of the performance of sustainable buildings in practice, from the point of view of the people who use them.
Professor Baird says that the book will be of great benefit to architects and engineers, facility managers of commercial and institutional buildings, as well as developers and researchers, academics and students in these fields. Following on from the research for the book, his next project is to establish user performance benchmarks for the New Zealand commercial building stock.
A Fellow of the UK's Chartered Institution of Building Services Engineers and New Zealand's Institution of Professional Engineers, Professor Baird is an experienced researcher and writer and has been involved in the teaching of architects and building scientists for 40 years.