Geography
This page is no longer used. If you are not redirected automatically, follow the
link to the new page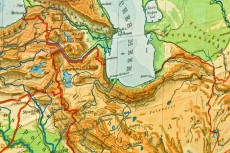 We study economic, urban, social, cultural and population geography. Our focus is on the processes of change in regional economies and human societies – processes that include urbanisation, social and economic development, and dimensions of place and identity.
Visit the Development Studies, Environmental Studies and Physical Geography postgraduate pages for more information about these particular areas of geography study.
Geographic Information Systems (GIS) is a tool that supports research in all the above areas. For more information, please view the GIS Facilities web page.
Geography has a broad appeal, from global issues through to local environments.
Research
We are currently involved in the following research areas:
Globalisation and rural change in the Asia Pacific Region, Oceania and Latin America
urban labour markets, housing and community development
the geography of wellbeing
relationships between place, identity and social cohesion in rural communities of New Zealand
gender and urban space in New Zealand
GIS and spatial analysis
For more information, please visit our geography research group web pages:
Potential projects
All students are urged to plan their course of study with the director of Geography before enrolment, as well as during the course of their programme.
Click here to see a list of potential projects.
More information