Student Life
The extramural clubs in the School of Geography, Environment and Earth Sciences allow students to engage with each other outside the classroom.
The School of Geography, Environment and Earth Sciences has a number of student clubs. We believe that there's more to being a student than only study. These groups provide a community and a chance to meet like-minded people.
We cater for most interests from those who are interested in geology, to those who want to protect the environment or make a positive impact in the field of global development.
Victoria University of Wellington Geology Society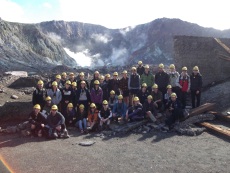 The Victoria University of Wellington Geology society, more commonly known as "Geolsoc", is a highly active student led group, run by a committee of seven representatives from the third year geology cohort, and one second year representative. Geolsoc is responsible for organising a number of events throughout the year for its many members, which are mostly geology students and staff. However anyone with an interest in geology may join. Our members enjoy the mix of social and academic events we offer.
Past events have included guest speakers, quiz nights, sports events, movie nights, field trips (including trips this year to Waitomo/Kawhia and to Tora), pub crawls, and student symposiums at GNS. We also hold three social nights every year, and the annual end of year formal dinner is always a highlight. Geolsoc also promotes any other events of interest to geology students, and our facebook page acts as a vehicle for students to share information about job opportunities, scholarships, and any other points of interest.
Please see our Facebook page for more information, or email us.
Vic IDS
Vic IDS (the Victoria International Development Society) is an affiliated Victoria University of Wellington student club that aims to provide a non-partisan platform from which ideas, concepts and thoughts on international development-related issues are shared. Vic IDS organizes fortnightly events on campus, including high-profile guest speakers, workshops, panel discussions, DVD screenings, on-campus campaigning, and working groups on research projects. These fortnightly events encourage students to engage, learn, voice their views, and make a positive impact in the field of global development. Being actively involved in Wellington's development community, Vic IDS also aims to promote networking, providing opportunities for members to volunteer, get involved and tap into this community. So feel free to come along! Everyone is welcome.
Send Vic IDS your email address to get regular updates and event information.
Ice and climate reading group
The Ice & Climate discussion group meets bi-weekly with the intentions of:
- Discussing any topics from throughout the ARC and SGEES that relate to ice and climate.
- Encouraging presenters to circulate and seek feedback on their own work, from preliminary ideas to drafts of manuscripts. This is also valuable for learning about what others in the ARC/School are working on.
- Talk about new and exciting, as well as classic publications that can be of general interest, and may not have otherwise been read by some members of the discussion group.
For further information or to be added to the mailing list please contact: