Equipment
The School of Geography, Environment and Earth Science has a broad range of laboratory, computing and field equipment available for students to use.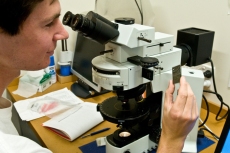 Laboratory Equipment
The School has the following items of laboratory equipment:
Fluid Interaction Apparatus
Portable Seismograph
Various Specialised Microscope
Infrared Thermal Radiometer
Gamma Spectrometer
Wavelength Dispersive Analysis System Nu Plasma MC-ICP-MS
X-123 Complete spectrometer
Sedigraph III 5120
Proton Walking Magnetometer
Disk Mill Pulverisette Set Multi-wavelength particle size analyser with ALM system
Auto Precision Lapping and Polishing machine
SuperProbe Electron Probe Microanalyser (EPMA)
Microscopes
Olympus Research Petrographic Microscope - uses transmitted and reflected light
Olympus Dp70 Camera and Digital Imaging System - this portable system can be easily moved to any of the Olympus microscopes in the suite
Research Stereozoom Microscope - used for examining both large microscope slides and large features in microscope slides
Olympus Research Transmitted Light Petrographic Microscope - mounted with Linkham heating-freezing stage for studying fluid inclusions
Two Leitz Research Microscopes - one of these instruments is used for point counting
Leitz Student Petrographic Microscope - the universal stage mount on this microscope can be used to investigate grain orientations and deformation features.
Computing Equipment
UNIX Servers and data processing
Numerous multiprocessor Linux servers in the School are used to run geophysics and meteorology applications. An additional multiprocessor system (with 32 cpu cores) is being added for CPU-intensive work.
We access Grid Computing resources externally to support the in-house computing facilities.
Data storage
A storage array is provided by Digital Solutions at Victoria University of Wellington, of which we currently have 30TB allocated.
Field Equipment
The School has the following field equipment available:
Trimble GeoXT, GeoXH and Pro XR Differential Global Positioning System (DGPS) equipment Trimble R8 Real-Time Kinematic (RTK) GPS surveyequipment
Trimble S6 Fully Automatic Total-Station theodolite, including capability for reflector-less surveys (eg: cliff walls)
Two Sokkia Total-Station, Electronic Distance-Measuring (EDM) theodolites, also with relectorless capability, with MALA Ground Penetrating Radar (GPR) system
Ceeducer DGPS integrated depth sounding equipment
Dobie wave and tide gauge
Petrol-powered Rock Drills for collecting oriented cores for structural or paleomagnetic studies
4x4 pick-up truck (2006 Mitsubishi Triton) and other fleet vehicles.
We also have a wide range of augering and sediment coring devices for field sampling of Quaternary materials for neotectonic studies:
Hydraulically driven percussion corer
Vibrocorer
Hand corers (Auger and D-ring)
Livingstone corer (available in collaboration with GNS Science).
Hydrology equipment for point sampling and long term monitoring including:
Seba current meters
A wide range of Campbell sensors and dataloggers
Climate stations
Infiltrometers
Permeameter
Water level pressure transducers
Field Stations in Northwest Nelson and Kaikoura coast regions
Geophysical Survey Equipment for use in gravity, magnetic, seismic reflection and refraction, passive seismic/tomographic, microearthquake and magnetotelluric studies.