Quaternary Environments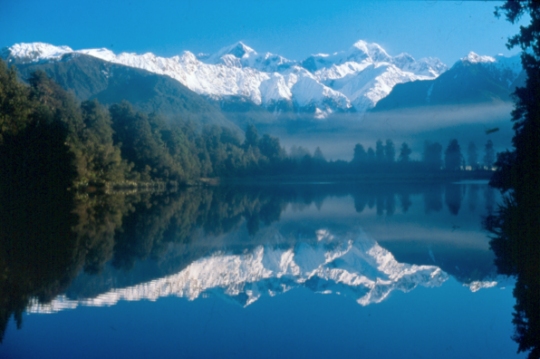 We study the Earth's changing environment using geological archives, such as deep sea, lake and ice cores and landforms sculpted by glaciers over time. We take a multi-disciplinary approach, drawing on geophysical, geological, geochemical, biological and computer modelling techniques.
The Quaternary period spans the last 2.6 million years. During this time, climate fluctuated dramatically, the human species evolved and adapted, and the landscape around us was shaped and modified. This time period is fundamental to our understanding of the modern-day physical, biological and human environments.
New Zealand - A Unique Environment
New Zealand and its surrounding ocean are one of the best natural laboratories in the world for investigating this period. The geology here is unusually diverse, with glacial landforms preserved extensively in the Southern Alps, an active volcanic centre in the North Island and a climatically sensitive flora.
Tectonic subsidence and uplift have left unique 4 km-thick shallow marine Plio-Pliestocene sediment records in Whanganui and Hawkes Bay.
The surrounding ocean encompasses a similarly diverse range of environments, from sub-tropical in the north to sub-Antarctic in the South. Importantly, New Zealand is only one of two Southern Hemisphere mid-latitude land masses and is thus ideally positioned to investigate the magnitude and timing of climate change in the south.
Study in Wellington
Wellington, at the centre of the country, has easy access to this outdoor laboratory and students at Victoria University of Wellington have plenty of scope to find an area of interest for study. Students also make full use of the excellent teaching and research facilities and are supervised by world-class academic staff.
Our research is centred in the New Zealand and Southern Ocean regions, from mountain tops to the deep ocean. There is a strong emphasis on international and contemporary contexts of global climate change.
Research Collaborations
Most of our research is carried out in New Zealand and Antarctica, but we also have active research interests in Australia, New Guinea, Asia, North America and the Pacific Islands. Our projects involve collaboration with New Zealand and overseas investigators.
We collaborate with:
Stanford University
GNS Science
NIWA (National Institute of Water and Atmospheric Research)
US Geological Survey
The University of Otago
The University of Canterbury
The Australian National University
James Cook University.
Some School staff work at the Antarctic Research Centre and we have well-developed links with GNS Science, NIWA and Landcare Research.
We regularly hold joint research seminars with GNS Science and NIWA, and lunchtime colloquia provide an opportunity for informal discussion.