It pays to be Active: 'Active Transport' Researchers Receive Scholarship Funding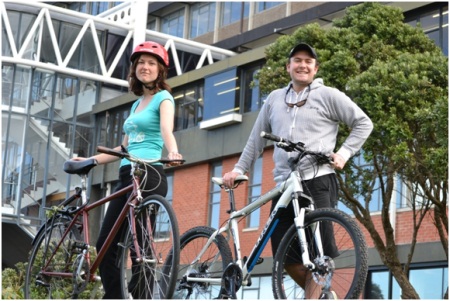 Active transport refers to non-motorised travel modes such as walking and cycling, both of which have been declining rapidly as a proportion of all trips over the last decade in face of the rising use of the motor car.
This trend is not sustainable and Laura McKim and Dylan Muggeridge are attempting, in quite different ways, to better understand what encourages and inhibits people's decision to walk and cycle.
Both have recently won competitive awards to support their masters thesis research in Environmental Studies. Laura has received a Kathleen Stewart scholarship and Dylan a J.L. Stewart Postgraduate Scholarship.
Laura will analyse responses from the Ministry of Transport New Zealand Household Travel Surveys administered nationally from 2003 to 2010 in order to explore the way people's work status and occupation and residential location decisions in different parts of the country influence whether they actively commute to work. Demographic, economic, and social factors all play a role and therefore Laura will undertake a multivariate analysis.
Dylan will evaluate varying community perceptions of walking and cycling among different socio-economic groups in the Hastings District: the factors that encourage people to walk and cycle, the barriers they perceive, as well as their awareness of the Model Communities (iWay) programme. His masters research will contribute to a project run by the New Zealand Centre for Sustainable Cities in collaboration with New Zealand Transport Agency and the Hastings and New Plymouth district councils who are attempting to measure the costs and benefits of investment in active transport.