"Ice is Nice"; - Outreach Programme for Kiwi Conservation Club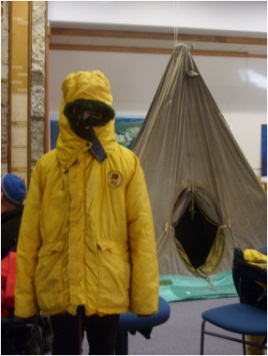 Forty children and parents from the Kiwi Conservation Club (KCC) (the junior branch of Forest and Bird) recently visited the School of Geography Environment and Earth Sciences on a Saturday afternoon to learn about Antarctica and its environment.
Second year Geology student Bella Ansell (KCC leader) organised the visit with Dr Cliff Atkins and Dr Dan Zwartz who have both spent many field seasons in Antarctica.
Dr Atkins and Dr Zwartz described the Antarctic environment and what it's like to work there using slide shows and short movie of past Victoria University expeditions. With the help of Bella and her KCC assistants, the group joined in a hands-on investigation of the clothing and equipment Students were also shown a polar tent and kerosene primus, which are used by scientists on the ice, along with a selection of rocks and fossils from Antarctica.
A wide ranging discussion on everything from penguins to auroras, environmental responsibility, climate change, helicopters and freeze dry food followed. Everyone enjoyed the afternoon learning about why the "Ice is Nice".