Geography Summer Field Course a Success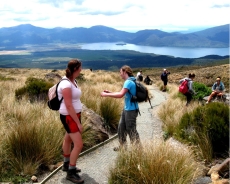 Recently a five day field course was held as part of the GEOG 313 summer course. The twin themes were sustainable dairying (two days in Taranaki) and sustainable tourism (two days at Tongariro National Park). The two venues were joined by a fascinating bus trip along the forgotten highway from Stratford to Taumarunui.
The highlight of the trip was all 33 students hiking over the Tongariro crossing. The crossing gave the students a good idea of the environmental footprint made by tourists, which the students had read about in the latest Department of Conservation (DOC) report. The sight of the 'human waste' being removed from the park huts by chopper was an added reminder of how seriously DOC takes New Zealand;s clean, green image.
The course will most likely run again in early 2012.