Bringing objects to life with 4D multi-material printing
Unique research by Master of Design Innovation student Nicole Hone is bringing 3D prints to life and drawing the attention of international industry and design bodies.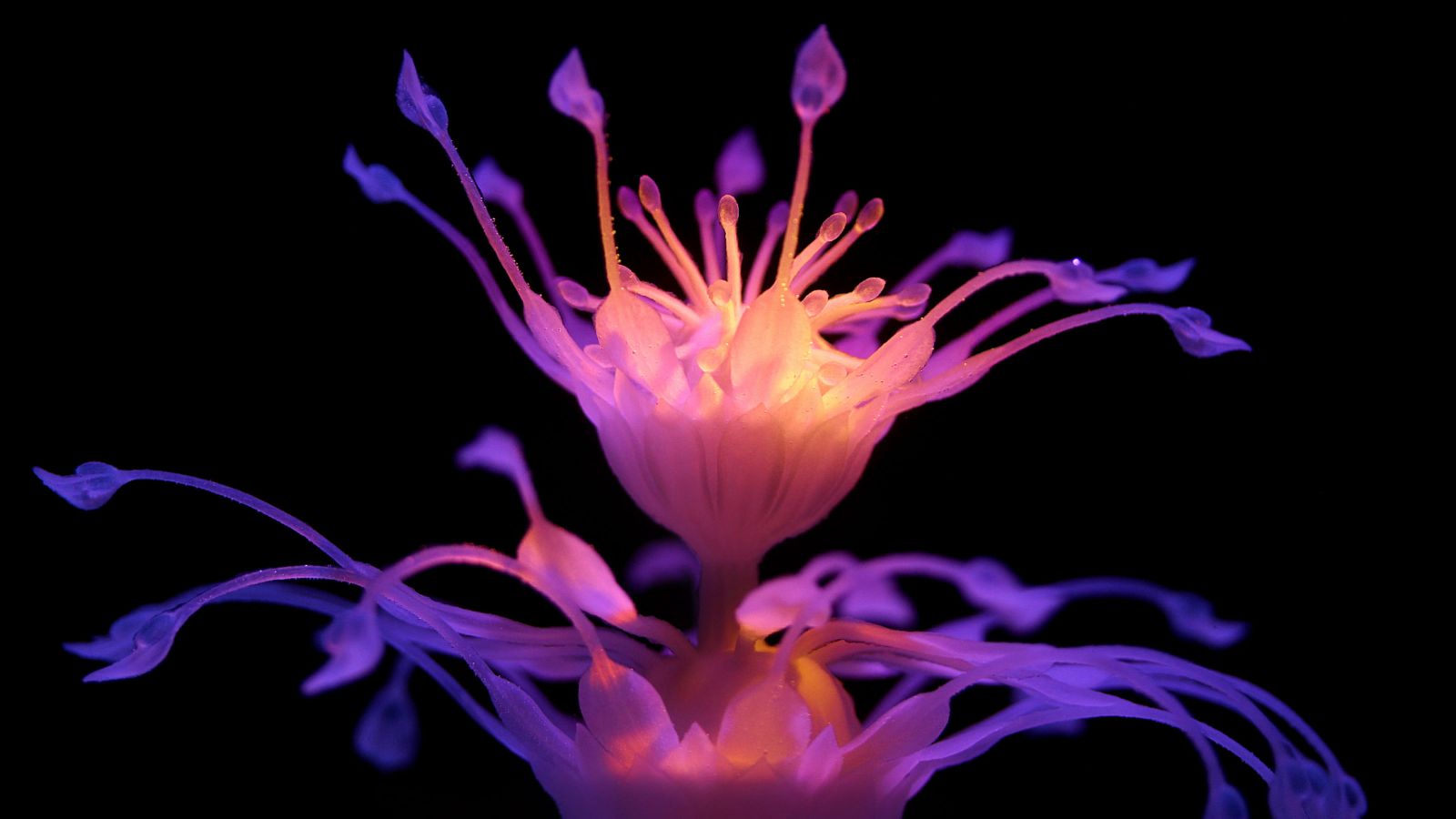 For her Master's thesis, supervised by Ross Stevens and Bernard Guy from the University's School of Design, Nicole has created a collection of beautiful objects named 'Hydrophytes', futuristic aquatic 'plants' that have the ability to respond to their changing environment.
These objects have an uncannily lifelike appearance, which is primarily due to the way they move and react to their surroundings.
She has created a short film that showcases the way the Hydrophytes react to external factors like water currents, human touch and their own tendrils.
These animate objects move 3D printing into new territory, with a technique Nicole refers to as 4D multi-material printing. Nicole has combined rigid and flexible printing materials together and added the fourth dimension of time, which allows objects to move or change their shape or appearance.
"Designers are yet to fully use the range of flexible materials that multi-material 3D printing has to offer," says Nicole. "And although movement has been explored, it is usually only focussed on a single or basic movement.
"The Hydrophytes take advantage of both the versatility and efficiency of form-making that the digital world offers, and of the physical world where they can respond to their environment.
"I was trying to create a range of different movements that reflect the qualities we see in nature—not necessarily emulate them, but create a sense of believability that these objects are real living things. I've termed this kind of movement 'organic performance.'"
The movements and forms have been digitally designed based on Nicole's analysis of the 'qualities' of movement found in living organisms. Each Hydrophyte has an internal chamber that can be filled with air. This allows the movement of the 4D prints to be choreographed through pneumatic activation which, combined with the natural behaviour of their flexible materials, creates their realistic movements.
Nicole's research has been featured on designboom, a leading global design blog.
She has also been interviewed on Newshub.
"Nicole's Master's is part of research that has been happening at Victoria University of Wellington since 2008 focused on ambiguous biology, blurring the line between human- or nature-made. She has advanced the research by creating creatures with distinct characters, from ethereal and playful to aggressive and menacing. This emotional quality is a fundamental element of filmmaking that offers great potential for development," says Ross Stevens, one of Nicole's supervisors.
The research has drawn interest from Stratasys, one of the world's leading companies for innovation in the 3D printing industry.
"For many years we have been amazed by the creative use of our multilateral PolyJet technology by staff and students at Victoria University of Wellington," says Ohad Meyuhas, Head of Innovation Labs & CSR Operation, Stratasys. "Nicole Hone's research takes that to another level of beauty, creativity and performance. I'm personally very excited to see where it takes us in the future."
Nicole's research has potential application in the film and exhibition industries.
"There's a desire for authentic, immersive experiences in industries like museums, theme parks and films," Nicole says. "Actors in films, or people exploring an exhibition, can interact with these objects, which in turn have their own response. This can be quite hard to replicate digitally."
Weta Workshop have already expressed their interest in Nicole's work.
"For many years a tension has existed between the validity of physical vs digital effects and much has been debated on the matter," says Sir Richard Taylor, co-founder and Creative Director of Weta Workshop. "I think [Nicole's] 4D printing research has put this debate to rest somewhat as it offers a way to capture the best of both worlds."
Nicole began her studies in Industrial Design at Victoria University of Wellington on a Vice-Chancellor's Excellence Scholarship in 2014.
"I love using nature in my work. I really like getting up close and designing the intricate details of an object. This project is perfect for that – you work at such a small scale and high resolution," she says.
"My lecturers have been really great, especially Bernard and Ross. Working with them throughout my Master's, they've been able to support me but also push me and open me up to different industries and get my work out there."