Victoria students restore Wellington landmark for an urban future
Restoring the Basin Reserve to a wetland and Adelaide Road to a stream feeding it, is part of a project by Victoria University of Wellington students which is a finalist in the international competition, Urban SOS.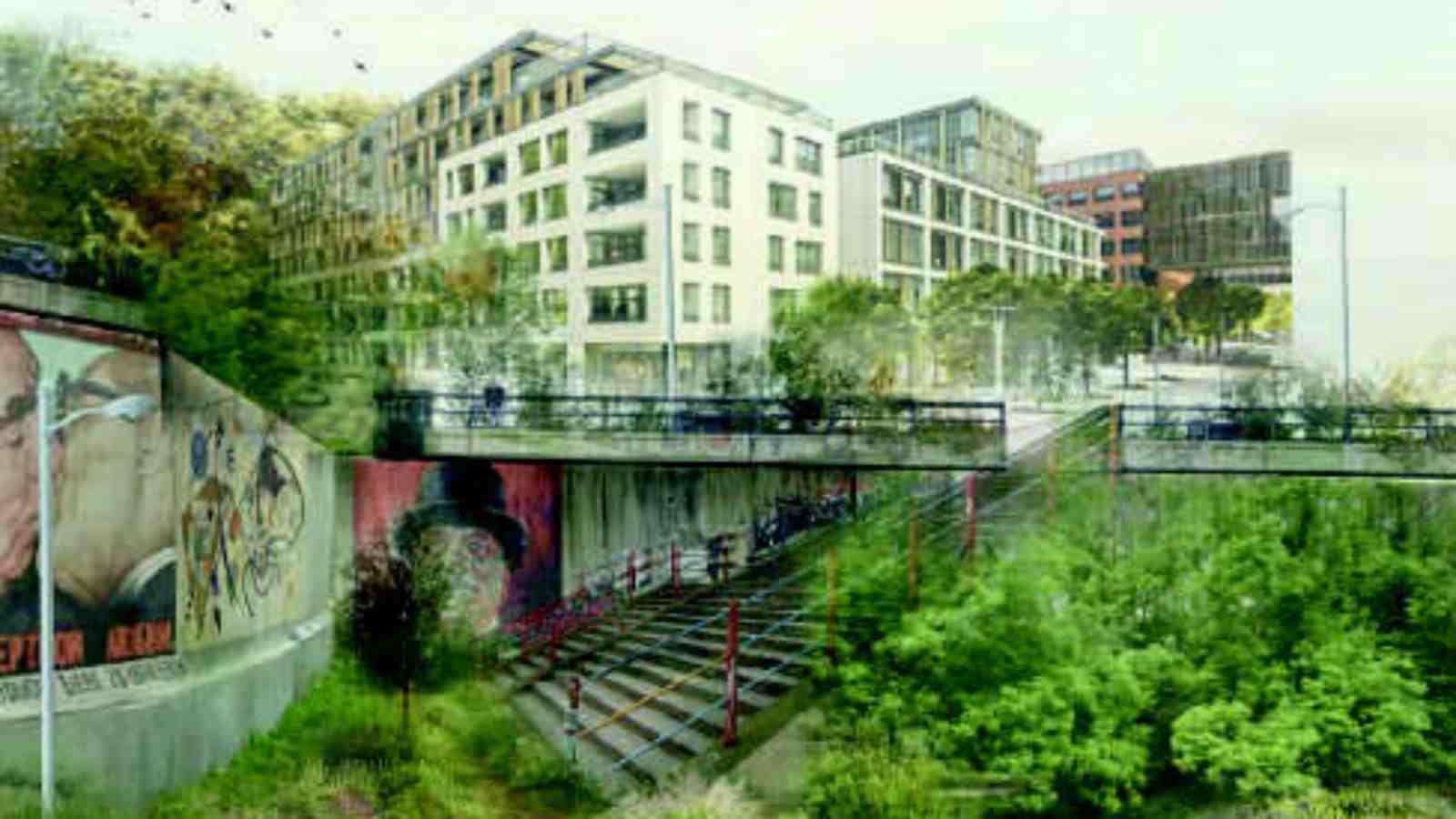 Coming down from the urban level to Waitangi stream. The dramatic drop between the layers adds to the contrasts between urban and ecological wilderness.
The competition challenges students to tackle a city's most pressing issues and explore the notion of the "sharing economy"—creating more equitable access to resources, improving the built environment and enriching the quality of life for urban residents.
Landscape Architecture students, William Hatton and Yousr Ali teamed up with Paula Wheeler from Arizona State University for their project, which seeks to reintroduce ecological systems back into Wellington's urban environment.
The project was named WAIfi to incorporate the Maori word for water—Wai—and integrate the idea of technology by playing on the term wifi.
William says, "Waitangi Stream, which ran from Wellington hospital down to the Basin Reserve and along to the harbour, was covered up in the late 1800's to make way for urban infrastructure. Our design brings it back to the surface."
"It restores the Basin reserve to its original function of a natural wetland for water purification and creates a park-like area along Adelaide Road for Wellington residents to enjoy".
Urban SOS encourages digitally native students to create a new generation of digital innovations in combination with the physical design.
The WAIfi team have designed a geo-intelligent network which could be accessed by smartphone as you walk through the restored wetland.
"We wanted to highlight the important stories of the space, such as historical sights, ecologies along the stream, Maori legend and knowledge, and also enable the public to upload their own stories and information."
Professor of Landscape Architecture Martin Bryant says, "The project suggests innovative and inclusive urban possibilities—it merges historical oral narratives and the Maori tradition of hikoi, with environmental needs and digital technology, bringing the history and culture of the place and the people together with the future."
The entry is one of 16 finalists out of over 60 entries from around the world. The winners will be announced in January 2017 and receive up to US $25,000 to bring their project to life.