PhD student profiles
Meet some of our current PhD students and find out about their research.
Richard Roberts

: PhD in Computer Graphics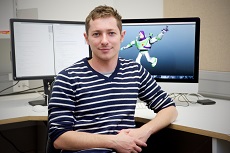 In 2012, Victoria University of Wellington launched a new programme in computer graphics, developed in conjunction with movie visual effects company Weta Digital, games company PikPok and advanced technology company Fingertapps. The programme is unique in combining courses from Computer Science and Design, thereby giving students mastery of existing animations and game techniques as well as the ability to crate new types of software and effect.
Richard Roberts, who is completing a PhD thesis in Computer Graphics is working on an algorithm which will allow animators to create cartoons more easily. It will allow them to exaggerate the motion of their characters beyond the laws of physics, using a knob to tune the energy of an animation. Richard decided in order to better understand animation he needed to learn to draw—"You wouldn't design a race car without learning to drive—so I thought I'd better get drawing."
Richard completed his undergraduate degree through the School of Design Innovation, but made the move to the School of Engineering and Computer Science for his PhD as his work was becoming more and more technical. His supervisor John Lewis was another draw card for the Engineering Faculty.
Richard says the switch to Engineering has been a challenging one: "the math side of things was pretty new to me, it's been a challenge, but an enjoyable one."
During his undergraduate degree Richard enjoyed an internship at Weta where he worked on an asset tracking system that gives animators an overview of where assets are and provided a way for artists and technicians to communicate with each other. His work even got him into the credits for Tin Tin. Richard's time at Weta convinced him of where he wanted to be and propelled him into his Masters and then his PhD.
Andrew Chalmers

: PhD in Computer Graphics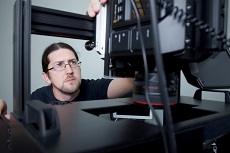 Andrew Chalmers has always had a passion for video games, but he had no idea that his passion could lead him to an interesting and useful education. With his new skill set, he now has the ability to bring his imagination to life.
With an interest in puzzle solving, Andrew was drawn to Mathematics and Computer Science courses. These courses were the building blocks that allowed him to create programs that included simple games. Several years into his university studies, a new program began at the University—Computer Graphics. This was the perfect opportunity for Andrew to take his established skills and move into a world he had never thought possible.
"At high school, I had no idea what I wanted to be," Andrew says, "and even though I loved films and video games, I never thought it was a viable option to pursue a career that corresponded with my interests."
Andrew is now a Computer Graphics student and has written a variety of computer graphics applications, including video games that he works on in his spare time.
"The staff here really know their stuff. I've only just begun this journey, but they have already taught me enough to put together algorithms that are fundamental in the film and games industry."
The program offered at the University takes students through the computer graphics pipeline so they can understand what it takes to build computer graphics programs. The computer graphics industry is expanding at a high rate yet there is still a lot to expand upon. Andrew and several of his classmates were invited to Weta Digital to show their work.
"Computer graphics is different to computer science in that there is a blend of artistry and technology. You have a handle on the internals to create tools, but you also have to consider the user experience. This synergy is what drives my passion for computer graphics. "
Steven Toussaint

: PhD in Creative Writing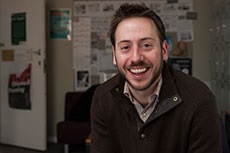 Steven Toussaint is in his third year of PhD study in Creative Writing at the International Institute of Modern Letters. An American by birth, Steven emigrated to New Zealand in 2011 after completing an MFA at the prestigious Iowa Writers' Workshop. He is now investigating the intersections between music and poetry.
Steven's project looks at how poets have been and continue to be influenced by musical forms. A literary artefact has no literal volume or pitch. But a poem need not be spoken, sung, or performed to have musicality: a poem's sonic properties haunt the page, silently.
His particular research interest lies with those poets who seek out musical exempla in order to revitalise poetic form, those whose experimentation leads them deep into the acoustic properties of language. These include the American poet Robert Creeley, whose jazz-inflected verse draws attention to the activity of its own production, a parallel to the improvisations of consummate boppers like Charlie Parker and Thelonious Monk.
In his own creative work, Steven is writing poems that seek what Louis Zukofsky called "upper limit music." By experimenting with classical musical forms such as the Rondo, the Chaconne, and the Sonata-Allegro, Steven asks whether there are poetic equivalents to the recursive contours of these models. Is there a musico-poetics that exists at the margins of what's sayable?
"Repetition is the way I have tried to approach this question," says Steven in an interview with The Lumiere Reader. "I am interested in the way that the repeated elements—e.g., the refrain, rhyme and other sound patterning…—might strain against their own re-sounding. In other words, is there a tension between the thing said and the thing said again? For me, what prevents repetition from becoming 'repetitious' is that the replica wants to be utterly unique."
Matthew Lewellen

: PhD in Information Systems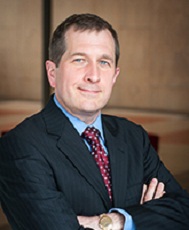 Matthew Lewellen is working part-time towards a PhD through the School of Information Management. He earned an MBA in the United States in 1994, and after moving to New Zealand in 1997, has made a career in ICT consultancy in Wellington, working primarily as a contract Project Manager responsible for high-profile, public-sector, ICT projects.
While working to roll-out an electronic document and records management system for a public sector organisation, he became convinced that a searchable, enterprise-wide, electronic-recordkeeping system was one of the foundational technologies required for modern organisations to succeed. Today's electronic documents and records are rapidly superseding traditional paper records and need to be managed and stored for the future. Not all people viewed the benefits of trustworthy electronic records in the same rosy light, however. In fact, some individuals refused to participate—and for a variety of very different and very persuasive reasons.
Eager to get to the bottom of this, Matt contacted Victoria University of Wellington's School of Information Management—hoping to obtain some helpful research and advice. The advice was: get involved, study the topic and research methods, figure it out, and publish the results so that others could also benefit. So, in 2010 Matthew took the challenge and started a PhD project to identify what factors influence a user's intention to contribute documents into an electronic recordkeeping system.
"Balancing a PhD, a full-time job, and a young family can be challenging at times", Matthew acknowledges. "But for me, the academic rigour that I have learned to apply, and that is required to do PhD-quality work, has really opened my eyes. I now see problems and solutions much more clearly; my approaches at work are now more grounded in theory and logic and build on the work of others; and I generally feel a new confidence in how to proceed. Plus, it has been a lot of fun—like a big puzzle that finally clicks into place with that last piece." He stresses that his PhD supervisors have played a pivotal role throughout this process. "My supervisors have been extremely supportive and responsive—often responding to emails within minutes, even while overseas."
"To me, a PhD is as much about training the mind and learning to apply scientific methods, as it is about mastering your topic of interest." Matthew looks forward to more big projects and the search for elegant solutions in the future.
Keely Kidner

: PhD in Applied Linguistics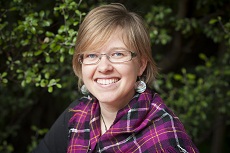 Keely is working towards her PhD in applied linguistics at the School of Linguistics and Applied Language Studies. Her project focuses on contentious mining projects in New Zealand and in her native Canada as sites of important environmental debates. As a linguist, Keely is examining the discourses, or wider themes, that are used in arguments between industry actors and local activists who are resisting the large-scale developments. "There's a lot more to it than the traditional environment versus economy argument", says Keely. "I'm finding that other discourses are being drawn in on either side, such as Indigenous sovereignty, national and regional identity, and even gender and sexuality".
In her research, Keely also explores what is being said beyond language by investigating how these debates happen through other modes like image, colour, gesture, and gaze. Through video-recorded interviews and collected artefacts (like pamphlets and information sheets), she analyses how these other communication tools can contribute meaning: "They say a picture is worth a thousand words, and in this case you can gain a much richer understanding of a phenomenon by paying attention to the multimodal nature of communication".
In order to gain a better appreciation for the unique mining case studies she is examining, Keely has lived and worked with activist groups as an ethnographic researcher. So far, she has interviewed people in corporate boardrooms, outdoor parks, at kitchen tables, and a sailing boat. Through her fieldwork, Keely has participated in mining industry tours, scrubbed oil spills off beaches in Canada and New Zealand, and even built a composting toilet system for an outdoor festival. "It's been just a fantastic experience getting out in the field, talking with people, and learning about each unique situation. This PhD has brought some unexpected but incredible opportunities to learn new skills".
Keely has also been busy presenting her research at conferences in New Zealand and internationally. She recently won Victoria University of Wellington's 3-Minute Thesis competition and traveled to Sydney, Australia to compete in the Trans Tasman Final. She appreciates the opportunities she's had while studying at the University: "I feel very lucky to be here in Wellington working in such a fantastic and supportive environment. My supervisors are wonderful, and the other postgrad students are also a great resource. It's such a collegial atmosphere, which makes my work that much more enjoyable".
Alessandro Macilenti

: PhD in Italian Literature
Alessandro Macilenti is in the second year of his PhD in Italian Literature at the School of Languages and Cultures. He earned a Master's Degree in Teaching Italian in 2010 and worked as a language teacher in China, Brazil, and the United Kingdom. He is now exploring the possibilities that literary writing offers in communicating environmental degradation.
Alessandro is working on finding the mechanisms through which literary texts can shape emotive reactions and attitudes towards a rapidly changing environment, help individuals to cope with the environmental challenges of the twenty-first century, and empower them to be vectors of change towards a more sustainable sociocultural paradigm.
His work falls under the umbrella of "ecocriticism", a relatively young academic discipline whose aim is to understand the relationship between literature and the physical environment. He analyses recent literary texts which focus on environmental degradation, both on local and global scales. "Because the root causes of the current environmental crisis are to be found in human culture," he argues, "its solution must lie within the Humanities' scope of investigation."
"I first read about climate change in 2005, and since then I've been obsessed with learning about it. I started to think how I could use my previous expertise towards helping mitigation and adaptation. Then I realized that climate change is only one symptom of the dysfunctional relationship between humans and nature. This century needs a revolution in ecological awareness and ethics more than it needs iPads, and literature can channel powerful psychological forces towards this goal."
Of his experience at Victoria University of Wellington he says: "Working towards my PhD has been an incredibly exciting experience. I've found a lot of support in my supervisors and other academics at the University. Juggling writing, reading and teaching is not always easy but I can't imagine myself doing anything else at the moment. We live in momentous times, and there could be no reason for me to be here other than contributing to make the world a better place."
Angela Andrews

: PhD in Creative Writing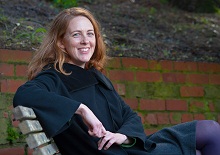 Angela Andrews is working towards a PhD in Creative Writing at the International Institute of Modern Letters. Having previously trained as a doctor, she graduated with an MA from the IIML in 2005. She is now investigating the relationship between medicine and poetry.
Angela's project examines the clinical encounter—the meeting between doctor and patient—through a hybrid thesis combining the forms of poetry and essays. Her poems approach the clinical encounter from the perspectives of a patient, family member, medical student, and doctor. The essays situate the poems within the broader academic literature concerning the philosophy of the clinical encounter.
The discipline known as "medical humanities" has undergone considerable growth over the last few decades. Humanities subjects have been incorporated into undergraduate medical curricula of many universities, including the two medical schools in New Zealand. Worldwide, there is substantial interest in what poetry might offer the practice of medicine. By using poems as a constituent part of the thesis, Angela aims to explore poetry itself as a mode of thinking, considering the ways in which such an approach can deepen our understanding of medicine.
"I started my MA pretty much straight from a clinical job in the hospital," says Angela. "It was a vastly different way of seeing the world, compared to what I'd learnt at medical school. Ever since then, I've been thinking about the contrast, and complementarity, of the two schools I've attended at university. I'm interested in how that relationship might be relevant to medical practice."
Of the PhD programme at the IIML, she says: "The six-weekly workshops we attend are invaluable. The feedback you get about your own work is extremely helpful, but there is also so much to learn from discussions about other students' work. My supervisors are both practicing writers, and fantastic ones at that, so the level of support I have is excellent."
Paula Speer

: PhD in Neuropsychology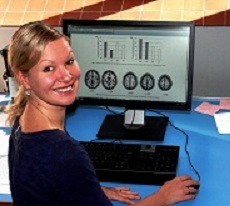 Paula Speer is enrolled in the third year of a PhD in Neuropsychology. She is investigating a language disorder known as nonfluent aphasia.
Originally from Germany, Paula travelled through New Zealand for several months and fell in love with the country and its people. She returned to Germany and completed a Master's degree in Psychology while working as a student assistant in a neuropsychological day clinic at a large university hospital. "Through both my work and my studies," says Paula, "I discovered my fascination for the brain and its functioning."
In 2010, Paula was able to return to New Zealand to commence her research into nonfluent aphasia, a condition that may occur after a brain injury, such as a stroke. Sufferers of nonfluent aphasia find speaking difficult, and their speech is often limited to strings of just one or two words. Paula's doctoral project aims to investigate the cognitive impairments that lie beneath nonfluent aphasia. To this end, Paula has designed and conducted specific language experiments for patients with aphasia.
Paula has recently embarked upon an exciting new stage in her project: obtaining magnetic resonance imaging brain scans of her patients. "This part of my research is carried out in collaboration with the Radiology Department of Wellington Hospital, and is the very first time that neuro-imaging of patients has been done here at Victoria" Paula explains. The brain scans will provide information about the relationship between the cognitive impairments that Paula is studying and the lesioned brain areas in her patients. "Overall, the findings from my research will hopefully not only improve our understanding of nonfluent aphasia, but will also have significant implications for treatments, such as speech language therapy."
Paula is really enjoying the research environment at Victoria University of Wellington: "I especially love the supportive atmosphere among the PhD students. It really feels like an academic family, with everyone always being happy to help out, to give advice, or just to hang out."
Dr Lee Bint

: PhD in Architecture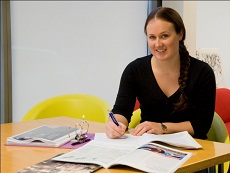 Dr Lee Bint's PhD project in Architecture showed that tariff structures affect water use in commercial office buildings in Wellington and Auckland.
Her research showed that Wellington office buildings use more water than those in Auckland, despite the fact that Auckland has a warmer, more humid climate—and that this is perhaps due to the greater financial incentives to save water that are available in Auckland.
Dr Bint audited 93 commercial office buildings across Wellington and Auckland, visiting each site and working with building managers and water service providers. "This enabled me to construct water performance benchmarks and to understand what was actually happening in each building," she says.
There are three components to water related costs—a fixed service fee, ingoing potable water and outgoing wastewater.
In Wellington, the service fee and ingoing potable water are invoiced bi-monthly. Outgoing wastewater is charged as a percentage of the capital value of the building, and cannot be reduced with water conservation. In Auckland, all three charges are invoiced monthly, with ingoing potable water and outgoing wastewater charged based on water meter readings.
"This means that if a building's water is reduced in Wellington, they save only on ingoing potable water. If a building's water use is reduced in Auckland, they save on both ingoing potable water and outgoing wastewater, which is a much higher cost," says Dr Bint.
As part of her research, Dr Bint developed a Water Efficiency Rating Tool (WERT). The tool's purpose is to rate an office building's water performance and to provide guidance on how to achieve greater water-use efficiency. The tool received the Wellington Regional Council Award at Grow Wellington's 2011 Bright Ideas Challenge.
With the support of the Bright Ideas Challenge, Dr Bint has been working on building her company WARI Ltd. The company emerged from the work undertaken for her PhD. Dr Bint is currently employed at BRANZ on the "Building Energy End-Use Study," a project investigating energy and water use in non-residential buildings across New Zealand. She maintains strong links with the Wellington School of Architecture, too, through tutoring and guest lecturing.
Dr Bint has received numerous awards for her research, including the Sustainable Buildings Highly Commended Student Paper 2010, the Water New Zealand Annual Conference and Expo Best Poster Paper in 2009 and 2010, as well as several scholarship awards.