International-level cricketer awarded top University sports award
Bachelor of Laws student Ben Sears has won Sportsman of the Year and Sportsperson of the Year for 2021.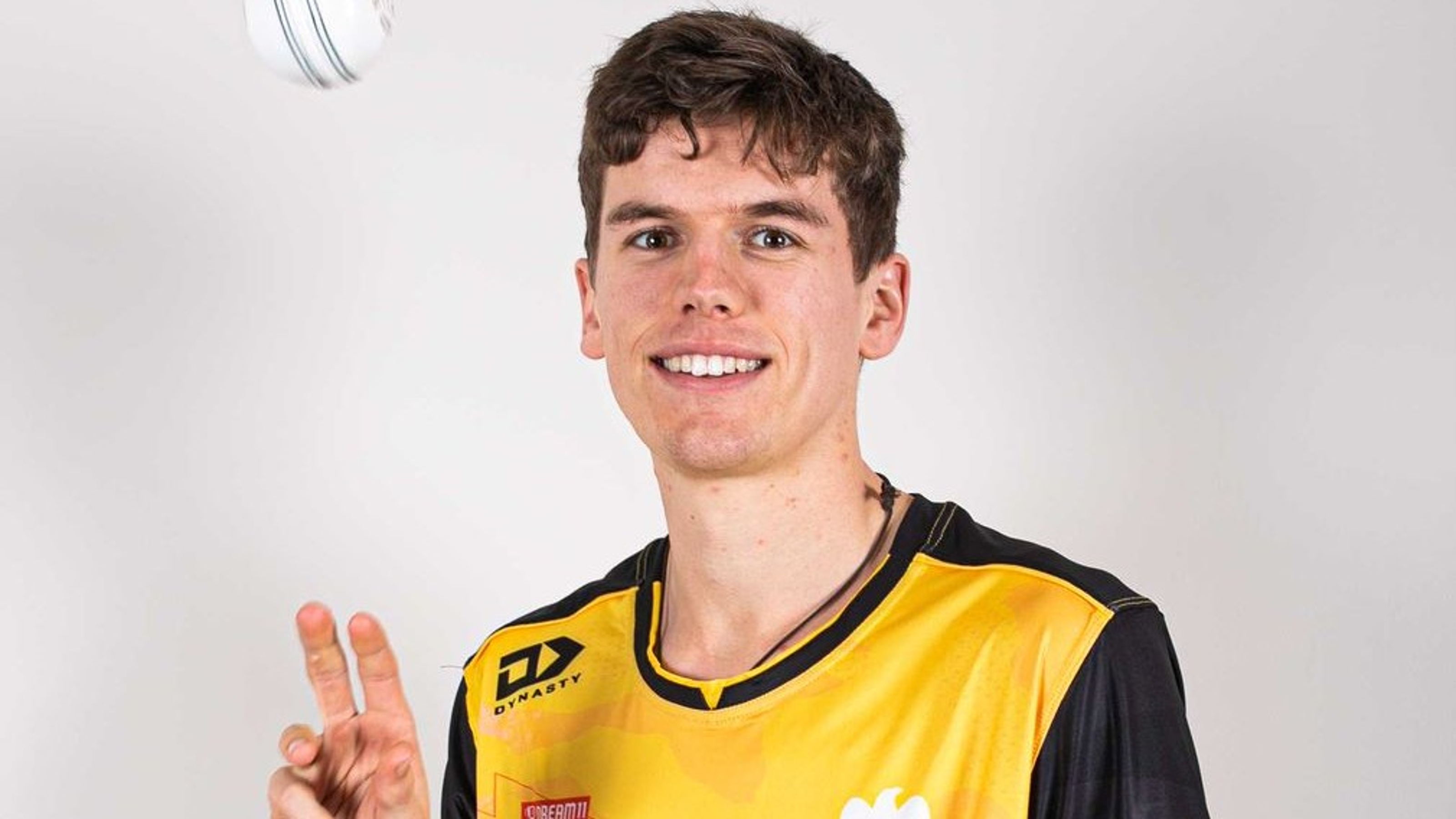 Ben has excelled in his cricket career, particularly as a speed bowler, travelling overseas as part of the national Black Caps squad and playing for the Wellington Firebirds.
Presented each year in partnership with Victoria University of Wellington Students' Association (VUWSA), the Blues Awards are the highest sporting accolade the University can give to students who have brought credit to the institution through their sporting achievements or contribution to sport. The awards also recognise the rich contribution that tertiary sport makes to campus life.
Thirty-one awards were presented to the University's top athletes, sports clubs, and administrators. In a year of huge challenges in sport due to COVID-19, the University is proud to support student athletes. While the event was cancelled due to COVID-19 restrictions, their achievements are no less remarkable.
Ben Sears was selected to travel and play for the Black Caps this year, and debuted his international sporting career in the recent series against Bangladesh. He is also studying towards a law degree at Te Herenga Waka, maintaining high grades and balancing both his sport and his studies.
Sportswoman of the Year Sammie Maxwell is a second-year student at Te Herenga Waka, and a three-time mountain biking champion in New Zealand. Sammie achieves highly in her studies towards a Bachelor of Biomedical Science, while competing in the elite women's section of cross-country mountain biking across New Zealand.
Māori Sportsperson of the Year Erin Roxburgh-Makea is the captain for the New Zealand Women's Beach Handball Squad, as well as part of the leadership team for NZ Women's Indoor Handball Squad. Erin sees her role as a Māori person as a chance to empower those around her, to create community and to uplift Māori. The two main values she focuses on in sport and leadership are Whanaungatanga, where everyone feels included, and Tino rangatiratanga, where we recognise athletes as humans outside of the sport, and that they have the power to determine their own success. Erin is studying a PhD in Management from Te Herenga Waka.
Pasifika Sportsperson of the Year Ainsleyana Puleiata is a highly successful netballer at regional, national and an international level. Ainsleyana earned her place in the New Zealand Under 21 Netball team, as well as playing for Central Manawa and being a Central Pulse Training Partner. Her motivation to succeed in sport and study stems from her family and wider community, crediting their sacrifice, support and love for her. Ainsleyana is studying a Bachelor of Health Studies.
Grant Baker is the recipient of the Sports Coach of the Year. Grant co-coached the Capital Football Wellington Under 19 Boys Futsal team, who won first place at the NZ Futsal Youth Nationals this year. Another accolade to this performance is that the team was undefeated in all their games. He also plays for the University's futsal team, which competed at the UTSNZ tournament this year. Grant studies a Bachelor of Commerce.
Sports Administrator of the Year Thomas Walsh is President of the Victoria University of Wellington Rowing Club. In the past year Thomas has made a significant impact in his role, including securing $10,000 in grant funding to send athletes to Lake Ruataniwha for the University Championships.
Thomas was also elected as Secretary of the New Zealand University Rowing Council as a representative of VURC. His proudest achievement is growing the size of the club from just four members to 50 in a single season, which came along with one of the club's largest medal hauls in a decade at the University Championship Regatta. Thomas studies a Bachelor of Arts at Te Herenga Waka.
The Victoria University Handball Club has had a breakthrough year, after struggling in 2020 with COVID-19 cancellations and restrictions. After having almost no members, the club went through rapid growth to form four full teams in 2021. The Handball Club is now able to create a high-performance structure for all players, having introduced a social grade division and selection criteria for high-performance players. The club has its largest player base in the 16 years since it was formed.
Congratulations to all our 2021 Blues and Premier award winners. After a challenging year with COVID-19 limitations and restrictions, these students have continued to excel both in their academic and sporting endeavours.
The 2021 Te Herenga Waka—Victoria University of Wellington Premier Blues Awards
Sportsperson of the Year: Ben Sears (Cricket)
Sportswoman of the Year: Sammie Maxwell (Mountain Biking)
Sportsman of the Year: Ben Sears (Cricket)
Māori Sportsperson of the Year: Erin Roxburgh-Makea (Beach Handball)
Pasifika Sportsperson of the Year: Ainsleyana Puleiata (Netball)
Sports Coach of the Year: Grant Baker (Futsal)
Sports Administrator of the Year: Thomas Walsh (Rowing)
Club of the Year: Victoria University Handball Club
Blues Award winners
Becca Ashton – Ultimate Frisbee
Sean Beresford – Futsal
Tommy Boyd – Cross-Country and Road Race Teams
Jordan Cohen – Hockey
Caleb Delany – Rugby
Tiaki Fabish – Rugby
Iziq Foai – Rugby
Josh Gimblett – Rugby
Casper Howell – Fencing
Shamus Hurley-Langton – Rugby
Xara Jetly – Cricket
Olivia Judd – Ultimate Frisbee
Dory Kemp – Kayak Sprint Racing
Estelle Macadre – Hockey
Etelini Manoa – Volleyball
Sammie Maxwell – Mountain Biking
Tara O'Connor – Ultimate Frisbee
James Preston – Athletics
Ainsleyana Puleiata – Netball
Erin Roxburgh-Makea – Handball
Ben Sears – Cricket
Michael Sole – Chess
Blues Awards for Sports Administrators
Rebekah Bowling – Korfball Club
Thomas Walsh – Rowing Club
Tommy Boyd – Athletics
Blues Awards for Sports Coaches
Torven Schalk – Handball
Lachie Griffiths – Water Polo
Grant Baker – Futsal
Blues Awards for Sports Clubs
Victoria University Squash Club
VUW Handball Club
Victoria University of Wellington Athletics Club