Jenna Raeburn
Jenna Raeburn—Director, Barton Deakin
A background in politics—working in the Beehive after she graduated from law school in 2010—made Jenna Raeburn the perfect candidate when Australian government relations company Barton Deakin started looking to set up a New Zealand base earlier this year.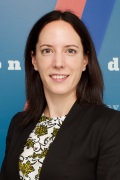 It is vital for lawyers to understand how law is made through the Parliamentary process in order to properly interpret and apply it, Barton Deakin Director Jenna Raeburn says.
Raeburn, who graduated from Victoria University of Wellington with an LLB and BA (majoring in Economics and Political Science), opened Barton Deakin's New Zealand office in Wellington in April this year, specialising in government relations work with the National-led Government.
"There are almost always legal and regulatory aspects to government relations issues. Likewise, there are often government relations aspects to legal issues. That may involve briefing political stakeholders on a proposed merger; working on legislative responses to court decisions; or advocating to change the law if it leads to perverse results in the courts," Raeburn says.
"Almost every legal issue has a political aspect, and the papers I enjoyed most at law school were the ones that encouraged us not just to learn how to apply the law, but to think about what the law should be."
On leaving Victoria University of Wellington Law School in 2010, Raeburn joined the National Government's Research Unit in Parliament, doing research and communications work for back bench National Party MPs. She was part of the team that helped the Prime Minister's office on the successful election campaign in 2011.
She quickly worked her way up the political ladder to Ministerial Advisor, first for Hon. Chris Tremain and then for Hon. Gerry Brownlee.
"The role of an Advisor involves identifying and managing political risks, giving advice directly to the Minister on policy development and political issues, and preparing for Question Time in Parliament," Raeburn says.
"I've always been interested in politics and this interest grew during my time at university, particularly through debating and getting involved in political groups. Students' voices can be very powerful politically and some of the most exciting things I was involved in at university were issues-based campaigns such as the Keep It 18 campaign to fight against proposals to increase the alcohol purchase age."
As a political junkie, Raeburn found the location of Victoria University of Wellington's Faculty of Law, across the road from Parliament, meant she could easily go to events there, watch Question Time and Parliamentary debates, and submit to Select Committees.
"I would encourage all Victoria University of Wellington students to spend time in and around Parliament and the courts, since the buildings are all within a stone's throw of the law school. Everyone should watch Question Time at least once and keep an eye on legislation being considered by Parliament so that you can go and watch or, even better, have your voice heard. It's very easy to meet MPs in New Zealand so if there's an issue you are interested in—get in touch with them."
With such a strong interest in law and politics, it is no surprise that Raeburn's partner is a National MP, Chris Bishop, who she met at law school.
"We met through the Debating Society and an interest in politics was definitely part of the attraction—or, more accurately, an interest in arguing about anything and everything. Then, living in Wellington, we both naturally ended up being drawn into political careers."
She says her new role running Barton Deakin in New Zealand provides the perfect opportunity to keep one foot in her previous world of politics, while stepping into the private sector.
"Barton Deakin is the largest government relations firm in Australia, and now the first trans-Tasman company in our field. I am responsible for leading and developing our New Zealand business," Raeburn says.
"Government relations is about the interface between government and commerce—helping businesses to understand the way the government makes decisions, and how to have input into democratic decision making. The blend of political, legal, regulatory and commercial issues makes this a very exciting and varied role."
A good government relations practitioner also has the right contacts.
"Once you graduate, you come across people from law school all the time. For those who end up practising law, it's hugely valuable to have that network of people you went to university with—even if they're not at law firms themselves, they may work for the courts, regulators, government departments, or Parliament, and many of these will become useful contacts.
"As I've gone through the process of building a business from scratch I have relied heavily on these networks. In Wellington, everyone knows someone who knows something you need, so keeping up relationships is vital no matter what industry you are in."