Books and edited volumes
Books
Introducing Language in the Workplace (2020)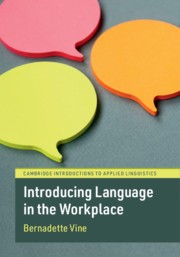 Bernadette Vine with contributions by Janet Holmes, Jonathan Clifton, Veronika Koller and Helen Spencer-Oatey
Cambridge: Cambridge University Press
ISBN: 9781108712873 (Paperback) | 9781108498944 (Hardback)
Summary
Assuming no prior linguistics background, this introductory textbook summarises key topics and issues from workplace discourse research in a clear and accessible manner. The topics covered include how people issue directives, use humour and social talk, and how they manage conflict and disagreement. The role of language in the enactment of identity is also explored, in particular leadership, gender, and cultural identity, along with the implications and applications of workplace research for training and communications skills development. Over 160 international examples are provided as illustration, which come from a wide range of workplace settings, countries and languages. The examples focus on authentic spoken discourse, to demonstrate how theory captures the patterns found in everyday interaction. Introducing Language in the Workplace provides an excellent up-to-date resource for linguistics courses as well as other courses that cover workplace discourse, such as business communication or management studies.
Table of Contents
Foreword by Janet Holmes
Preface
Transcription Conventions
Part I. Introducing language in the workplace
Chapter 1: Introducing language in the workplace
Chapter 2: Approaches to exploring language in the workplace
with contributions by Jonathan Clifton, Janet Holmes, Veronika Koller and Helen Spencer-Oatey
Part II. What are some key topics in workplace research?
Chapter 3: Directives and requests at work
Chapter 4: Social talk, humour and narrative at work
Chater 5: Complaints, disagreement and conflict talk
Part III. What about identity and the way this is enacted in the workplace?
Chapter 6: The language of leadership
Chapter 7: Gender and language at work
Chapter 8: Culture and language at work
Part IV: So what?
Chapter 9: Implications and applications of workplace research
Leadership, Discourse and Ethnicity (2011)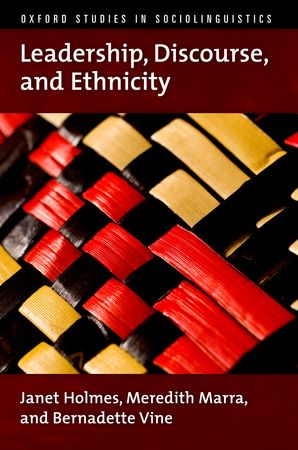 Janet Holmes, Meredith Marra and Bernadette Vine
Oxford: Oxford University Press
ISBN: 978-0-19-973074-2 (Paperback) | 978-0-19-973075-9 (Hardcover)
Summary
This book is about workplace discourse and it examines the relationships among leadership, ethnicity, and language use. Taking a social constructionist approach to the ways in which leadership is enacted through discourse, the book problematizes the concept of ethnicity and demonstrates the importance of context - particularly the community of practice - in determining what counts as relevant in the analysis of ethnicity. The chapters analyze everyday workplace interactions supplemented by interview data to examine the ways in which workplace leaders use language to achieve their transactional and relational goals in contrasting "ethnicized" contexts, two of which are Māori and two European/Pākehā. The analysis pays special attention to the roles of ethnic values, beliefs, and orientations in talk.
Table of Contents
Approaching the Analysis of Leadership and Ethnicity p. 3
Collecting the Data p. 26
Constructing Leadership through Language p. 42
Business Meetings p. 60
Relational Talk at Work p. 83
Co-Leadership p. 107
Māori Leadership at Work p. 128
Learning from Intercultural Research p.147
Gendered Talk at Work (2006)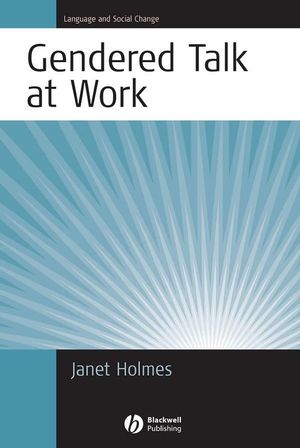 Malden, MA: Wiley-Blackwell.
ISBN: 978-1-4051-1758-6 (Hardcover) | 978-1-4051-7845-7 (E-book)
Summary
Gendered Talk at Work examines how women and men negotiate their gender identities as well as their professional roles in everyday workplace communication. Using original and insightfully analyzed data, it focuses on the ways in which both women and men draw on gendered discourse resources to enact a range of workplace roles. The book illustrates how a qualitative analysis of workplace discourse can throw light on the many ways in which workplace discourse provides a resource for constructing gender identity as one component of our complex socio-cultural identity.
Table of Contents
The role of gender in workplace talk p. 1
Gender and leadership talk at work p. 32
Relational practice - not just women's work p. 74
Humour in the workplace - not just men's play p. 108
Contest, challenge and complaint - gendered discourse? p. 140
Women and men telling stories at work p. 174
Giving women the last word p. 208
Getting Things Done at Work (2004)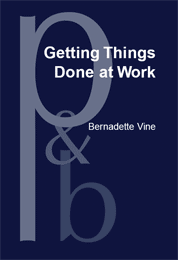 Amsterdam: John Benjamins
ISBN: 978-9-0272-5366-8 (Hardcover) | 978-1-5881-1521-8 (Hardcover) | 978-9-0272-9538-5 (Ebook)
Summary
The linguistic study of workplace language is a new and exciting area of research. This book explores the expression of power in a New Zealand workplace through examination of 52 everyday interactions between four women and their colleagues. The main focus of this research is the expression of three types of "control acts", i.e. directives, requests, and advice. The women include two managers who demonstrate an interactive participative style of management. They tend to minimise rather than exert power, although their status is still evident in their speech.
The study is original in its combination of a quantitative and a qualitative approach, as well as in its combination of a detailed categorisation of head acts and an analysis of context and role relationships. Through the design of the study and the methodology used, the results challenge earlier research both on power and control acts. The data analysed is drawn from the Wellington Language in the Workplace Project.
Table of Contents
Introduction p. 1
Directives, requests and advice p.15
Identifying control acts p.39
Analysis of control act head acts p. 63
Modification of control act head acts p. 93
Exploring control acts in context p. 121
Control acts between Managers and their staff p. 147
Managers and power in the workplace p. 167
Language and power between equals p. 201
Power and Politeness in the Workplace (2003)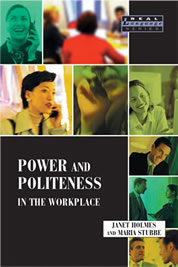 Harlow, UK: Pearson Education
ISBN: 978-0-5823-6877-4
More information about Power and Politeness in the Workplace
Summary
Power and Politeness in the Workplace provides insights into the way we all talk at work, including a wealth of material illustrating the way people communicate with each other in their ordinary everyday encounters in their workplaces. The analysis focuses, in particular, on how and why people "do" power and politeness in the workplace, and examines the discourse strategies involved in balancing the competing demands of meeting workplace objectives and getting things done on time with maintaining good collegial workplace relationships. Drawing on a large and very varied corpus of data collected in a wide range of workplaces, the authors explore specific types of workplace talk, such as giving advice and instructions, solving problems, running meetings and making decisions. Attention is also paid to the important contribution of less obviously relevant types of workplace talk such as humour and small talk, to the construction of effective workplace relationships. In the final chapter some of the practical implications of the analyses are identified.
Table of Contents
Power, politeness and the workplace context
From office to production line: constructing a corpus of workplace data
Getting things done at work
Workplace meetings
Small talk and social chat at work
Humour in the workplace
Miscommunication and problematic talk at work
Conclusion: some implications and applications
Edited volumes
The Routledge Handbook of Language in the Workplace (2018)
Bernadette Vine (ed)
Abingdon: Routledge
ISBN: 9781138915855
Summary
The Routledge Handbook of Language in the Workplace provides a comprehensive survey of linguistic research on language in the workplace written by top scholars in the field from around the world. The Handbook covers theoretical and methodological approaches, explores research in different types of workplace settings, and examines some key areas of workplace talk that have been investigated by workplace researchers. Issues of identity have become a major focus in recent workplace research and the Handbook highlights some core issues of relevance in this area, such as gender, leadership, and intercultural communication. As the field has developed, applications of workplace research for both native and non-native speakers have emerged. Insights can inform and improve input from practitioners training workers in a range of fields and across a variety of contexts, and the Handbook foregrounds some of the ways workplace research can do this. This is an invaluable resource for researchers and graduate students interested in learning more about workplace discourse.
Table of Contents
Meredith Marra and Jo Angouri: Preface
Bernadette Vine: Introduction
Section I: Theoretical and Methodological Approaches
Cynthia Gordon and Joshua Kraut: Interactional Sociolinguistics
Merran Toerien: Conversation Analysis
Veronika Koller: Critical Discourse Studies
Nick Wilson: Linguistic Ethnography
Michael Handford: Corpus Linguistics
Michael Haugh and Yasuhisa Watanabe: (Im)politeness Theory
Jeannie Fletcher: Rapport Management
Mariana Lazzaro-Salazar: Social Constructionism
Brian W. King: Communities of Practice
Kieran A. File: Genre Theory
Section II: Different Workplace Settings
Dorien Van De Mieroop and Jonathan Clifton: Corporate Settings
Dorte Lønsmann and Kamilla Kraft: Language in Blue-Collar Workplaces
Bronwen Innes: Language in Legal Settings
J. César Félix-Brasdefer: Service Encounters
Jon S. Y. Hui: Call Centre Discourse
Olga Zayts: Genetic Counselling
Section III: Key Areas of Workplace Talk
Junko Saito and Haruko Minegishi Cook: Directives in Workplace Discourse
Julien C. Mirivel and Ryan Fuller: Relational Talk at Work
Bernie Chun Nam Mak: Humour in the Workplace
Hans J. Ladegaard: Workplace Narratives
Maria Stubbe: Miscommunication at Work
Almut Koester: Conflict Talk
Jérôme Jacquin: Argumentation in the Workplace
Chase Wesley Raymond: Interpreting in the Workplace
Section IV: Identity and the Workplace
Louise Mullany and Melissa Yoong: Gender and the Workplace
Stephanie Schnurr: Leadership
Janet Holmes: Intercultural Communication in the Workplace
Georges Lüdi: Identity in the Workplace in a Context of Increasing Multilingualism
Joanne McDowell: Men's Talk in Women's Work: Doing Being a Nurse
Barbara Clark: Professional Identity Construction: Cabin Crew Discourse
Section V: Applications
Stefano A. Losa: Vocational Education
Judith Baxter: Gender, Language, and Leadership: Enabling Women Leaders
Julie Kerekes: Language Preparation for Internationally Educated Professionals
Lynda Yates: Language Learning On-the-Job
Linguist at Work: Festschrift for Janet Holmes (2017)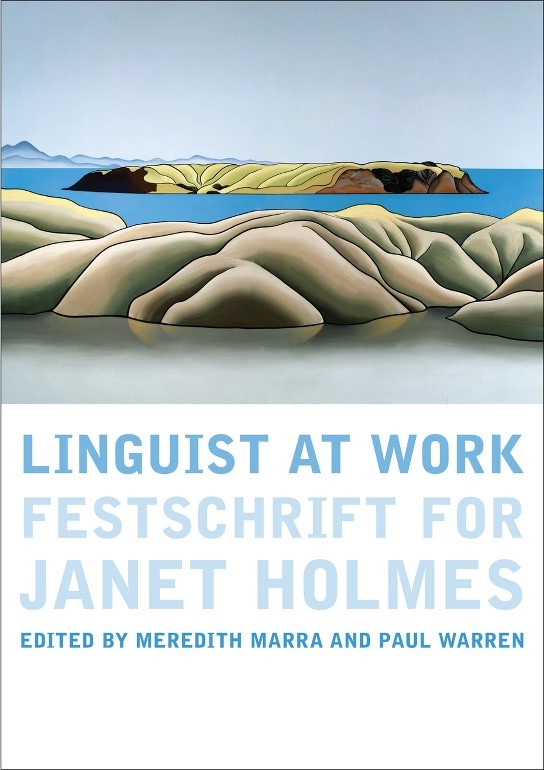 Meredith Marra and Paul Warren (eds)
ISBN: 9781776561728 (paperback)
Summary
Throughout her 45-year career at Victoria University of Wellington, Professor Janet Holmes has operated at the cutting edge of sociolinguistics. She is recognised as a field leader, a pioneer for new approaches, and a warm and generous mentor. Linguist at Work brings together contributions from those who are lucky enough to count themselves among Janet's colleagues, students, collaborators and friends.
The chapters present new research ideas and analysis, paying tribute to Janet in their quality and depth of engagement. From treatments of folk linguistics to sociophonetics, from the language of consent to the language used in children's books, from humour and leadership to the methods and applications of workplace discourse, the range of material reflects Janet's own contribution to so many different parts of linguistics.
This Festschrift speaks to the international mana in which Janet is held, her academic impact on (socio)linguistic research about New Zealand and New Zealand English, and her status as a founder in the now thriving field of workplace discourse.
Table of Contents
Foreword by Bill Manhire
Meredith Marra & Paul Warren: Linguist at work: Introduction
The mana of Janet Holmes: Leading research in linguistics
Laurie Bauer: Reanalysis and remotivation
Sally McConnell-Ginet: Truth, trust and trumpery
Diana Eades and Susan Ehrlich: Sociolinguistic perspectives on consent in the legal process
David Britain: A corpus based approach to –own/-ewn disyllabicity in New Zealand English
Janet Holmes in her local community: Language (use) in New Zealand
Paul Warren, Andy Gibson & Jen Hay: The sound of women in New Zealand English
Ronalyn Umali & Allan Bell: Tagalog language maintenance and shift in the New Zealand Filipino community
Julia de Bres: Singing is the first thing that came into my head: Emotions and language maintenance among Filipino migrants in New Zealand
Nicola Daly: Audiences, referees and landscapes: Understanding the use of Māori and English in New Zealand dual language picturebooks through a sociolinguistic lens
Janet Holmes as pioneer: Language in the workplace
Bernadette Vine & Meredith Marra: The Wellington Language in the Workplace Project: Creating stability through flexibility
Maria Stubbe Evolution by design: building a New Zealand corpus of health interactions
Jo Angouri & Miriam Locher: Interpersonal pragmatics and workplace interaction
Stephanie Schnurr & Angela Chan: Leadership and self-denigrating humour: An oxymoron?
Angela Joe & Nicky Riddiford: Applying research to real world challenges and issues. Developing research-based resources to help migrants enter the workforce
Negotiating Boundaries at Work: Talking and Transitions (2017)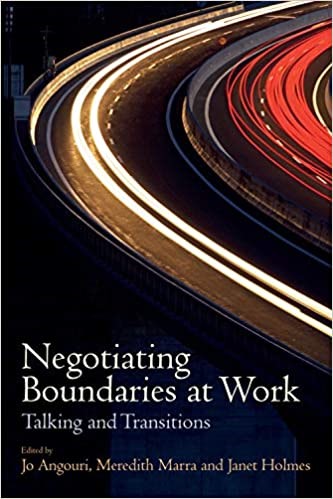 Jo Angouri, Meredith Marra and Janet Holmes (eds)
Edinburgh: Edinburgh University Press
ISBN: 9781474403139 (Hardback) | 9781474441384 (Paperback) | 9781474418379 (eBook ePub) | 9781474403146 (eBook PDF)
Summary
Focuses on transition talk and boundary crossing discourse in the modern workplace
Moving between linguistic, professional and national boundaries is part of the daily reality of modern workplaces, where the concept of a 'job for life' is now outdated. Employees move between jobs, countries and even professions during their working lives, but the multilayered process of redefining personal, social and professional identities is not reflected in current workplace research.
This volume brings together a range of scholars from different disciplinary areas in the field, examining the challenges of transition into a (new) workplace, team or community, as well as transitions within different professional communities. By analyzing the strategies individuals adopt to navigate the boundaries they face (in languages, workplaces or countries), this book demonstrates that transitions are not linear but are negotiated and constructed in the situated 'here and now' of workplace interaction, at the same time as they are positioned in the wider socioeconomic order.
Table of Contents
Jo Angouri, Meredith Marra & Janet Holmes: Introduction: Negotiating boundaries at work
Part I: Transitions to a profession
Stefano A. Losa & Laurent Filliettaz: Negotiating social legitimacy in and across contexts: Apprenticeship in a 'dual' training system
Julie Kerekes: Language mentoring and employment ideologies: Internationally educated professionals in search of work
Marta Kirilova: 'Oh it's a DANISH boyfriend you've got'- Co-membership and cultural fluency in job interviews with minority background applicants in Denmark
Ewa Kuśmierczyk-O'Connor:Constructing a 'mission statement'– A multimodal perspective on believable identity construction in a job interview
Sophie Reissner-Roubicek: Teamwork and the 'global graduate': Negotiating core skills and competencies with employers in recruitment interviews
Dorien Van De Mieroop & Stephanie Schnurr: 'Doing evaluation' in the modern workplace: Negotiating the identity of 'model employee' in performance appraisal interviews
Part II: Transitions within a profession
Kristin Bührig & Jochen Rehbein:Multilingualism and work experience in Germany: On the pragmatic notion of 'patiency'
Minna Suni: Working and learning in a new niche: Ecological interpretations of work-related migration
Anne Franziskus: 'Have you still not learnt Luxembourgish'? Negotiating language boundaries in a distribution company in Luxembourg
Anne H. Fabricius: The 'internationalised' academic: Negotiating boundaries between the local, the regional and the 'international' at the university
Seongsook Choi:Collaborating beyond disciplinary boundaries
Constructing Identities at Work (2011)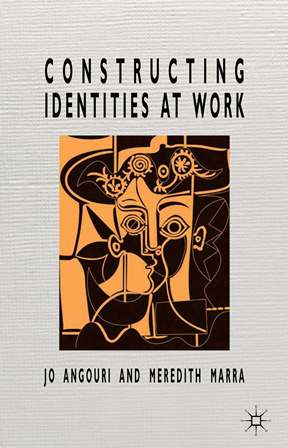 Jo Angouri and Meredith Marra (eds)
Basingstoke, UK: Palgrave Macmillan
ISBN: 978-0-2302-7237-8 (Hardcover)
Summary
This edited collection presents cutting edge research on the process of identity construction in professional and institutional contexts, from corporate workplaces, to courtrooms, classrooms, and academia. The chapters consider how interactants do identity work and how identity is indexed (often in subtle ways) in workplace discourse.
Table of Contents
Meredith Marra and Jo Angouri: Investigating the Negotiation of Identity: A View from the Field of Workplace Discourse p. 1
Jan Svennevig: Leadership style in Managers' Feedback in Meetings p. 17
Stephanie Schnurr and Olga Zayts: Be(com)ing a Leader: A Case Study of Co-Constructing Professional Identities at Work p. 40
Pamela Rogerson-Revell: Chairing International Business Meetings: Investigating Humour and Leadership Style in the Workplace p. 61
Jo Angouri and Meredith Marra: 'OK one last thing for today': Constructing Identities in Corporate Meeting Talk p. 85
Veronika Koller: 'Hard working, team-oriented individuals': Constructing Professional Identities in Corporate Mission Statements p. 103
Eva-Maria Graf: 'Yes then I will tell you maybe a little about the procedure' - Constructing Professional identity where there is not yet a Profession: The Case of Executive Coaching p. 127
Alexandra Georgakopoulou: Teachers, Students and Ways of Telling in Classroom Sites: A Case of Out-of-(Work) Place Identities p. 151
Karen Tracy: Identity-Work in Appellate Oral Argument: Ideological Identities within a Professional One p. 175
Keith Richards: Engaging Identities: Personal Disclosure and Professional Responsibility p. 200
Anna De Fina: 'We are not there. In fact now we will go to the garden to take the rain': Researcher Identity and the Observer's Paradox p. 223
Femininity, Feminism and Gendered Discourse (2010)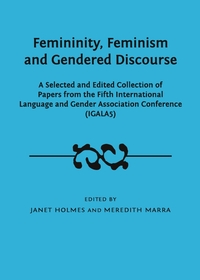 Janet Holmes and Meredith Marra (eds)
Cambridge: Cambridge Scholars Publishing
ISBN: 978-1-4438-2364-7
More information about Femininity, Feminism and Gendered Discourse
Summary
The chapters in this book illustrate a range of cutting edge research in language and gender studies, with contributions from a number of internationally recognised experts. The three themes, femininity, feminism and gendered discourse are central to research in language and gender, and the book thus makes a valuable contribution to a number of current debates. The different contributions represent research from a multiplicity of geographic and cultural backgrounds, supporting efforts to internationalise language and gender research, and to raise awareness of empirical studies undertaken in a wide range of linguistic and cultural contexts.
Table of Contents
Janet Holmes and Meredith Marra: Femininity, Feminism and Gendered Discourse p. 1
Carmen Rosa Caldas-Coulthard: "Women of a Certain Age"—Life Styles, the Female Body and Ageism p. 21
Justin Charlebois: Discursive Construction of Hegemonic Femininity p. 41
Don Kulick: Humorless Lesbians p. 59
Christy Bird: "Women Can't Tell Jokes": A Gender Ideology in Interaction p. 83
Anne Pauwels: Men, Masculinities and Feminist Linguistic Activism p. 111
Momoko Nakamura: Women's and Men's Languages as Heterosexual Resource: Power and Intimacy in Japanese Spam E-mail p. 125
Fabienne H. Baider and Evelyne Jacquey: Substantive Disembodiment, Syntactic Embedment: The Effect of 'Feminist' Lexical Change on French Discourse p. 145
M. Agnes Kang and Stephanie Schnurr: From High Society to Workplace Reality: An Analysis of Gendered Discourses in Media and Workplaces in Hong Kong p. 171
Jeanette King, Catherine Watson, Margaret Maclagan, Ray Harlow and Peter Keegan: Māori Women's Role in Sound Change p. 191
Ann Weatherall, Maria Stubbe, Jane Sunderland and Judith Baxter: Conversation Analysis and Critical Discourse Analysis in Language and Gender Research: Approaches in Dialogue p. 213
Gendered Speech in Social Context: Perspectives from Gown & Town (2000)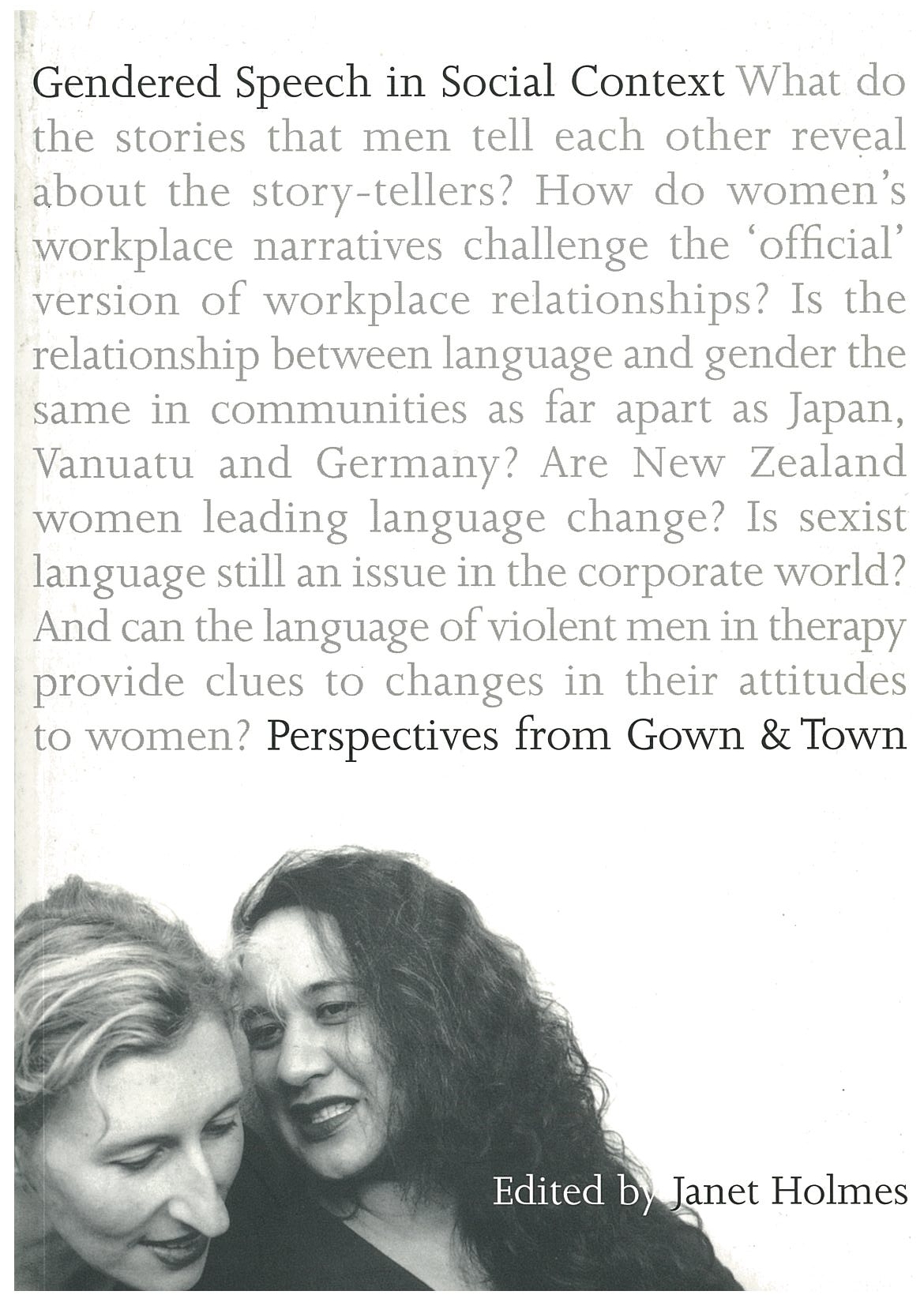 Janet Holmes (ed.)
Wellington: Victoria University Press
ISBN: 978-0-8647-3402-0
Summary
The essays in this volume represent a selection of papers presented at New Zealand's first-ever Language and Gender Symposium, held at Victoria University of Wellington in late 1999. They celebrate the developments in language/gender studies over the last twenty-five years.
Table of Contents
Janet Holmes: Introduction p. 7
Jennfer Coates: 'So I thought bollocks to that!': men, stories and masculinities p. 11
Ann Weatherall: Re-visions of gender and language research in the 21st century p. 39
Miriam Meyerhoff: How apologies get to be gendered work p. 52
Andrew J. Barke: What 'you' can say in Japanese: gender as a pragmatic factor in Japanese second-person reference through history p. 63
Damian O'Neill: Violence in the home: intervention, gender and identity p. 74
Margaret A. Maclagan: How long have women been leading language change? p. 87
Paul Warren and Nicola Daly: Sex as a factor in rises in New Zealand English p. 99
Judy Lawrence, Vicky Noble, Anne Pauwels, Sally McConnell-Ginet and Jennifer Coates: How can language and gender research be best used in the workplace? p. 116
Anne Pauwels: Inclusive language is good business: gender, language and equality in the workplace p. 134
Uta Lenk: 'The masculine is not what it used to be'?: German job advertisements after 30 years of feminist linguistic criticism p. 152
Su Olsson: The 'Xena' paradigm: women's narratives of gender in the workplace p. 178
Deborah Jones: Gender trouble in the workplace: 'language and gender' meets 'feminist organisational communication' p. 192
Jennifer J. Peck: The cost of corporate culture: linguistic obstacles to gender equity in Australian business p. 211
Maria Stubbe, Janet Holmes, Bernadette Vine and Meredith Marra: Forget Mars and Venus, let's get back to Earth!: challenging gender stereotypes in the workplace p. 231
Sally McConnell-Ginet: Breaking through the 'glass ceiling': can linguistic awareness help? p. 259