Books and edited volumes
Books
Leadership, Discourse and Ethnicity (2011)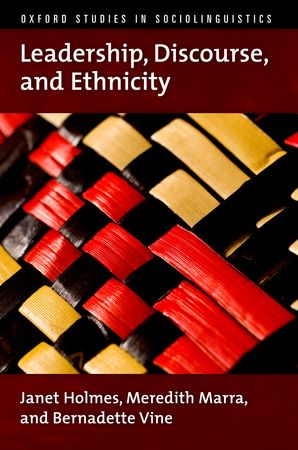 Janet Holmes, Meredith Marra and Bernadette Vine
Oxford: Oxford University Press
ISBN: 978-0-19-973074-2 (Paperback) | 978-0-19-973075-9 (Hardcover)
Table of Contents
Approaching the Analysis of Leadership and Ethnicity p. 3
Collecting the Data p. 26
Constructing Leadership through Language p. 42
Business Meetings p. 60
Relational Talk at Work p. 83
Co-Leadership p. 107
Māori Leadership at Work p. 128
Learning from Intercultural Research p.147
Gendered Talk at Work (2006)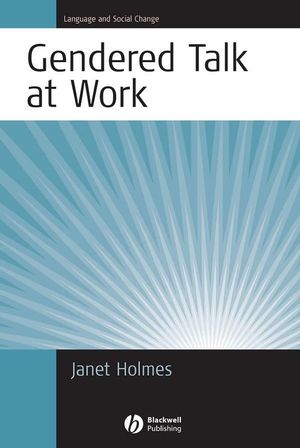 Malden, MA: Wiley-Blackwell.
ISBN: 978-1-4051-1758-6 (Hardcover) | 978-1-4051-7845-7 (E-book)
Table of Contents
The role of gender in workplace talk p. 1
Gender and leadership talk at work p. 32
Relational practice - not just women's work p. 74
Humour in the workplace - not just men's play p. 108
Contest, challenge and complaint - gendered discourse? p. 140
Women and men telling stories at work p. 174
Giving women the last word p. 208
Getting Things Done at Work (2004)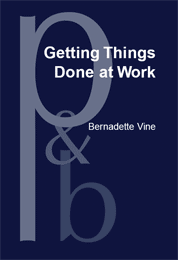 Amsterdam: John Benjamins
ISBN: 978-9-0272-5366-8 (Hardcover) | 978-1-5881-1521-8 (Hardcover) | 978-9-0272-9538-5 (Ebook)
The linguistic study of workplace language is a new and exciting area of research. This book explores the expression of power in a New Zealand workplace through examination of 52 everyday interactions between four women and their colleagues. The main focus of this research is the expression of three types of "control acts", i.e. directives, requests, and advice. The women include two managers who demonstrate an interactive participative style of management. They tend to minimise rather than exert power, although their status is still evident in their speech.
The study is original in its combination of a quantitative and a qualitative approach, as well as in its combination of a detailed categorisation of head acts and an analysis of context and role relationships. Through the design of the study and the methodology used, the results challenge earlier research both on power and control acts. The data analysed is drawn from the Wellington Language in the Workplace Project.
Table of Contents
Introduction p. 1
Directives, requests and advice p.15
Identifying control acts p.39
Analysis of control act head acts p. 63
Modification of control act head acts p. 93
Exploring control acts in context p. 121
Control acts between Managers and their staff p. 147
Managers and power in the workplace p. 167
Language and power between equals p. 201
Power and Politeness in the Workplace (2003)

Harlow, UK: Pearson Education
ISBN: 978-0-5823-6877-4
More information about Power and Politeness in the Workplace
Table of Contents
Power, politeness and the workplace context
From office to production line: constructing a corpus of workplace data
Getting things done at work
Workplace meetings
Small talk and social chat at work
Humour in the workplace
Miscommunication and problematic talk at work
Conclusion: some implications and applications
Edited volumes
Constructing Identities at Work (2011)

Jo Angouri and Meredith Marra (eds)
Basingstoke, UK: Palgrave Macmillan
ISBN: 978-0-2302-7237-8 (Hardcover)
Table of Contents
Meredith Marra and Jo Angouri: Investigating the Negotiation of Identity: A View from the Field of Workplace Discourse p. 1
Jan Svennevig: Leadership style in Managers' Feedback in Meetings p. 17
Stephanie Schnurr and Olga Zayts: Be(com)ing a Leader: A Case Study of Co-Constructing Professional Identities at Work p. 40
Pamela Rogerson-Revell: Chairing International Business Meetings: Investigating Humour and Leadership Style in the Workplace p. 61
Jo Angouri and Meredith Marra: 'OK one last thing for today': Constructing Identities in Corporate Meeting Talk p. 85
Veronika Koller: 'Hard working, team-oriented individuals': Constructing Professional Identities in Corporate Mission Statements p. 103
Eva-Maria Graf: 'Yes then I will tell you maybe a little about the procedure' - Constructing Professional identity where there is not yet a Profession: The Case of Executive Coaching p. 127
Alexandra Georgakopoulou: Teachers, Students and Ways of Telling in Classroom Sites: A Case of Out-of-(Work) Place Identities p. 151
Karen Tracy: Identity-Work in Appellate Oral Argument: Ideological Identities within a Professional One p. 175
Keith Richards: Engaging Identities: Personal Disclosure and Professional Responsibility p. 200
Anna De Fina: 'We are not there. In fact now we will go to the garden to take the rain': Researcher Identity and the Observer's Paradox p. 223
Femininity, Feminism and Gendered Discourse (2010)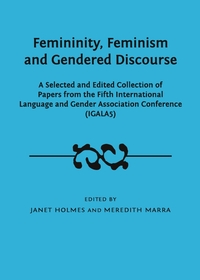 Janet Holmes and Meredith Marra (eds)
Cambridge: Cambridge Scholars Publishing
ISBN: 978-1-4438-2364-7
More information about Femininity, Feminism and Gendered Discourse
Table of Contents
Janet Holmes and Meredith Marra: Femininity, Feminism and Gendered Discourse p. 1
Carmen Rosa Caldas-Coulthard: "Women of a Certain Age"—Life Styles, the Female Body and Ageism p. 21
Justin Charlebois: Discursive Construction of Hegemonic Femininity p. 41
Don Kulick: Humorless Lesbians p. 59
Christy Bird: "Women Can't Tell Jokes": A Gender Ideology in Interaction p. 83
Anne Pauwels: Men, Masculinities and Feminist Linguistic Activism p. 111
Momoko Nakamura: Women's and Men's Languages as Heterosexual Resource: Power and Intimacy in Japanese Spam E-mail p. 125
Fabienne H. Baider and Evelyne Jacquey: Substantive Disembodiment, Syntactic Embedment: The Effect of 'Feminist' Lexical Change on French Discourse p. 145
M. Agnes Kang and Stephanie Schnurr: From High Society to Workplace Reality: An Analysis of Gendered Discourses in Media and Workplaces in Hong Kong p. 171
Jeanette King, Catherine Watson, Margaret Maclagan, Ray Harlow and Peter Keegan: Māori Women's Role in Sound Change p. 191
Ann Weatherall, Maria Stubbe, Jane Sunderland and Judith Baxter: Conversation Analysis and Critical Discourse Analysis in Language and Gender Research: Approaches in Dialogue p. 213
Gendered Speech in Social Context: Perspectives from Gown & Town (2000)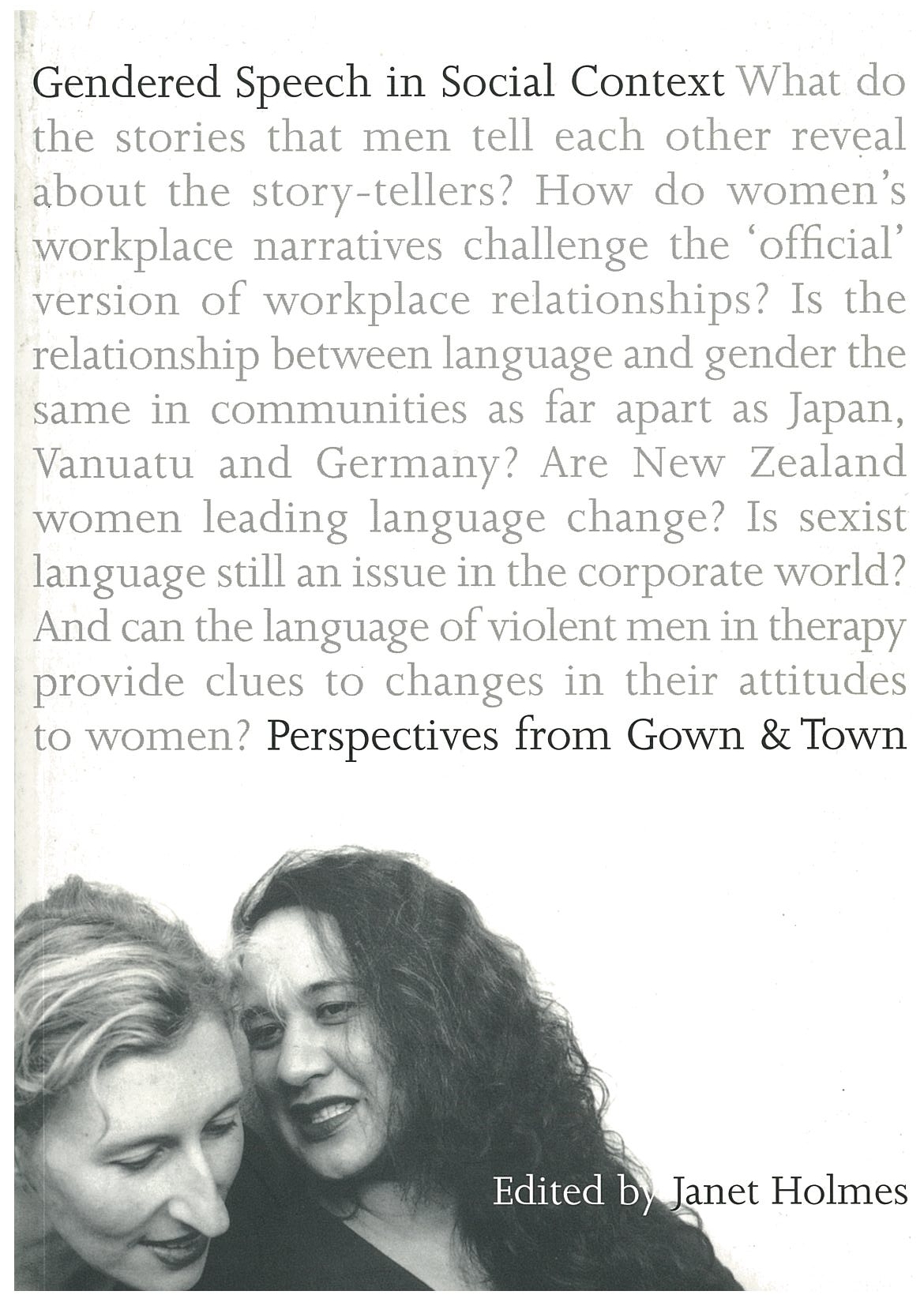 Janet Holmes (ed.)
Wellington: Victoria University Press
ISBN: 978-0-8647-3402-0
Table of Contents
Janet Holmes: Introduction p. 7
Jennfer Coates: 'So I thought bollocks to that!': men, stories and masculinities p. 11
Ann Weatherall: Re-visions of gender and language research in the 21st century p. 39
Miriam Meyerhoff: How apologies get to be gendered work p. 52
Andrew J. Barke: What 'you' can say in Japanese: gender as a pragmatic factor in Japanese second-person reference through history p. 63
Damian O'Neill: Violence in the home: intervention, gender and identity p. 74
Margaret A. Maclagan: How long have women been leading language change? p. 87
Paul Warren and Nicola Daly: Sex as a factor in rises in New Zealand English p. 99
Judy Lawrence, Vicky Noble, Anne Pauwels, Sally McConnell-Ginet and Jennifer Coates: How can language and gender research be best used in the workplace? p. 116
Anne Pauwels: Inclusive language is good business: gender, language and equality in the workplace p. 134
Uta Lenk: 'The masculine is not what it used to be'?: German job advertisements after 30 years of feminist linguistic criticism p. 152
Su Olsson: The 'Xena' paradigm: women's narratives of gender in the workplace p. 178
Deborah Jones: Gender trouble in the workplace: 'language and gender' meets 'feminist organisational communication' p. 192
Jennifer J. Peck: The cost of corporate culture: linguistic obstacles to gender equity in Australian business p. 211
Maria Stubbe, Janet Holmes, Bernadette Vine and Meredith Marra: Forget Mars and Venus, let's get back to Earth!: challenging gender stereotypes in the workplace p. 231
Sally McConnell-Ginet: Breaking through the 'glass ceiling': can linguistic awareness help? p. 259