Victoria expands 3D printing expertise with exclusive agreement
Victoria University of Wellington's research capability is being propelled into the future by an exclusive partnership with the world's leading 3D printing manufacturer.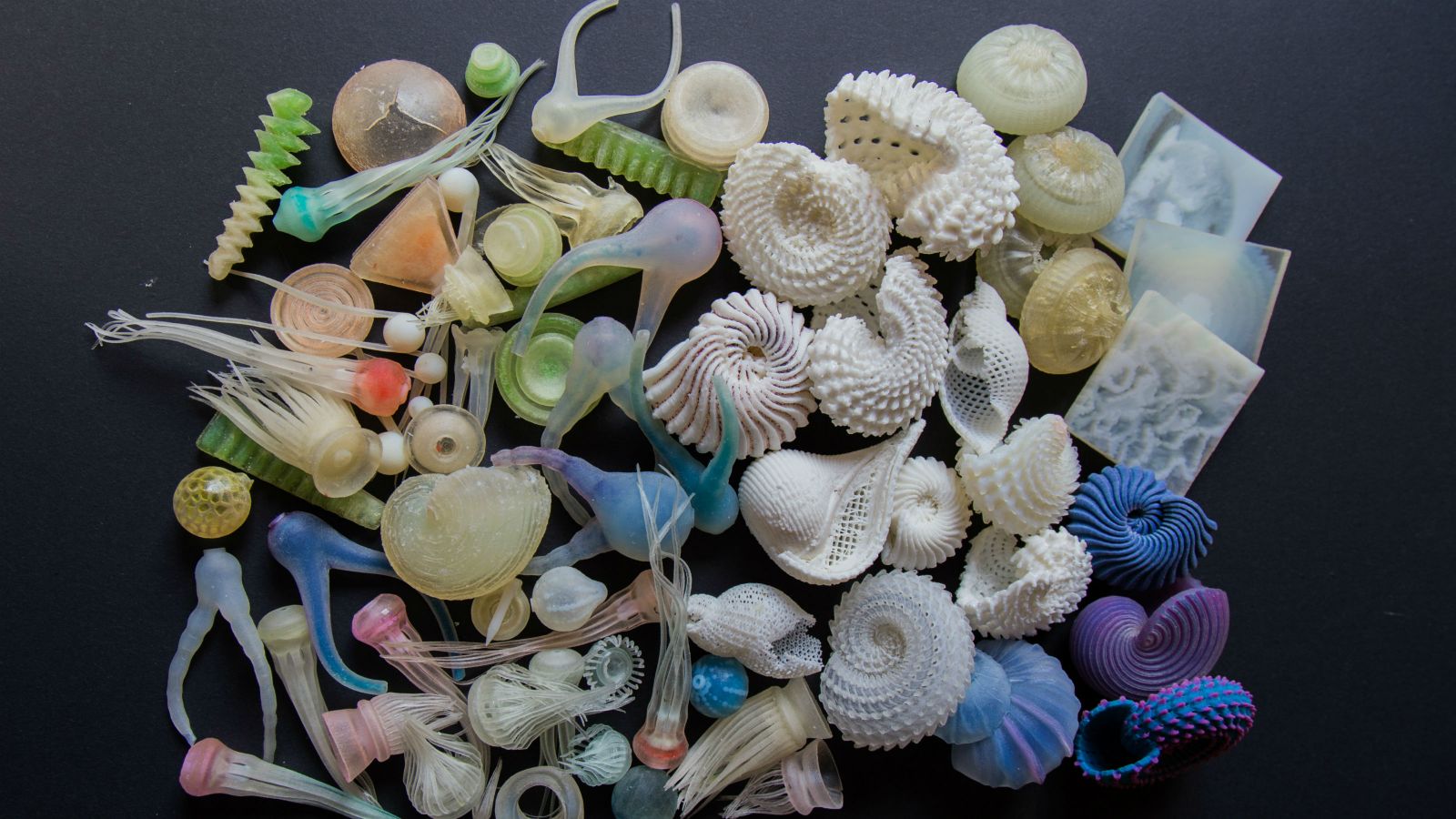 3D printed sea creatures for use as dynamic and interactive film props.
In a New Zealand first, Victoria's School of Design has signed a research agreement with Stratasys—the world's biggest manufacturer of 3D printers and 3D production systems.
The University has joined the Voxel Print Programme, an exclusive partnership with Stratasys Education that enhances the value of 3D printing as a powerful platform for experimentation on Stratasys PolyJet systems.
Experimenting on the PolyJet systems is an extraordinary opportunity for the University, says Victoria's Industrial Design programme director Ross Stevens.
"PolyJet machines can print very complex things. They use droplets of resin, or liquid, which are then cured by ultraviolet light to form shapes. There's also the ability to incorporate up to six different materials, making the final product look and feel however you want—playing with colour, translucency and hardness.
"This agreement allows us access to beta test software that creates models out of 3D pixels called voxels. Each of these discrete voxels can then be printed out using the Stratasys PolyJet system.
"From a 3D printing perspective, this is the Holy Grail. It is a bit like comparing all other 3D printing systems to a black and white television, but we have access to the first colour version. We're one of only eight research groups in the world with it.
"The beauty of this relationship is that we will also have access to Stratasys experts from their head office who will critique our research to make sure it's an area worth exploring and one they haven't yet explored. This means we know we are undertaking relevant research that builds on the most current knowledge. We also get to share research with the other seven international institutes that have been invited into the Voxel Print Programme."
Victoria students have used 3D printing for a myriad of projects, including creating a custom facial prosthesis, personalised shoes with enhanced biomechanical performance, and sea creatures for use as dynamic and interactive film props.
The opportunity will give staff and students the chance to make things that have traditionally been seen as un-makeable, says Mr Stevens.
"Goodness knows where 3D printing will go over the next few years—the resolution will only get finer and finer. It could be reactive materials, bio-printing or self-replicating objects. The possibilities are virtually limitless. It's exciting and agreements like this make sure Victoria University will play a world-leading role in this rapidly expanding industry.
"We hope that this agreement will help to attract international students to Victoria, particularly at a Master's level. 3D printing is a great educational tool as it encourages students to learn with their hands, experiment, and understand complex theories."
Victoria's Vice-Provost (Research) Professor Kate McGrath says the research agreement with Stratasys confirms the University's expertise in this area.
"Victoria University has been leading the world and pushing the boundaries in 3D printing since 2004, when then University agreed to fund research in the discipline.
"Our agreement with Stratasys demonstrates Victoria's strengths in exploring the possibilities of digital technologies, creativity and the capacity to imagine."
About Stratasys
For more than 25 years, Stratasys Ltd. has been a defining force and dominant player in 3D printing and additive manufacturing—shaping the way things are made. Headquartered in Minneapolis, Minnesota and Rehovot, Israel, the company empowers customers across a broad range of vertical markets by enabling new paradigms for design and manufacturing. The company's solutions provide customers with unmatched design freedom and manufacturing flexibility—reducing time-to-market and lowering development costs, while improving designs and communications. Stratasys subsidiaries include MakerBot and Solidscape, and the Stratasys ecosystem includes 3D printers for prototyping and production; a wide range of 3D printing materials; parts on-demand via Stratasys Direct Manufacturing; strategic consulting and professional services; and the Thingiverse and GrabCAD communities with over 2 million 3D printable files for free designs. With more than 2,700 employees and 800 granted or pending additive manufacturing patents, Stratasys has received more than 30 technology and leadership awards.