Our history
Discover the early beginnings of the Wai-te-ata Press and share the vision of our founder, Professor D F McKenzie.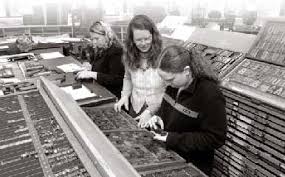 Wai-te-ata Press was founded in 1962 by Professor Don McKenzie of the Department of English. It functioned initially as a practical extension of the Department's honours courses in paleography, bibliography, and textual study, particularly in relation to issues and problems of research in literary works dating from 1450-1850.
When Professor McKenzie moved from Wellington to Oxford in 1986, some of the equipment was maintained by the Department of Library and Information Studies as part of their Printing Laboratory established in December 1981 by Professor Roderick Cave. This laboratory was located initially on Kelburn Parade, and called "The Printing Office on the Parade," then in the basement of the new School of Music building. Several facsimile editions of documents on the history of printing appeared during this period and many budding rare book librarians found themselves hooked by the smell of ink and the glow of newly-cast type. With Professor Cave's departure from New Zealand to teach in Singapore in 1993 the Printing Office closed but some courses were still taught by printer and publisher, Bill Wieben.
Wai-te-ata Press was officially re-established on 24 February 1995 as part of the Wellington Faculty of Humanities and Social Sciences at Victoria University of Wellington. Its final move into the University Library was celebrated with a re/re-launch on 12 November 2009 by Professor Michael F Suarez, one of McKenzie's Oxford students, now Director of the world famous Rare Book School at the University of Virginia.