Workshops
If you want to learn how to set type, print by the letterpress technique, and bind your hand-printed book projects, then Wai-te-ata Press has a course for you.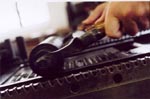 'Refresher' courses are available for those who have some letterpress background. Aspiring students are encouraged to enrol for one of the Press's occasional long weekend intensives or courses offered through Victoria University of Wellington's Continuing Education.
According to demand, long weekend intensives are held Queen's Birthday (June) and Labour Weekend (October). These three-day courses offer an introduction to design, typesetting, and printing using both wood and metal types. To register your interest in the Letterpress Intensive workshops, please contact The Printer noting your background, experience, and goals for learning letterpress. Places are limited and there may be a selection process to enable a dynamic teaching and learning environment.
There are also teaching opportunities for secondary and tertiary institutions on request. The professional design community is particularly encouraged to arrange sessions for team building, creative retreats, and work-related projects.
Enthusiastic students may be invited to become 'Printer's Devils' and gain hands-on experience in traditional book production methods. You'll help out in the shop, share ideas with other Devils, and even have the opportunity to try out a small project or two of your own.