Creative Collaborations
An occasional collaboration between Wai-te-ata Press and local and international artists, writers, musicians, designers, and interarts creatives.
---
The architect as book artist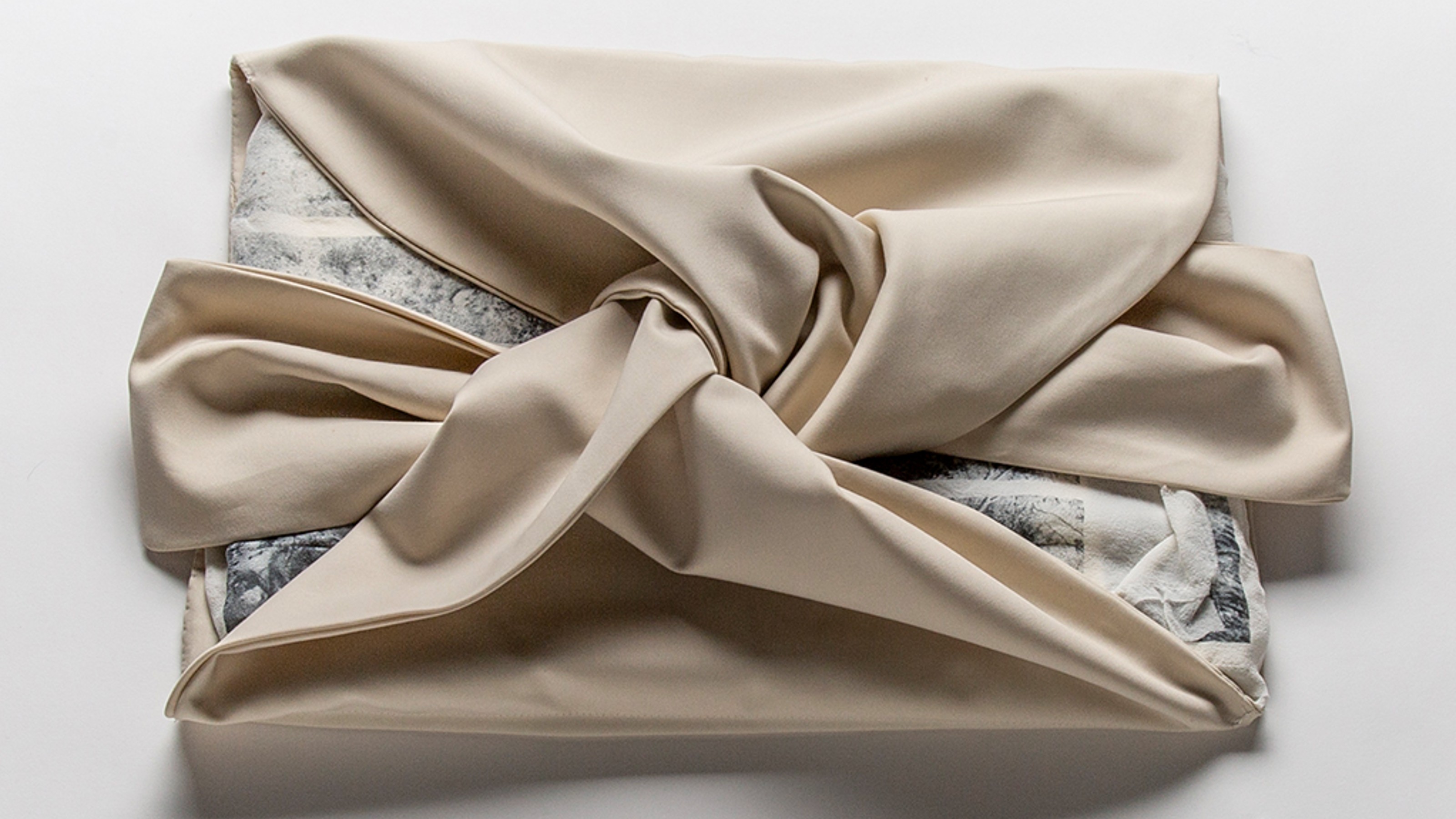 Marian Macken is a professional architect with a fascination for the book. Currently based at the University of Auckland, she has completed three residencies at Wai-te-ata Press (2009, 2017, 2021), each exploring a different facet of the tactility and spatial dimension of letterpress printing. Her latest work Lacunae was completed between COVID-19 lockdowns and features blind embossing, silk screen prints and an intriguing binding solution. Read more about the inspiration for this work and the final materialising of its form.
the story behind Lacunae
---
Printing with Chocolate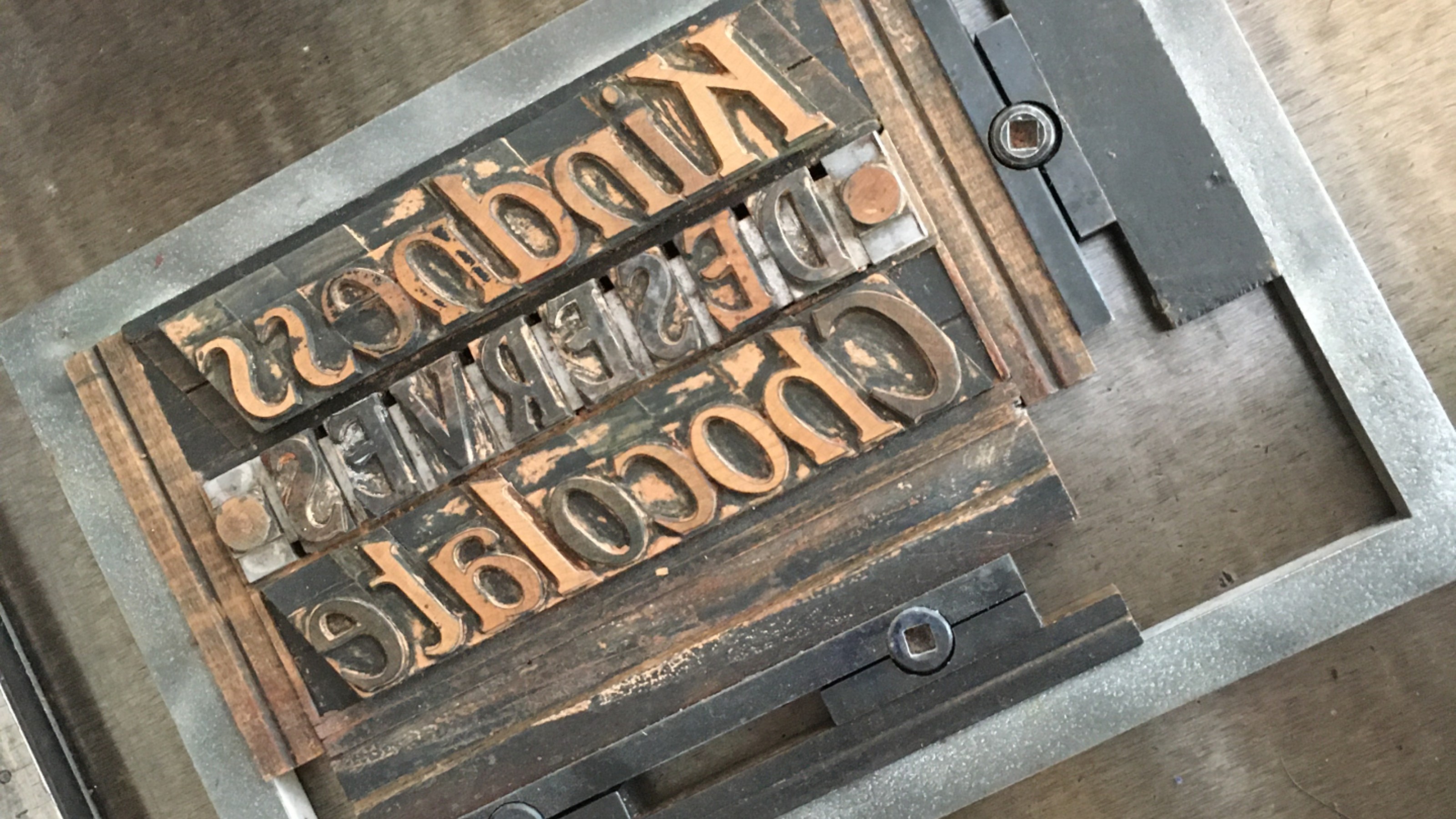 In 2019, Wai-te-ata Press was commissioned by Whittaker's Chocolate of Porirua to contribute to their promotion campaign for World Kindness Day. The project was art directed by Duncan Munro and produced by Sahar Sedaghat of the Breakout Room.
After several experiments, we mastered how to print with real (and tasty) chocolate ink on wood type. Find out how we did it and savour the final results.
---
Cultural Sustainability Symposium 2017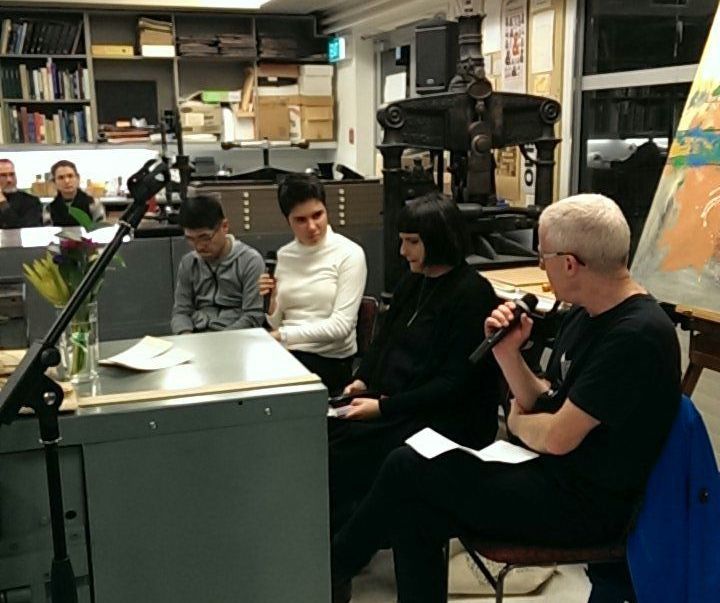 This international and interdisciplinary symposium (7-10 August) embraced the United Nations 17 Sustainable Development Goals (SDGs) following the vision and mission of Victoria University of Wellington Assistant Vice-Chancellor (Sustainability), A/Prof Marjan van den Belt. It proposed an 18th goal: cultural sustainability, a concept that was explored by many special guests, including Rosita Worl, Douglas Robinson and Michael Cronin.
We were lucky enough to have several Creators-in-residence join us over the course of the Symposium. Sustainability Creators-in-residence local printmaker Sheyne Tuffery and local painter Barbara Strathdee showed their work in the afternoon, 10 August. Later that evening, Wellington Writers Week manager Mark Cubey facilitated a panel discussion featuring Australian poet Ellen Van Neerven, local novelist Pip Adam and Japanese graphic novelist Fumio Obata at Wai-te-ata Press.
For more information on our special guests, check out the media coverage including a Spinoff article on Fumio Obata, Maori television interview with Rosita Worl (starting at 13.48mins) and Radio NZ interviews with Rosita Worl and Ellen Van Neerven.
---
Creativity Week 2016: Professor Emerita Luci Tapahonso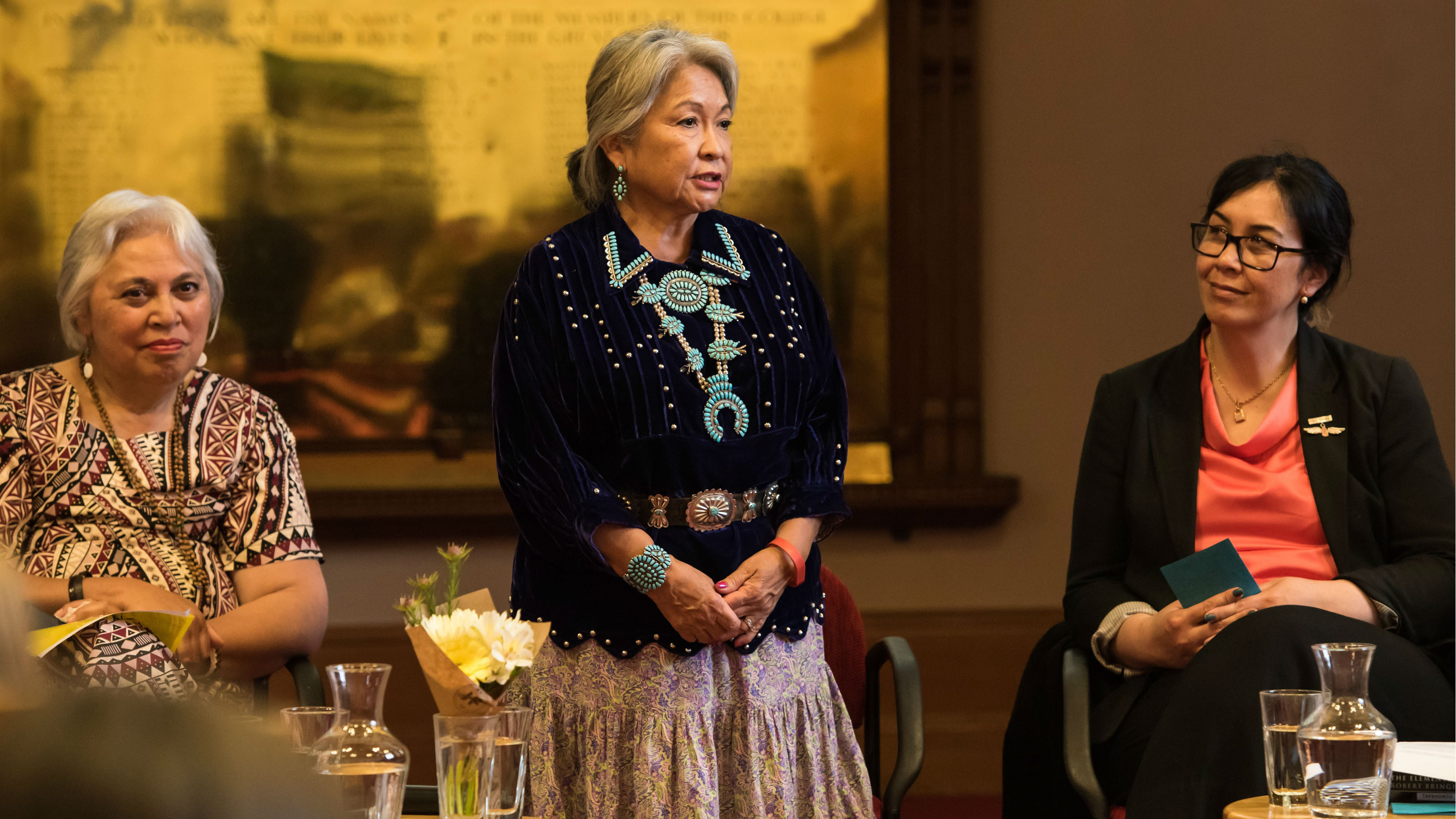 Professor Emerita Luci Tapahonso, Poet Laureate of the Navajo Nation, joined Associate Professor Hon Luamanuvao Winnie Laban, Assistant Vice-Chancellor (Pasifika) and Professor Rawinia Higgins, Deputy Vice-Chancellor (Māori) around the 'creativity campfire' in the Hunter Council Chamber for 'Festival of Creative Translation: The Indigenous Connection'.

The roundtable conversation on the many faces and facets of translation was led by Dr Marco Sonzogni, Programme Director, School of Languages and Cultures and Associate Professor Sydney Shep, Reader in Book History and Printer at the Press. The conversation highlighted the intricacies of negotiating languages and cultures, transforming poetry into print, and capturing the performative worlds of song, dance and ritual. The event was followed by readings of Professor Emerita Tapahonso's work.
As the Wai-te-ata Press inaugural Creator-in-Residence, Professor Emerita Tapahonso visited Arohata Women's Prison, Te Papa Tongarewa and Taita Central School, and participated in Creativity Week's multidisciplinary panel 'Languages of Indigeneity'. She also met with local author Patricia Grace in Wellington and with indigenous writers in Auckland.
Luci's visit was made possible by a generous grant from the Embassy of the United States of America, as well as support from the Wellington International Leadership Programme, the Victoria University of Wellington Faculty of Law, the New Zealand Academy of Literature, the Book Council, the Publishers' Association of New Zealand, and the University of Auckland.
---
Entrenchments 2015: Julian Peters and Sarah Laing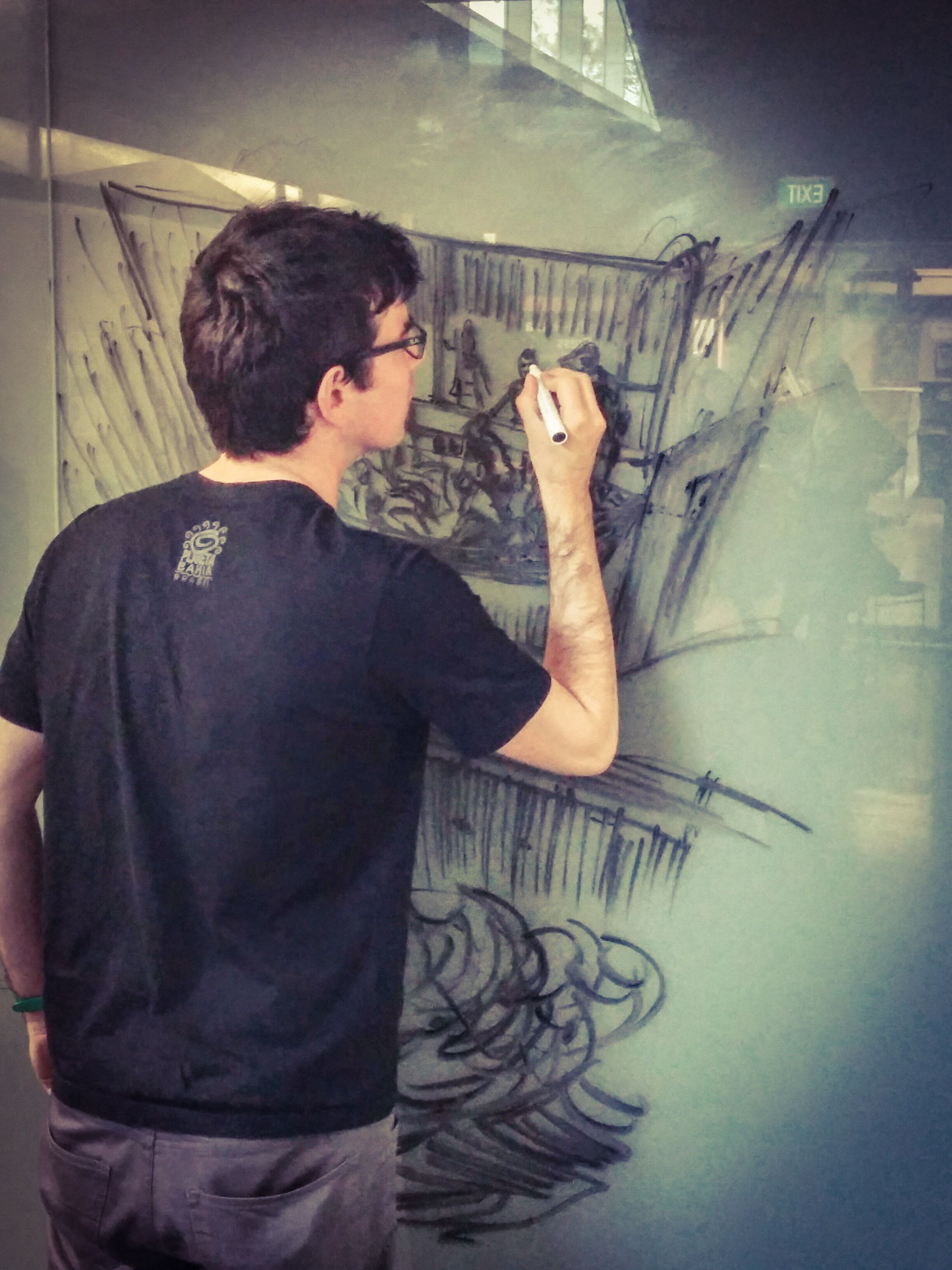 Entrenchments 2015 was a month-long creative conversation focused on translating conflict into art based at Wai-te-ata Press, Victoria University of Wellington from 30 March to 30 April. It featured Canadian and New Zealand illustrators Julian Peters and Sarah Laing responding to WWI war diaries, letters, and poetry as well as contemporary works by Poet Laureate Vincent O'Sullivan, Witi Ihimaera, and Patricia Grace.
Events from the creative trenches included: Daily Despatches, visual interpretations of the daily Gallipoli tweets of Lt.Col William G Malone performed on large glass panels and captured in video and still images; workshops for students creatively translating Canadian John McCrae's WWI poem In Flanders Fields; opportunities to watch and talk with the artist at #joinjulian tweet-disclosed locations around Wellington; and the World's Longest Zine-making fest. Entrenchments 2015 culminated in an exhibition and launch at Wai-te-ata Press, Victoria University of Wellington Library Kelburn campus. The exhibition ran until 15 June 2015 and featured the final Daily Dispatch drawn as a triptych by Peters.
Find out more and watch a time lapse video of Julian's Daily Despatches.
---
gnossienne by artist Catherine Day and writer Pat White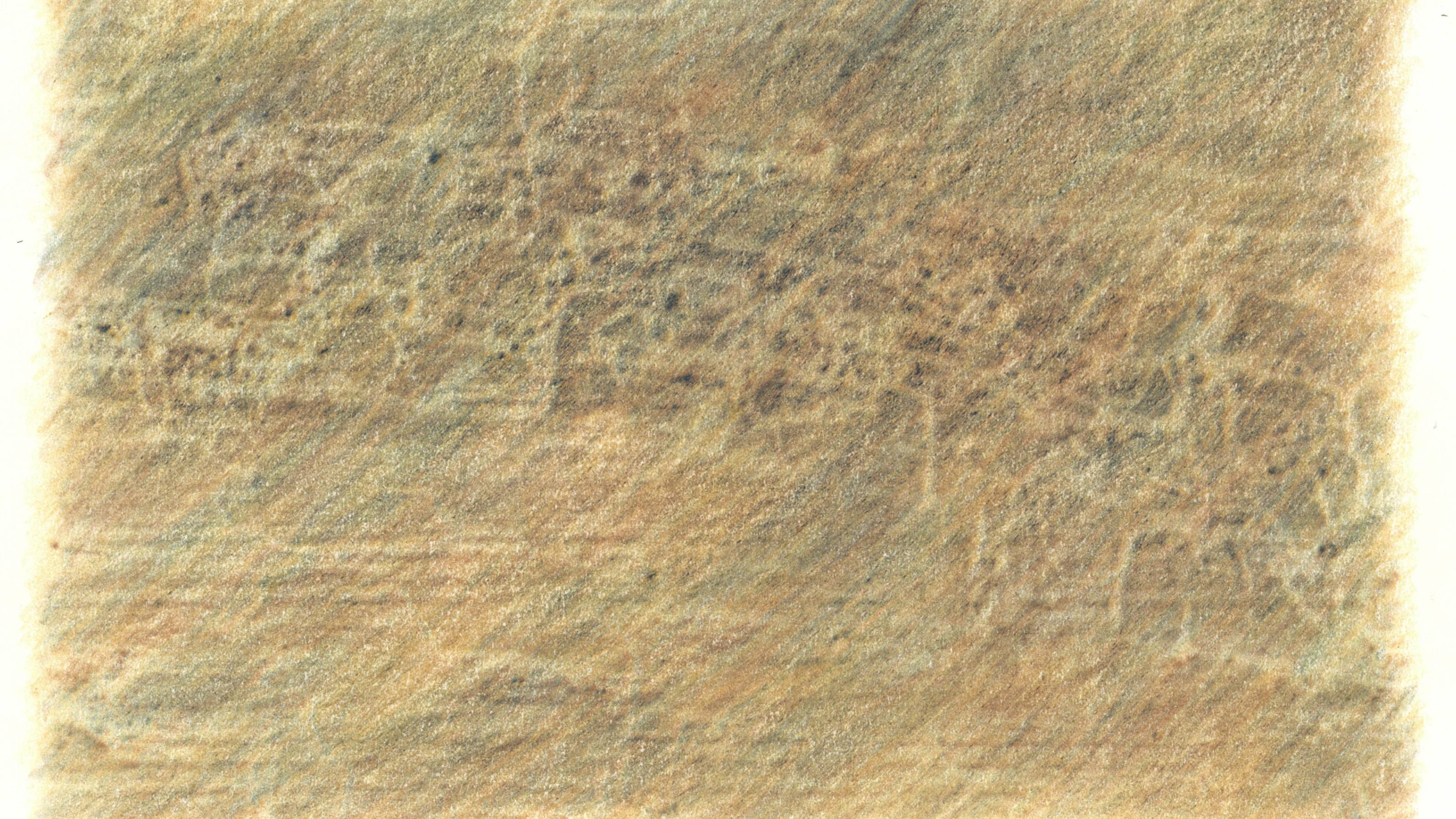 In 2012, Wairarapa artist Catherine Day undertook a three-week residency at Wai-te-ata Press. Her task was to letterpress print a bilingual limited edition of gnossienne, a suite of poems by partner Pat White completed while he was writer-in-residence at Randell Cottage in Thorndon, Wellington. The poems were subsequently translated into French by Nadine Ribault and Jean Anderson. Catherine used a coloured pencil rubbing technique to capture the evocative lines, folds and multi-generational wear of the cottage's floorboards, created from recycled nineteenth-century ship decking timbers. She is now based in Fairlie, Mackenzie country in the heartland of the South Island. Copies of the book are still available from Wai-te-ata Press in both a commercial and fine press edition.